RV University This Week 09/26/2011
Monday, September 26 2011 @ 12:55 pm UTC
Contributed by: RVED101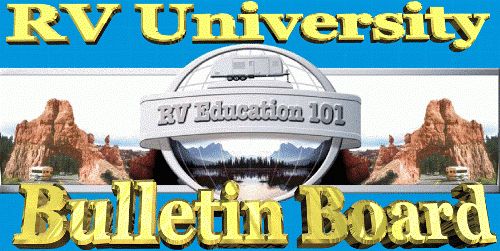 RV University this Week
Your weekly source for interesting
RV articles, tips, tricks, video clips and advice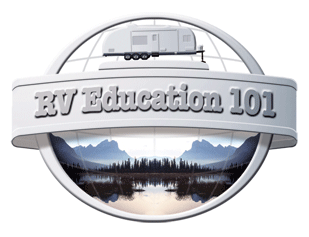 From the Industry Leader in RV Education:
RV Education 101® - also known as: RV 101™
U of RV Journal #113 - Sept 26, 2011
---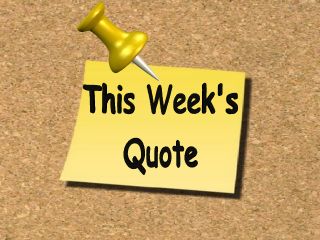 "It's what you learn after you know it all that counts."
~ Harry S Truman
---
*NOTE Our regular newsletter format will return next week
Episode #17 Season 1 Finale Released Today:
Mark's RV Garage Internet TV show is a streamed video. You will need an Internet connection to view the program. Total Run Time 36:50
You may embed this Final episode video on your blog, Facebook or website….help us spread the word!

Enjoy the show!
This episode of Mark's RV Garage is sponsored by:
Explorer RV Insurance , KOA Campgrounds , Camping World,
Tuson RV Brakes, Equalizer Hitch, Kodiak Trailer Components
and RV Education 101®

On this episode of Mark's RV Garage: Mark finishes the old Yellowstone restoration project and reflects back on how we got to this point. Our vintage trailer restoration project almost came to a screeching stop when we realized that the axle on the trailer was only rated at 2,600 pounds rather than the 3,500 pounds we thought it was rated for. I put a call in to
Dexter axle
and they said to give them the measurements for the axle and they would get one built and sent out ASAP. They saved the day. The axle is here and as soon as we get it installed we can install our disc brakes from
Kodiak Trailer Components
and our electric hydraulic actuator from
Tuson RV Brakes
. The Old Yellowstone trailer gets a new coat of paint and the paint job is revealed for the first time!
Mark installs a brand new 3,500 pound Dexter axle.
After the axle installation new brake rotors, disc brakes, wheels and tires are installed and the old Yellowstone gets an Actulink electric/hydraulic brake actuator along with new brake lines.
Before the trailer can hit the road Mark installs an Equalizer hitch and a DirecLink Network Enhanced brake controller
---
The "Mark's RV Garage" Series is presented by RV Education 101®
- They offer a full line of RV Educational and RV walk through dvds
---
See Highlights of Episode 17 Below:
Mark reflects back on how we reached this point:
What was our goal with the show? Our goal was to promote RVing and to help RV enthusiasts learn more about using and maintaining their RV. In addition to the educational segments in the show we wanted a feature segment that our viewers would be interested in watching unfold. That segment turned out to be our vintage trailer restoration project. In hindsight I'm not sure if I would tackle a project this big again, but now that it's over I wouldn't change a thing. It gave me the opportunity to work on a project with Tyler which was great. He did a wonderful job seeing it through to the end.
Did I know how involved the restoration project would become? I knew I wanted to upgrade the old trailer with modern day technology, but I didn't think it would require rebuilding the entire trailer.
What were my biggest concerns during the restoration? I've done quite a bit of carpentry and plumbing work in the past so I wasn't too concerned about the framing, the water system and even the LP gas system. I would have to say my biggest concerns were the electrical system and installing new metal on the exterior of the trailer. What's funny is I worried about some of these projects, but when it was time to do them it really wasn't that difficult.
Did I consider keeping everything original in the restoration? I actually struggled with that. I understand that lots of folks realize the importance of keeping the trailer as original as possible in a restoration project. I also knew that there was going to be lots of product sponsors throughout the project. I thought it would be really neat to bring the past into the present so that's the route we decided to go. We wanted to keep the vintage look with modern day amenities.
If I had to describe the trailer project using one word what would it be? That's easy. It would be sleeper. In the world of muscle cars a sleeper is a car that looks ordinary and plain on the outside, but packs a lot of power under the hood. The old Yellowstone looks ordinary on the outside, but it is equipped with the latest technology on the inside. There aren't many 16 foot travel trailers out there that have on demand hot water, an automatic TV antenna, power ventilator fans, an electric tongue jack, a solar battery charger, a stereo with CD/DVD, weather radio and IPOD ready, a 12 volt LCD TV and a back up camera.
Will there be a season 2??? Let's just say we have some plans to talk to some of our friends in the industry about the possibility of another show.The focus would still be on RV education, but we would like to add some new segments featuring some of our RVing friends.
How about "RVing with Mark Polk & Friends"? I like that. Keep an eye out in the spring of 2012 there might be another great RV show in the works!
---

When it comes to learning about your RV, RV Education 101 has you covered! Whether you prefer reading watching a DVD or learning online we have a RV training course tailored just for you. Just go to http://rvconsumer.com/ and click on the RV consumer training tab- Happy RV Learning!
---

Watch the RV Cooking Show: A virtual cooking class on wheels with an RV travel component, The RV Cooking Show takes viewers on adventures to some of the most sought-after or interesting but little-known RV locations in the country and then creates a healthy, easy, delicious destination-related dish in host Evanne Schmarder's RV kitchen.Each less-than-10-minute episode - part travelogue, part cooking show - shares travel tips, ideas and recommendations on popular RVing locales and products then walks viewers through the preparation of a delicious destination-related dish. Past episodes include a tour of Albuquerque's 505 Chili Factory and Huevos Rancheros, Mojitos and the Fabulous Florida Keys and a salmon dinner in conjunction with the spectacular Olympic National Park.Viewers have the option of watching the RV Cooking Show on YouTube, various RV-related websites such as Camping.com and RVDreamRadio or on the RV Cooking Show website. So as not to miss a single savory episode, viewers may subscribe to the show on YouTube or on this website. An RV industry insider, full-time RVer Ms. Schmarder connects with viewers in part by "living the (their) RV dream". She is a professional speaker, writer, foodie and unabashed explorer.
---
Thanks for joining me today in my RV garage. Travel safe and have fun in your RV and remember when it comes to learning about RV's we've got you covered. Be sure to take a minute and visit
www.rvconsumer.com
and we'll see you right back here next on our next Season of
RVing with Mark Polk & Friends
which will still include new "Marks RV Garage" segments.
Mark Polk
FOR MEDIA & ADVERTISING Media Kit Contact Dawn Polk for Pricing

---

RV Education 101® is your premier online source for learning about your RV. We are the largest online digital training provider available, offering numerous online training courses, downloads and programs. Get the RV information you want, when you want it. Happy RV learning!

---

Want to buy an RV University t-shirt, hat or mug? Come visit our store on CafePress!

---

Sponsors and Helpful RV Links endorsed by RV Education 101:

Own a motorhome?
Membership in FMCA brings with it a wealth of benefits and services
— all specially designed to meet the needs of motorhome owners.
The value of these benefits and services far exceeds the cost of the annual dues.
Benefit highlights






---

Camping/RV Battery Chargers- BatteryMINDers® are the new generation of SMART, pulse type "computer-on-a-chip" chargers, that safely charge and maintain all size / type / brands of batteries including starter, deep cycle and sealed types including AGM "dry" made by OPTIMA, ODYSSEY, EXIDE, INTERSTATE, et al. They do all of this without ever overcharging, no matter how long they are left on charge – days-weeks-or even months. Dubbed the chargers with "brains," they are the first to fully-automatically reverse the primary cause of early battery failure known as "sulfation". Sulfated batteries once considered beyond recovery can now be brought back to long-term useful condition. Certain models of BatteryMINDers® can more than double the useful life of new batteries.

---

MBA Rental Insurance for Dealers and Consumers: MBA Rental Insurance for Dealers and Consumers: Specializing in RV Rental Motorhome Insurance Since 1978. MBA Insurance has grown into the premier Rental Insurance Agency in the country writing insurance coverage for Motor Homes, Travel Trailers, Pop-up Campers, Motorcycles, ATVs, Scooters, Utility and Cargo Trailers, Conversion Vans, Boats and other Watercrafts.An "A" Rated Insurance Company Insuring over 2,000 Rental Dealers Nationwide.

---

Explorer RV Insurance Since 1997, Explorer RV Insurance Agency has been providing custom-designed RV insurance programs for RV owners. The agency represents leading RV insurance carriers that offer products in 48 states. Explorer RV Insurance is underwritten by companies with A.M. Best ratings of "Excellent" or higher. An auto policy can't begin to cover the complexities of an RV. You need specialty coverage like vacation liability, total loss replacement, personal effects and much more......

---

KOA camping is different Our Great People make sure of that. We're near most every attraction and national park in America. Wherever you want to go. At every one of our over 475 locations our focus is you. KOA is by far the largest group of affiliated campgrounds on the continent. From Wi-Fi and cable to fire rings and food service, KOA has you covered. Your experiences. Your enjoyment. Your memories. Your camping.

---

Camping World Camping World began with one small store and a mail order business in an old farmhouse heated by a wood-burning stove. A tobacco barn served as their first warehouse. Since then, Camping World has grown into America's leading RV accessories and service experts, bringing you everything you need for your RV, with Nationwide SuperCenters, an award-winning website, and full-color catalogs.




---

Dicor Corporation is a leading supplier of innovative products to the OEM and component manufacturers for recreational and conversion vehicle industries, as well to distributors in the recreational vehicle and automotive aftermarkets.





---

Dometic RV products are designed with your comfort in mind. With over 80 years in the RV industry, Dometic has become a leader in manufacturing innovative, high-quality RV products that enhance the living space in your RV, motorhome or coach.





---

RV-500 Space and Water Heating Systems for Recreational Vehicles The RV-500 delivers on demand hot water efficiently and conveniently with up to 55,000 BTU's of power. The RV-500 is quiet and efficient.





---

ASA Electronics brings you the high quality electronics that mobile applications require. ASA works side by side with your designers, engineers, and sales team to develop and provide customized solutions through exclusive engineering, thorough testing, and tailor made product designs

---

Progressive Dynamics Inc. The source of bright ideas since 1964 Progressive Dynamics offers quality Recreational Vehicle products to the RV industry. And in recent years has developed several new products for the RV Industry





---

MaxxAir The best way to describe MaxxAir is to say it's in the air moving business -- RV ventilation to be more specific






---

DirecLink - ActuLink - ActuLink ABS Module A Complete System with each Component Linked Together by a Digital Control and Diagnostic Network. The systems of your tow vehicle don't work independently of each other. Network computer control systems link them so they work seamlessly together. Why would you want the brake system of your towable working in isolation from your tow vehicle? Vehicle control networks have evolved into powerful and flexible systems. It is this technology that has paved the way for a revolution in towable braking systems. The DirecLink Network-Based Towable Brake System is the new standard.

---

Kodiak Trailer Components was established in December 1989, as a manufacturer of products for boat trailers. The product range has varied greatly during our evolution, but since 1994, Kodiak has been the leader in developing hydraulic disc brakes for the trailer industry.
Kodiak's product line now includes multiple options to select from, with disc brake sets ranging from 2000 lb. axle sets through 10000 lb. axle sets. Our customers represent all types of trailer manufacturers including marine, RV, horse, commercial/industrial, cargo, and even certain operations from the military. The automotive industry converted to disc brakes for good reason. Specify Kodiak disc brakes on your next trailer, you'll be glad you did!
---
Stromberg Carlson Products Inc: Charlie and I (Robert) are the third generation in the business(RV Product Accessories). We have scraped knuckles making proto types, and traveled the roads to meet with customers in their back yards. At our facility we talk about ISO-9000, CNC Machinery, Capability Studies, and developing reliable manufacturing systems. But on the road we talk to our customers about their goals and their vision, what lies ahead for them over the next five years. Until we understand what lies ahead for our customers we can not orchestrate our business. Serving your needs is the only way we can achieve success. Then the secret is to never stop chasing the needs of your customers. How can we help you today to be successful tomorrow? RV accessories such as electric tongue jacks, scissor jacks, hand rails and much more..
The Original Equal-i-zer® Sway Control Hitch with 4-Point Sway Control™, helps the driver be in control and the passengers be at ease. It has been specially designed to tackle the three biggest problems found with conventional trailer hitches: trailer sway, weight distribution, and complicated hook-ups We continually strive to move forward and be innovative in all our activities
---
Whether you are brand new to the RV experience or a veteran of the traveled road, learn step-by-step, all the facets of RVing - from the obvious to the "I never realized that"... Go HERE to find out....
---

Are you an RV dealer? RV Education 101 created a program just for your customers! The RV Orientation Online Training Program.
This online RV training program includes an RV orientation video similar to the walk-through class you receive at the RV dealership. The RV Orientation video is 54 minutes long and is packed with information on topics like campground setup, the LP gas system, water system, wastewater system, electrical system, RV appliances, RV accessories and much more. We even added a bonus chapter on RV safety features, and some bloopers to make it more entertaining. The video is generic and covers all types of RV's including motorized and towable RV's. If your RV dealer does not offer this online RV training program you can purchase it here
---
We also offer RV Dealer bulk discounts on our training materials. Our Walk through DVDs have helped tens of thousands of RV consumers learn how to properly operate and maintain their RVs. Hundreds of RV dealers across the country are benefiting from what our program has to offer the customer oriented RV dealership. Contact Dawn today for your RV dealership pricing: dawn@rveducation101.com

---


RV Education 101 & RV University went mobile!
Check us out on the go
http://www.rveducation101.mobi
&
http://www.rvuniversity.mobi
from your phone!. .....


Share your thoughts & experiences with other RVers and Campers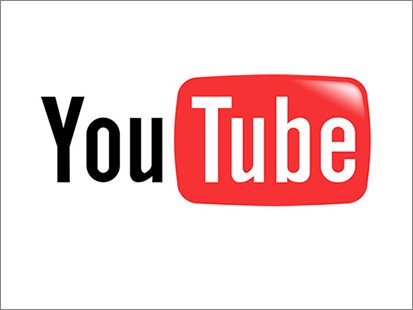 Money Saving DVD Sets Available

5th Wheel Training DVD Sets
Travel Trailer Training DVD Sets
Class A Training DVD Sets
Class C Training DVD Sets
---
17 RV Single DVD Titles in our Library
An Introduction to RV's
Pop Up 101
Travel Trailer 101
Class A Motor Home 101
Class C Rental / Owner
RV Awning Use, Care and Accessories
RV Safety Features, Tips and Tricks
Winterizing & Storing your RV
EZ RV Add Ons and Must Have RV Products
Tow Your 5th Wheel Like a Pro
Trailer Towing, Weights, Hitch Work & Backing
Drive Your Motorhome Like a Pro
Motorhome Towing
RV Campground Basics
Marks Recommended 10 minute RV Essential Items
Deep Cycle Battery Care & Maintenance for RV's and Boats
RV Care and Maintenance
---
15 RV Instant Download E-Book Titles in our Library
The Original Checklists for RVers
Winterizing and Storing your RV
THE RV BOOK now available as an ebook
The Three Primary Systems of an RV
Insider's Guide to Buying an RV
RV Buyers Survival Guide
Trailer Towing, Weights, Hitch Work & Backing
A Collection of RV Tips
Pop-Up Basics 101
Dinghy Towing
Deep Cycle Battery Care and Maintenance
RV Awning Use and Care
RV Safety Features, Tips and Tricks
RV Care and Maintenance
RV Campground Basics
---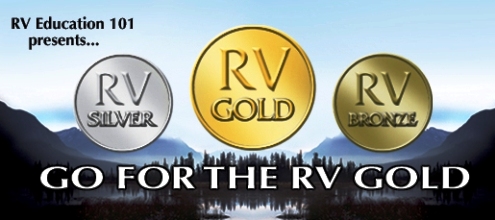 Go for the RV Gold Program
The Go For the RV Gold program is loaded with one-on-one RV training videos, feature articles, RV tips, crossword puzzles, member discounts for RV services and RV products, quizzes, and much more. This is the only online RV training program that will teach you everything you need to know about your RV at such a reasonable cost, and totally at your leisure with no deadlines. There are customized worksheets provided for navigation, so nothing is missed or overlooked. There is a space provided for you to make notes for each topic and then a feature to print the worksheet when completed.
At the end of the program there is a 25 question final exam. If you pass the final exam (you need a 72% or higher score) you will receive your "Go for the RV Gold" training certificate that you that you can proudly display in your home or RV. P.S. If you don't pass the final exam, you will be given an opportunity to take it again until you do pass, so you can receive your Go for the RV Gold certificate.
National Interstate Insurance company offers a 5% safe driver discount when you successfully complete the "Go for the RV Gold" program. Just present your "Go for the RV Gold" certificate of completion to an authorized National Interstate Insurance agent.
The membership fee is only $49.95 per month for 3 months. Billing is on a 30 recurring basis until the final payment is made. This equates to only $12.49 for each in-depth weekly RV training course. When you select the recurring billing payment option you receive the a new RV training module each month. You can't beat this low pricing for one-on-one RV education training in the comfort of your own home or RV. There is no driving to get to the training location, no packed classrooms and no time restraints.
Note: There is second payment option available where you can pay the full $149.85 program price in one payment. If you select this payment option you will receive all 3 RV modules (12 weekly courses) at one time, after payment and registration.
This program compliments our current line of RV Education 101 training dvds!
3 payments of $49.95 or a 1 time payment of $149.85
Buy Now
---
Episode #1 of "Mark's RV Garage"

Episode #2 of "Mark's RV Garage"

Episode #3 of "Mark's RV Garage"

Episode #4 of "Mark's RV Garage"

Episode #5 of "Mark's RV Garage"

Episode #6 of "Mark's RV Garage"

Episode #7 of "Mark's RV Garage"

Episode #8 of "Mark's RV Garage"



Episode #9 of "Mark's RV Garage"

Episode #10 of "Mark's RV Garage"

Episode #11 of "Mark's RV Garage"

Episode #12 of "Mark's RV Garage"

Episode #13 of "Mark's RV Garage"

Episode #14 of "Mark's RV Garage"

Episode #15 of "Mark's RV Garage"

Episode #16 of "Mark's RV Garage"

Episode #17 Season 1 Finale of "Mark's RV Garage"

---
In addition to being available on YouTube, Mark's RV Garage is available for viewing with full episode details at RV Videos On Demand
---
---
General and Unsubscribe Info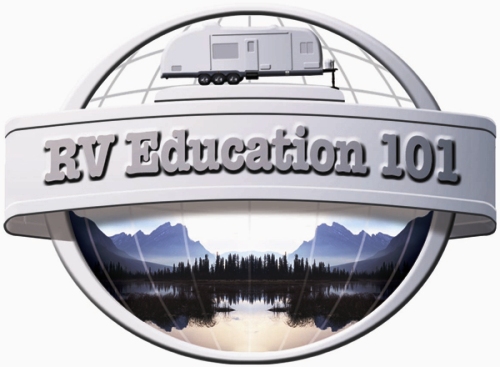 About us:
Our goal with RV University This Week is to provide you with helpful information to make all of your RV experiences more enjoyable. I left my position as an RV Sales and F&I manager in 2000 to start my own company, RV Education 101. We produce educational videos, DVDs and e-books on how to use and maintain your RV. The reason I left my job was due to my concern about the lack of educational and safety awareness material available to the RV consumer, in other words, you. We are a small company. My wife Dawn left her position in RV sales to help start the company and is our Sales and Marketing Director. We currently have a 35-foot Class A motor home. We have two boys, Tyler 14 and Josh 20, both avid RVers and three dogs, Roxie, Gracie and Buck. If you would like to learn more about us and RV Education 101 feel free to visit http://www.rveducation101.com
RV University This Week © Copyright 1999- 2011 Mark J. Polk, except where indicated otherwise. All rights reserved worldwide. Reprint only with permission from copyright holder(s). All trademarks are property of their respective owners. All contents provided as is. Advertisers are solely responsible for ad content.
To subscribe, please go to: http://rveducation101.com/email/
RV Education 101 Newsletter is an opt-in ezine available by subscription only. We neither use nor endorse the use of spam. Your email address will ONLY be used to distribute this newsletter and will NEVER be sold or given to any other entity!!
Happy Camping,
Mark & Dawn
RV Education 101
150 Bay Ridge Rd
Harrells, NC 28444-8896
910-484-7615
mark@rveducation101.com
dawn@rveducation101.com
Copyright 2011 by RV Education 101