Become an RV Online Training Affiliate
Tuesday, December 14 2021 @ 03:25 pm UTC
Contributed by: RVED101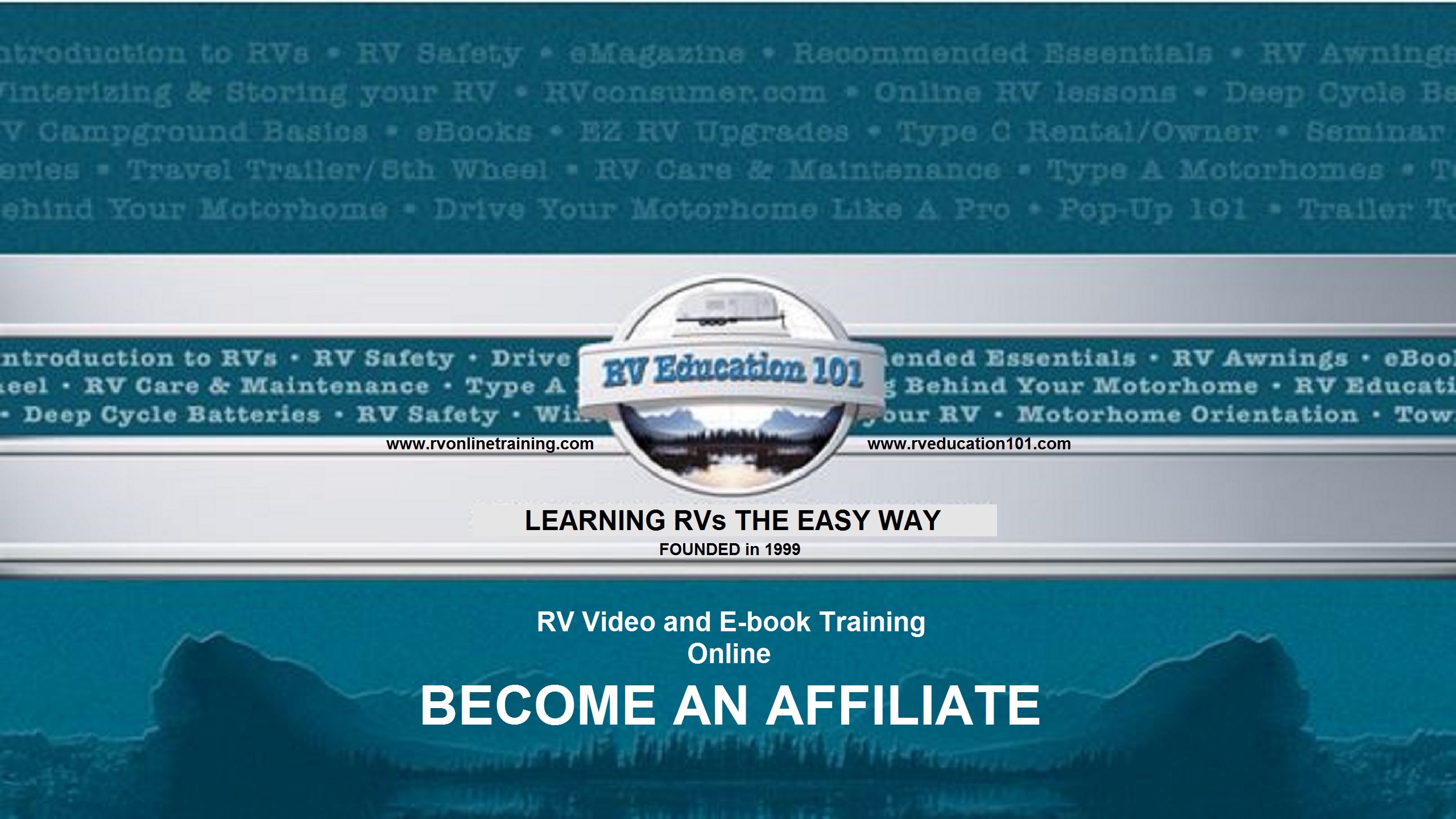 Please read all of the affiliate terms below, upon completion Sign up HERE with your name and email. *NOTE you must email me dawn (at) rveducation101 (dot) com so I can activate your affiliate status.

Do you have an RV related website or blog, and would like to earn 30% commission by promoting our RV Education 101 Online courses? Educating the RV consumer on how to properly and safely use and maintain their new RV has never been easier than right now.

Today's consumer desires access to information instantly. The problem is, anybody with a camera can post videos online and all too often it is misinformation. When you combine accurate RV training information with online video technology, and the need for repetitive viewing to maximize retention it's easy to see why our RV online training program is the most effective training available today.

RV Education 101's latest endeavor, the RV 101® RV online video training program can be viewed from any device, including PCs, tablets, and smartphones. This unique training program includes full-feature video segments, related articles written by Polk, short video segments, helpful RV tips & tricks, fun play & learn crossword puzzles, and quizzes to help the RV consumer retain the information.
An affiliate receives a 30% of the revenue generated from any sale of our course(s) as a result of your promotion.
Affiliates are paid (by the platform this school is hosted on) on the first of each month (or closest business day) for all sales made over 30 days prior to that date, according to this site's platform host 30-day refund policy.
Important Note: All affiliates need a PayPal account to receive payment. All affiliate payments will be made by this site's platform host to the affiliates registered e-mail address through PayPal.
STEP-BY-STEP Affiliate Instructions:

If you agree to all of the affiliate terms below: (Read and follow all of the instructions prior to signing up as an affiliate)
Sign Up for an RV Education 101 Online Affiliate HERE
1) Important: After you submit your name and email address, you will receive an email. You must confirm that email to get listed in the RV Education 101 affiliate system.
2) Next, email dawn (@) rveducation101.com to have an affiliate code assigned to you. Please put "affiliate request" in the subject line and in the body of the email, including the website or company you represent. This step allows RV Education 101 to review all potential affiliates prior to approval. Note: RV Education 101 reserves the right to refuse or cancel any affiliate at any time.
3) If approved, you will find your unique affiliate code through your affiliate dashboard when you log into our site and click on Affiliate.
4) Next, submit your PayPal email from your dashboard so you can start getting paid for all referrals who purchase a product.
5) When an affiliate link is generated, it will lead to the same Sales Page as all other Sales Page links for the course.

Note: If you have any issues, concerns or questions, please direct them to dawn (at) rveducation101.com
Please read our Affiliate Terms & Information:
NOTE - Affiliates cannot earn a commission on their own purchases.

How does this site's platform host handle multiple affiliate attribution?
"Cookies" can be used to prepare customized web pages or to save user information. A cookie is created when a user clicks an affiliate link, regardless of whether or not they purchase the course. This cookie is valid for the "cookie period" (365 days), or until the user's browser cache is cleared.
In practical terms, this means that even if someone clicks an affiliate's link, leaves the site, and returns to purchase later—the sale will still be counted towards the affiliate (as long as the user is on the same device, and the browser has not cleared their cache, and it is within the cookie period).
If there are multiple affiliates that are marketing to the same student, the attribution will go to the affiliate that most recently marketed towards the student (i.e. last-touch attribution). This is because cookies can overwrite each other, and even if there is a preexisting cookie that has not expired—a newly created cookie will take precedence.
Understanding Taxes as an Affiliate

U.S. Federal Tax
For tax purposes you will essentially be treated as an independent contractor, because the funds are paid by the student to this site's platform host, and then this site's platform host pays you the affiliates.
This means that, as is the case with all independent contractors, you the affiliate will be issued a 1099 if your earnings through us exceed $500. This site's platform host will request a W9 from you and that information will be used to send your 1099. This only applies if you are a U.S. person (a term inclusive of citizens, resident aliens, and qualifying entities).
NOTE: The figure this site's platform host uses for your 1099 is based on how much this site's platform host paid you during that year, rather than your sales made during that year. This means that because of this site's platform host's payment schedule, sales made at the end of one year may be included in the form for the next year (e.g. if you make a sale on December 20 and are paid on February 1, that payment counts as 2017 earnings).
NOTE: When you earn $100 or more on this site's platform, you'll be instructed to fill out a tax form through a banner in your Dashboard. If you earn $500 or more on this site's platform, and have yet to fill out a tax form, your payouts will be held by this site's platform until the required tax form is completed.
This site's platform host's payment schedule: Due to this site's platform hosts 30-day refund policy for courses, and can't release funds for affiliates immediately. Instead, this site's platform host pays you on the first of every month (or next business day if the 1st is on a weekend or holiday). These monthly deposits are made to your PayPal account and consist of your earnings from any course purchased at least 30 days prior to that date.
So, for example, on March 1, you would receive a payment for all course purchases that took place in the month of January. Then, on April 1, you are paid for purchases made in the month of February, and so on. Remember, if the first of any month falls on a Saturday, Sunday, or holiday, you'll receive the payments on the next working day.
NOTE: This site's platform host uses UTC as the time standard to calculate when sales are made. For example, a sale made at approx. 10 p.m. US Eastern on January 31 counts in our system as taking place early morning on February 1 in UTC. You can compare time zones here.
If you don't meet the $500 threshold, simply report your earnings as miscellaneous self-employment income when you file your taxes.
If you are a foreign person, you will be required to submit Form W-8BEN or Form W-8BEN-E.
Please read the RV Education 101 Affiliate Terms of Service Agreement:
RV Education 101 reserves the right to refuse or cancel an affiliate.

When posting affiliate tracking links to your site, you acknowledge that you have read the terms and conditions below for the RV Education 101 AFFILIATE Program, understand, and agree with them.
1. Joining the Program
When posting RV Education 101 affiliate links you will automatically become an AFFILIATE and are bound by the terms of this agreement. Your participation in the program is solely for this purpose: to legally advertise our website and products to receive a commission on RV Education 101 produced products purchased by your referral individuals.
2. Revocation of AFFILIATE Status
Your AFFILIATE application and status in the program may be suspended or terminated for any of the following reasons:
Inappropriate advertisements (False claims, misleading hyperlinks,non-disclosure)
Spamming (mass email, mass newsgroup posting, etc...)
Advertising on sites containing/promoting illegal activities
Violation of intellectual property rights.
3. Terms of the agreement
These terms will begin upon your posting of assigned AFFILIATE links through the AFFILIATE program and will end when your AFFILIATE account is terminated. The terms of this agreement may be modified by us at any time. If any modification to the terms is unacceptable to you, your only choice is to terminate your AFFILIATE account. Your continuing participation in the program will constitute your acceptance of any change.
4. Liability
We will not be liable for indirect or accidental damages (loss of revenue, commissions) due to AFFILIATE tracking failures, loss of database files, and any results of "intents of harm" to the program or our website. We do not make any expressed or implied warranties with respect to the AFFILIATE program and/or products sold at this site. We make no claim that the operation of the AFFILIATE program and our website will be error-free and we will not be liable for any interruptions or errors.
Affiliate further agrees and warrants that it will comply with all local, state and federal laws (including, but not limited to, the "CAN-SPAM" Act, effective January 1, 2004) regarding the sending of e-mails.
AFFILIATE shall indemnify and hold RV Education 101 harmless from any and all legal actions, damages or liabilities incurred from the day-to-day operations of AFFILIATE. Under no circumstances will RV Education 101 be liable whether in tort, contract or otherwise for indirect, incidental, consequential, special or exemplary damages (including but not limited to damages for any loss of revenue, profits, business interruption, loss of business information or data, loss of goodwill, work stoppage, hardware or software failure, or other pecuniary loss) arising from or relating to any provision of this Agreement or the program. Without limiting the foregoing, RV Education 101 aggregate liability arising with respect to this Agreement will not exceed the total fees paid or payable to AFFILIATE under this agreement.
5. The FTC's Endorsement Guides: What People Are Asking:
Read the guidelines posted by the FTC as it pertains to affiliate links by CLICKING HERE
When posting affiliate tracking links to your site, you acknowledge that you have read the terms and conditions above for the RV Education 101 AFFILIATE Program, understand, and agree with them.
If you agree to the terms above: