RV University This Week 07/18/2011
Sunday, July 17 2011 @ 12:17 pm UTC
Contributed by: RVED101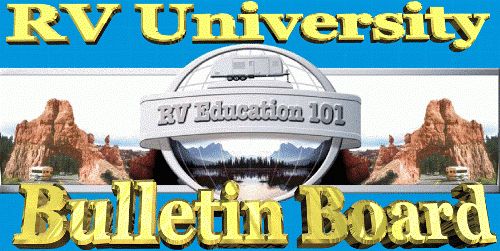 RV University this Week
Your weekly source for interesting
RV articles, tips, tricks, video clips and advice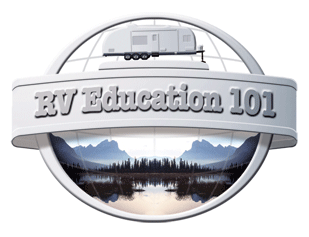 From the Industry Leader in RV Education:
RV Education 101
U of RV Journal #106 - July 18, 2011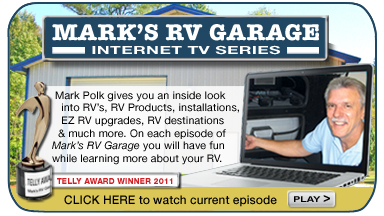 ---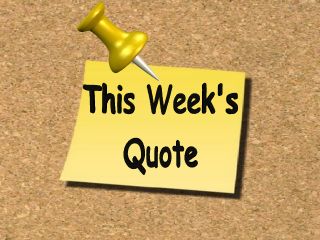 "The whole purpose of education is to turn mirrors into windows."
~Sydney J. Harris
---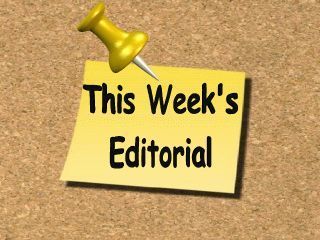 by Mark Polk
Hi Everybody,
We had a great vacation at the Cape Hatteras KOA on the North Carolina Outer Banks. There is lots to do and see in the area, or you can just relax and take in the miles of unspoiled beaches it has to offer. Dawn even insisted we look up the Rodanthe Inn, used in the "Nights in Rodanthe" movie. If your RV travels ever bring you through, or to, NC you should plan to visit the Outer Banks.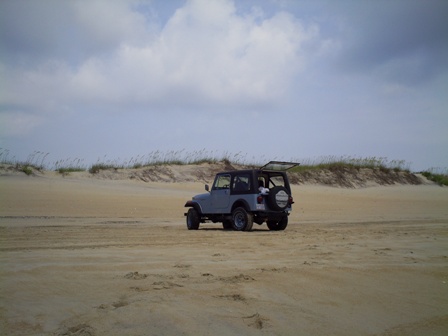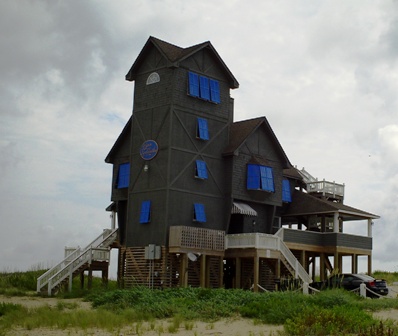 Now it's back to work and that means finishing up our vintage travel trailer restoration project. I can finally see a small light at the end of the tunnel, and can envision the Old Yellowstone heading out to a campground somewhere. I hope it's not just wishful thinking!!
Until next week, plan your trip, travel safe and enjoy your RV experiences. Remember, getting there is half the fun!
Mark Polk
**REMINDER! Like the RV Education 101 Facebook page. We post helpful RV information often and would also appreciate feedback, tips, RV related photos and comments from you!
---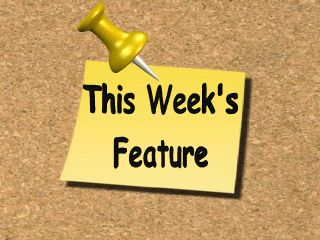 Basic RV Electricity One of the most common questions and concerns I receive is about the RV electrical system. Most people ask if I can explain the RV electrical system in simple to understand terms. The electrical system in your RV can seem complex and confusing until you have a basic understanding of how it works. .............. Read the article about Basic RV Electricity
---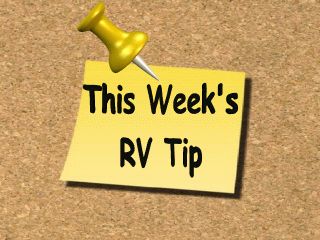 RV Savvy Tips by Mark Polk
Shorter versus Longer
Would it be easier to back a shorter trailer than a longer trailer? You would think so but that's not the case. If you don't believe me take a garden tractor with a small trailer attached to it and try backing it up. You can look over your shoulder and see everything you are doing but it is still difficult to back it up. A shorter trailer reacts much quicker to steering movements than a longer trailer. This is because the trailers axles are the pivot point and on a shorter trailer the axles are closer to the hitch ball mount on the tow vehicle. If you're backing a pop-up or short travel trailer it will require slower reactions and movements in the steering wheel than a longer trailer will. You should have a spotter whenever backing a trailer and the spotter needs to be in your view at all times - Remember: safety first!
This week we would like to provide you with some extra RV tips of the week:
Odors in RVs come in many different forms and are caused by many different sources. Some odors are pleasant, like fresh coffee brewing in the morning, and some are not so pleasant. The "not so pleasant" category includes holding tank odors, pet odors, cooking, smoke, and must and mildew odors, just to name a few. Some of these odors result from normal use of the RV while others stem from the RV sitting in storage.
One of the key factors for controlling odors: ventilation. Ventilation not only helps with odors, but can limit the amount of heat buildup in the RV, too. A quick fix for this odor-related problem is to install aftermarket roof vent covers, like MaxxAir vent covers, over the existing roof vents. The vent covers are easy to install and you can leave the roof vents open, even when it's raining outside. These ventilation products will keep the air circulating throughout the RV and help prevent odors.
Odor molecules aren't just in the air; they get in fabrics, carpets, ceiling, window treatments and other areas of the RV. Smoke, pet odors and musty odors can be difficult to eliminate. Masking an odor won't eliminate it. You want to kill the odor that causes bacteria to linger in the air. I experimented with many different odor-control products, but perhaps the best product I found for eliminating difficult odors is Febreze. After RV trips, or before storage, clean the RV thoroughly and spray Febreze throughout. Don't forget to spray the upholstery, carpet and fabrics, too.
To help prevent cooking odors from becoming permanent odors in your RV make sure you turn the range exhaust fan on whenever you are cooking, and it's a good idea to open a window, too. To maximize the efficiency of the range exhaust fan, keep the filter clean. On some RVs it is necessary to go outside and open the range exhaust fan door so the cooking odors actually vent outside. Check your RV owner's manual for more details concerning maintenance and operation of your range exhaust fan.
Another odor problem is associated with RV holding tanks and the use of strong chemicals to help control these holding tank odors. Formaldehyde-based chemicals are dangerous to humans, pets and the septic systems that we empty our holding tanks into. Because little water is used, in comparison to a domestic wastewater system, RV holding tank wastewater is far more concentrated. The organic strength from the mixture in an RV holding tank can be 15 to 20 times stronger than a typical wastewater system. This problem is compounded when the RVer gets some odors from the holding tank and dumps even more chemicals in the holding tank in an attempt to control the odors. I recommend using a holding tank treatment that is environmentally friendly and safe to use in septic systems. Enzyme-based holding tank treatments can effectively control holding tank odors.

Put some holding tank treatment in the gray water holding tanks too. When the gray tank is empty add some water, and the holding tank treatment, to the sink drains to help keep the gray water tank free of odors. I add some dishwashing liquid to the gray water tank periodically to assist with breaking down and grease and keep the holding tank clean.
When it's time to put the RV in storage there are several steps you can take to assist with controlling and eliminating common household odors. First, thoroughly clean the interior of the RV. Remove all perishable food and leave cabinet doors and drawers open so air can circulate. Defrost the freezer and thoroughly clean the refrigerator. Leave the refrigerator and freezer doors cracked open. I put a small tin of charcoal in the refrigerator compartment to help absorb any odors. Baking soda works well, too.
---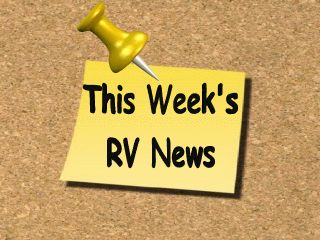 Pickup makers agree to standard test for towing ratings
It's a victory for truth, justice and anybody who ever towed a trailer up a steep hill...........
Family-friendly camp sites
Central Oregon is filled with camping options. Families can camp near mountains, lakes, rivers and canyons. In every direction, we are surrounded by lovely scenery and camping spots. But which campgrounds are the best for families?........
Hermosa Beach approves RV parking ordinance: RVers not welcome
Hermosa Beach unanimously approved another revenue raising measure July 12th by adding a new RV parking ordinance (for vehicles over 25 feet in length) to the long list of similar proposals that the city is considering in order to stave off bankruptcy. Earlier this year an attempt by the city council to impose a staggering 250% parking permit fee hike on residents who live in the city's preferential parking zone was overturned – quite literally – by an angry lynch mob..........
Itching to get outside
Summertime in Northern Michigan offers plenty of opportunity for outdoor recreation. But whether hiking, biking, camping, fishing or swimming, outdoor enthusiasts run the risk of picking up some of the season's itchiest inconveniences, such as poison ivy and swimmer's itch....
Bay City state park encouraging Camp Green effort
BANGOR TOWNSHIP — Diane Potts and her family are so used to conserving electricity at home, it comes second nature to stay environmentally friendly when they go camping at the Bay City State Recreation Area...........
Camping World opens in Calera
CALERA – Camping World celebrated the opening of its fourth store in Alabama on July 14 with a grand opening and ribbon cutting ceremony..........
Tapas Party "Girls Night In" at Flying Flags - Buellton, CA
No question, I love to prepare and enjoy fresh, delicious food straight from my RV kitchen but sometimes I, too, want a break. Enter my friends at El Rancho Marketplace. While the fellows were out golfing we gals enjoyed a leisurely "girls night in" tapas party at Flying Flags RV Resort with a wide and appetizing array of delicacies from El Rancho's extensive service deli, cheese counter, bakery and wine shop. .........
---
Controlling Gray Water Holding Tank Odors
Play time 3 minutes:

---
Check out this week's poll: " Do you have trouble with RV odors from the holding tanks?" and " Do you use formaldehyde free tank chemicals in your black holding tank?" To participate in the poll, look on the left hand column (here at RV University) towards the top
---
...with Mark
Q. Mark,
I'm not sure if you answer RV questions but decided to ask the expert just in case. I have asked several RV repair locations about this problem and I get a different answer, or no answer, at every one. So far, none have panned out as being the correct answer.

After winter storage of my 2006 Forest River/Flagstaff, I unplugged the 110/30 amp cord that I keep hooked up (when stored/parked) to keep the battery charged and also use the trailer as a spare bedroom if needed. When I attempted to extend the slide out (pulling from the battery), it would not work. The same was true of my power jack on the tongue. Everything else in the trailer worked off the battery except these two items. If I make my connection from the trailer to my truck, the same is true...i.e. neither the slide out nor the power jack will work. I took my battery to have it checked and the dealer told me it needed charging so I charged it for 14 hours but this did not resolve the problem. A technician at Camping World told me it was the converter fuse but it seems to work for everything else, i.e. power to lights, fans, etc. I checked all of the fuses and they all appear to be good. If I plug the 110/30 amp cord back into the trailer, the room slide works as well as the power jack on the tongue. I can't figure out what is different when it is pulling from the battery vs the house current? Any suggestions before I spend a fortune with someone that has never heard of this problem and spends a lot of time and money trying to run down the issue?

Maybe this could be an issue you could address on your website. Thanks in advance if you are able to help.

Mark Says:
The power tongue jack and the slide out require more amps to operate then the 12 volts lights and fans etc. It sounds to me like the battery can not handle the additional load required to operate the slide and the power jack.

I would test each cell with a hydrometer, or take the battery to a qualified battery shop and have it tested. Chances are there is an internal problem with the battery. When you leave the trailer plugged in with the battery charging for long periods of time the water in the cells can evaporate and or the plates can sulphate reducing the capacity of the battery and causing damage.

The reason it works when you are plugged in is because it is using the converter to supply the required power to operate the jack and slide out, not the battery by itself.

Try putting a deep cycle battery, that you know is good, on the trailer and see if the jack and slide will work. That is where I would start, before paying somebody to troubleshoot the problem.

Hope this helps,
Mark

Follow up:
Mark,
Thank you so much for the reply and your excellent advice.

You were correct. The problem was with the battery (only). For your info and reference to future issues, here are a couple of "I learned" spotlights.

1. I originally took the battery to a Auto Zone store where they "tested" the battery and said it was good, just needed a full charge. After a 24 hour charge and subsequent recharge during RV towing, the problem persisted but I thought battery was now fully charged and that it was an other than battery issue.

2. The battery was original with trailer and was a deep cycle marine type but maintenance free so the cells could not be checked.

3. On your advise, I took battery to Advance Auto where they ran diagnostic. The printout showed no problems but that voltage was at 4. Customer rep said that it was impossible to determine cell condition due to (A) low voltage for test would not show battery condition and (B) battery was closed system.

4. His expertise however was the clue. Unlike Auto Zone, the guy at Advance Auto noticed that the sides of the battery were not perfectly smooth and had a ever so slight bulge which he said "was always an indicator that there was probably a cell problem". He based this on his experience with batteries over the years. I had not noticed this but upon inspection, but found that he was correct in his observation.

5. I purchased a new marine type, deep cycle battery and the problem was totally resolved, i.e., slide out works, tongue jack works and all lights work. This saved my taking the RV to a dealership only to have a pricey inspection which would have resulted in a service charge and then a new battery. Probably saved 50 to 75% cost by simply replacing the battery. Thanks to your advise.

FYI, the original battery indicated it was mfg in 2005 so it lasted about 6 years in outside conditions so I guess I still got my money's worth out of it. Thanks for the response and the recommendation.
---
Sponsors and Helpful RV Links endorsed by RV Education 101:

Own a motorhome?
Membership in FMCA brings with it a wealth of benefits and services
— all specially designed to meet the needs of motorhome owners.
The value of these benefits and services far exceeds the cost of the annual dues.
Benefit highlights
---
Camping/RV Battery Chargers- BatteryMINDers® are the new generation of SMART, pulse type "computer-on-a-chip" chargers, that safely charge and maintain all size / type / brands of batteries including starter, deep cycle and sealed types including AGM "dry" made by OPTIMA, ODYSSEY, EXIDE, INTERSTATE, et al. They do all of this without ever overcharging, no matter how long they are left on charge – days-weeks-or even months. Dubbed the chargers with "brains," they are the first to fully-automatically reverse the primary cause of early battery failure known as "sulfation". Sulfated batteries once considered beyond recovery can now be brought back to long-term useful condition. Certain models of BatteryMINDers® can more than double the useful life of new batteries.
---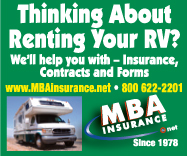 MBA Rental Insurance for Dealers and Consumers: MBA Rental Insurance for Dealers and Consumers: Specializing in RV Rental Motorhome Insurance Since 1978. MBA Insurance has grown into the premier Rental Insurance Agency in the country writing insurance coverage for Motor Homes, Travel Trailers, Pop-up Campers, Motorcycles, ATVs, Scooters, Utility and Cargo Trailers, Conversion Vans, Boats and other Watercrafts.An "A" Rated Insurance Company Insuring over 2,000 Rental Dealers Nationwide.
---
Explorer RV Insurance Since 1997, Explorer RV Insurance Agency has been providing custom-designed RV insurance programs for RV owners. The agency represents leading RV insurance carriers that offer products in 48 states. Explorer RV Insurance is underwritten by companies with A.M. Best ratings of "Excellent" or higher. An auto policy can't begin to cover the complexities of an RV. You need specialty coverage like vacation liability, total loss replacement, personal effects and much more......
---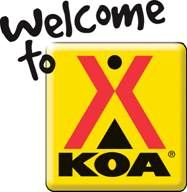 KOA camping is different Our Great People make sure of that. We're near most every attraction and national park in America. Wherever you want to go. At every one of our over 475 locations our focus is you. KOA is by far the largest group of affiliated campgrounds on the continent. From Wi-Fi and cable to fire rings and food service, KOA has you covered. Your experiences. Your enjoyment. Your memories. Your camping.
---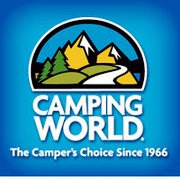 Camping World Camping World began with one small store and a mail order business in an old farmhouse heated by a wood-burning stove. A tobacco barn served as their first warehouse. Since then, Camping World has grown into America's leading RV accessories and service experts, bringing you everything you need for your RV, with Nationwide SuperCenters, an award-winning website, and full-color catalogs.
---

Dicor Corporation is a leading supplier of innovative products to the OEM and component manufacturers for recreational and conversion vehicle industries, as well to distributors in the recreational vehicle and automotive aftermarkets.
---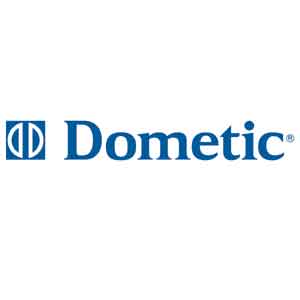 Dometic RV products are designed with your comfort in mind. With over 80 years in the RV industry, Dometic has become a leader in manufacturing innovative, high-quality RV products that enhance the living space in your RV, motorhome or coach.
---

RV-500 Space and Water Heating Systems for Recreational Vehicles The RV-500 delivers on demand hot water efficiently and conveniently with up to 55,000 BTU's of power. The RV-500 is quiet and efficient.
---

ASA Electronics brings you the high quality electronics that mobile applications require. ASA works side by side with your designers, engineers, and sales team to develop and provide customized solutions through exclusive engineering, thorough testing, and tailor made product designs
---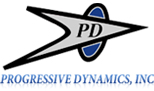 Progressive Dynamics Inc. The source of bright ideas since 1964 Progressive Dynamics offers quality Recreational Vehicle products to the RV industry. And in recent years has developed several new products for the RV Industry
---

MaxxAir The best way to describe MaxxAir is to say it's in the air moving business -- RV ventilation to be more specific
---
The 2011 Via® With its introduction, the Winnebago Via® created the exclusive Mercedes-Benz® Sprinter-based Class A category and revolutionized the definition of what a Class A coach could be with unparalleled fuel economy and eye-catching styling. For 2011, the revolution continues and the Via shines even brighter with a host of improvements, including the all-new double-slide 25Q floorplan, an improved design of the Flex Bed Sleeping System featured on the popular 25T and a more powerful Mercedes-Benz diesel engine that provides improved fuel economy. The Class A revolution is here. Join in with your very own 2011 Winnebago Via.
---
Whether you are brand new to the RV experience or a veteran of the traveled road, learn step-by-step, all the facets of RVing - from the obvious to the "I never realized that"... Go HERE to find out....
---

Are you an RV dealer? RV Education 101 created a program just for your customers! The RV Orientation Online Training Program.
This online RV training program includes an RV orientation video similar to the walk-through class you receive at the RV dealership. The RV Orientation video is 54 minutes long and is packed with information on topics like campground setup, the LP gas system, water system, wastewater system, electrical system, RV appliances, RV accessories and much more. We even added a bonus chapter on RV safety features, and some bloopers to make it more entertaining. The video is generic and covers all types of RV's including motorized and towable RV's. If your RV dealer does not offer this online RV training program you can purchase it here
---
We also offer RV Dealer bulk discounts on our training materials. Our Walk through DVDs have helped tens of thousands of RV consumers learn how to properly operate and maintain their RVs. Hundreds of RV dealers across the country are benefiting from what our program has to offer the customer oriented RV dealership. Contact Dawn today for your RV dealership pricing: dawn@rveducation101.com

---


RV Education 101 & RV University went mobile!
Check us out on the go
http://www.rveducation101.mobi
&
http://www.rvuniversity.mobi
from your phone!. .....


Share your thoughts & experiences with other RVers and Campers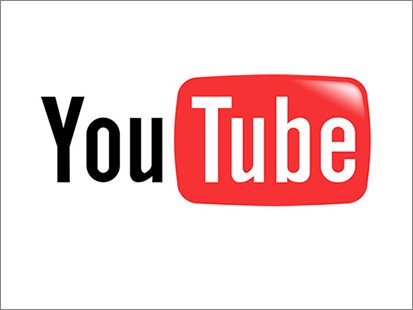 Money Saving DVD Sets Available

5th Wheel Training DVD Sets
Travel Trailer Training DVD Sets
Class A Training DVD Sets
Class C Training DVD Sets
---
17 RV Single DVD Titles in our Library
An Introduction to RV's
Pop Up 101
Travel Trailer 101
Class A Motor Home 101
Class C Rental / Owner
RV Awning Use, Care and Accessories
RV Safety Features, Tips and Tricks
Winterizing & Storing your RV
EZ RV Add Ons and Must Have RV Products
Tow Your 5th Wheel Like a Pro
Trailer Towing, Weights, Hitch Work & Backing
Drive Your Motorhome Like a Pro
Motorhome Towing
RV Campground Basics
Marks Recommended 10 minute RV Essential Items
Deep Cycle Battery Care & Maintenance for RV's and Boats
RV Care and Maintenance
---
15 RV Instant Download E-Book Titles in our Library
The Original Checklists for RVers
Winterizing and Storing your RV
THE RV BOOK now available as an ebook
The Three Primary Systems of an RV
Insider's Guide to Buying an RV
RV Buyers Survival Guide
Trailer Towing, Weights, Hitch Work & Backing
A Collection of RV Tips
Pop-Up Basics 101
Dinghy Towing
Deep Cycle Battery Care and Maintenance
RV Awning Use and Care
RV Safety Features, Tips and Tricks
RV Care and Maintenance
RV Campground Basics
---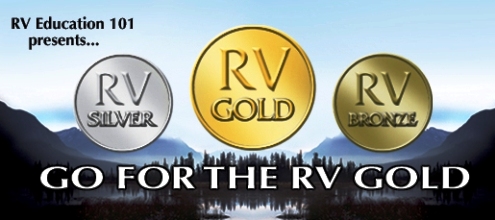 Go for the RV Gold Program
The Go For the RV Gold program is loaded with one-on-one RV training videos, feature articles, RV tips, crossword puzzles, member discounts for RV services and RV products, quizzes, and much more. This is the only online RV training program that will teach you everything you need to know about your RV at such a reasonable cost, and totally at your leisure with no deadlines. There are customized worksheets provided for navigation, so nothing is missed or overlooked. There is a space provided for you to make notes for each topic and then a feature to print the worksheet when completed.
At the end of the program there is a 25 question final exam. If you pass the final exam (you need a 72% or higher score) you will receive your "Go for the RV Gold" training certificate that you that you can proudly display in your home or RV. P.S. If you don't pass the final exam, you will be given an opportunity to take it again until you do pass, so you can receive your Go for the RV Gold certificate.
National Interstate Insurance company offers a 5% safe driver discount when you successfully complete the "Go for the RV Gold" program. Just present your "Go for the RV Gold" certificate of completion to an authorized National Interstate Insurance agent.
The membership fee is only $49.95 per month for 3 months. Billing is on a 30 recurring basis until the final payment is made. This equates to only $12.49 for each in-depth weekly RV training course. When you select the recurring billing payment option you receive the a new RV training module each month. You can't beat this low pricing for one-on-one RV education training in the comfort of your own home or RV. There is no driving to get to the training location, no packed classrooms and no time restraints.
Note: There is second payment option available where you can pay the full $149.85 program price in one payment. If you select this payment option you will receive all 3 RV modules (12 weekly courses) at one time, after payment and registration.
This program compliments our current line of RV Education 101 training dvds!
3 payments of $49.95 or a 1 time payment of $149.85
Buy Now
---
Episode #1 of "Mark's RV Garage"

Episode #2 of "Mark's RV Garage"

Episode #3 of "Mark's RV Garage"

Episode #4 of "Mark's RV Garage"

Episode #5 of "Mark's RV Garage"

Episode #6 of "Mark's RV Garage"

Episode #7 of "Mark's RV Garage"

Episode #8 of "Mark's RV Garage"



Episode #9 of "Mark's RV Garage"

Episode #10 of "Mark's RV Garage"

Episode #11 of "Mark's RV Garage"

Episode #12 of "Mark's RV Garage"

---
In addition to being available on YouTube, Mark's RV Garage is available for viewing with full episode details at RV Videos On Demand
---
---
General and Unsubscribe Info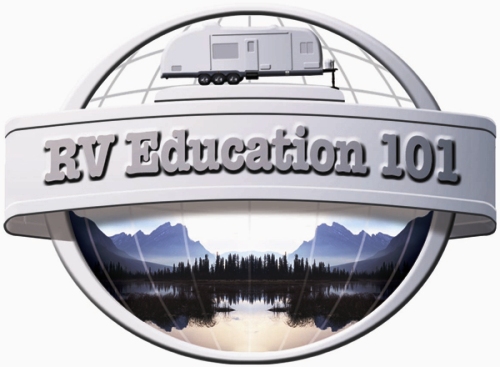 About us:
Our goal with RV University This Week is to provide you with helpful information to make all of your RV experiences more enjoyable. I left my position as an RV Sales and F&I manager in 2000 to start my own company, RV Education 101. We produce educational videos, DVDs and e-books on how to use and maintain your RV. The reason I left my job was due to my concern about the lack of educational and safety awareness material available to the RV consumer, in other words, you. We are a small company. My wife Dawn left her position in RV sales to help start the company and is our Sales and Marketing Director. We currently have a 35-foot Class A motor home. We have two boys, Tyler 14 and Josh 20, both avid RVers and three dogs, Roxie, Gracie and Buck. If you would like to learn more about us and RV Education 101 feel free to visit http://www.rveducation101.com
RV University This Week © Copyright 1999- 2011 Mark J. Polk, except where indicated otherwise. All rights reserved worldwide. Reprint only with permission from copyright holder(s). All trademarks are property of their respective owners. All contents provided as is. Advertisers are solely responsible for ad content.
To subscribe, please go to: http://rveducation101.com/email/
RV Education 101 Newsletter is an opt-in ezine available by subscription only. We neither use nor endorse the use of spam. Your email address will ONLY be used to distribute this newsletter and will NEVER be sold or given to any other entity!!
Happy Camping,
Mark & Dawn
RV Education 101
150 Bay Ridge Rd
Harrells, NC 28444-8896
910-484-7615
mark@rveducation101.com
dawn@rveducation101.com
Copyright 2011 by RV Education 101