RV University This Week 06/27/2011
Sunday, June 26 2011 @ 01:46 pm UTC
Contributed by: RVED101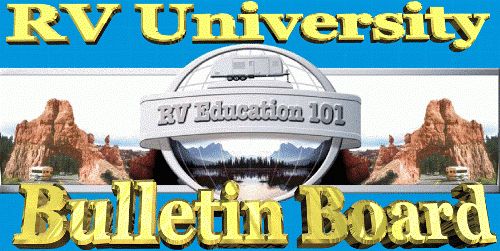 RV University this Week
Your weekly source for interesting
RV articles, tips, tricks, video clips and advice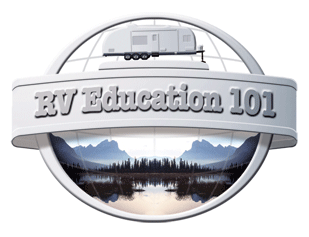 From the Industry Leader in RV Education:
RV Education 101
U of RV Journal #105 - June 27, 2011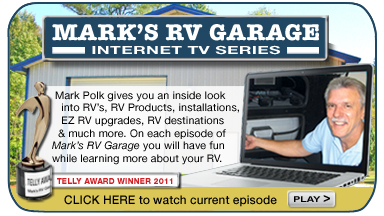 In addition to the show airing on our RV Videos on Demand website,you may embed the YouTube video on your blog, Facebook or website….help us spread the word!
"Mark's RV Garage" Internet TV Series
by RV Education 101 wins the 2011 Telly Award!
The Telly Awards honor the very best local, regional,
and cable television commercials and programs,
as well as the finest video and film productions,
and work created for the Web.
---
This episode of Mark's RV Garage is sponsored by:
Explorer RV Insurance, KOA Campgrounds , Camping World, Dicor and RV Education 101
See Highlights of Episode 11 Below:
RV Product Spotlight:
360 RV SIPHON
If you have been RVing for awhile you have probably experienced holding tank odors in your RV at one time or another. This is quite common. Holding tanks in your RV are vented trough the roof to release the gasses into the atmosphere. The problem comes when a down draft creates higher air pressure in the holding tank and the only place for the gasses to go is to a low pressure area inside the RV. No amount of holding tank chemicals or tank cleaning is going to prevent these foul odors from entering your RV when there is a downdraft in the vent pipe.
I have tried lots of products with claims of solving these holding tank related odor problems, but I only found one that really solved the problem. It's called the RV 360 Siphon. The RV 360 is a fume extractor and the way it works is by using wind from any direction or angle to keep the air pressure in the tanks lower than the air pressure in the RV. It doesn't matter if you are parked or traveling, and whether there is a slight breeze or a high gusty wind, the RV 360 creates a low pressure drawing the gasses up and out of the vent pipe.
The RV 360 siphon quickly and easily replaces the original vent caps on your RV, or installs on new applications like our restoration project or roof replacements. Let me show you just how easy it is to install.
With no moving parts and its simple design the RV 360 Siphon will work effortlessly for many years to come. Just think, no more unpleasant holding tank odors seeping into the RV living space. What a small price to pay to solve a big problem. For more information or to purchase the RV 360 Siphon take a minute to visit www.360productsnorthamerica.com
Don't leave home without it. ~ Mark Polk
---
Mark's RV Mailbox:
Question:
We went camping over the weekend and since then I have kept the fridge plugged in. While we were there camping and since returning everything in the fridge is frozen solid. I have adjusted the plastic clip that goes over the fins but it doesn't seem to do anything for adjusting the temperature. The cost to replace the fridge looks like a big ouch!! Any suggestions??!! Please and thank you.
Answer: You didn't mention a make or model for the refrigerator, but there are a couple things that you can try. You mentioned adjusting the thermistor on the fins of the refrigerator. When you make an adjustment by sliding it up or down on the fins you need to allow the refrigerator to return to room temperature and then cool it down again to see if there is a change in the temperature. I recommend using a thermometer in the refrigerator compartment to get accurate readings when you make adjustments. Try moving it down on the fins for less cooling.
If the thermistor is properly attached to the fins, the wires have a good connection, and there is no change after making adjustments there is a good possibility that it went bad and will need to be replaced. On newer refrigerator models when a thermistor fails the refrigerator goes into a constant cooling mode, freezing everything in the refrigerator compartment. Thermistors aren't very expensive and most are fairly easy to replace, but you will need to adjust the new one as well.
---
RV Buzz Quick Tip:
Every single component in a towing system has a weight rating. This includes the vehicle, the receiver on the vehicle, the hitch, hitch balls, ball mounts and safety chains and cables. Never exceed the lowest rated component in the towing system. This applies to a truck towing a trailer and a motorhome towing a dinghy.
---
Trivia question about Mark:
How many RVers has Mark helped educate since starting RV Education 101 in 1999?
a) Less than 100,000
b) More than 250,000

c) More than 500,000
Answer b): RV Education has helped educate over 250,000 RVers since 1999
---
Never Leave Home Without....by Mark

When we travel by RV we sometimes take important personal items like an iPod, digital camera, car keys, jewelry, and important documents. Losing any of these items can end up being very expensive! It's also common for thieves to target RV's and other locations like beaches, hotel rooms and gyms where it's impossible to always keep an eye on everything.

The good news is for less than half the cost of a digital camera you can protect all of your valuables, no matter where it may be. The way to do it is with a product called MY Safe. There is the portable smart safe and the personal smart safe.

The Portable Smart Safe model works great in the RV. It combines a strong combination lock with a sophisticated motion alarm. If the safe is tampered with while it is armed, a loud alarm goes off and draws lots of attention quickly!

The Personal Smart Safe works great in your home or office. It combines a heavy duty radial lock with a sophisticated motion alarm and steel attachment cable to keep your valuables exactly where you left them. Regardless of the model you choose your valuables are protected. The unique motion alarm is added security to prevent thieves from stealing your valuables and the compact size makes it easy to conceal the safe in a drawer, closet, locker or under a bed. You can even recharge your battery powered devices while they are safely locked inside.

For more information or to purchase a my safe product visit www.xitel.com
---
RV DVD 6PACK

The 6 DVD set includes 3 seminar DVD's and 3 informational DVD's:
An $155.70 Value, for $99.95 INCLUDES:
1) RV Care & Maintenance
2) EZ RV Upgrades
3) RV Awning Use, Care & Maintenance (seminar)
4) RV Campground Basics
5) Deep Cycle Batteries (seminar)
6) RV Safety Features Tips & Tricks (seminar)
You only pay $5.95 for S/H!
...ALSO AVAILABLE AS SINGLES
By Mark Polk
RV Education 101 just made it easier for you to learn about YOUR RV! We took 6 of our individual DVD titles and put them together into a full set for you which is equal to over 5 hours of one on one instruction. You SAVE a significant amount of money with the set discount.
Mark said "After collecting a great deal of feedback from RVers who attend seminars all over the country I determined that live seminar presentations can not always offer numerous and sometimes cumbersome visual aids to effectively get the point across. That was the thought behind our new RV video seminar series. Seminars in video format allow me to present valuable information, using detailed graphics. It is the perfect solution to help educate the RV consumer."
After watching this complete Seminar Series set of 6 DVD's; by RV expert Mark Polk, you will master your own RV experiences. This counts as 1 item, so you only pay $5.95 for S/H! These titles are still available for purchase as single DVD's also.
"Dawn, I have been using the videos and getting your newletters and they have been godsends to a newbie like me. Please keep up the great work! I recommend your site to every RV'er I meet. Good news for your company is that whenever I mention your site, many already know about it. Looks like you're meeting the needs of a lot of people." ....Respectfully, Gary Brogna