RV University This Week 06/20/2011
Monday, June 20 2011 @ 12:28 pm UTC
Contributed by: RVED101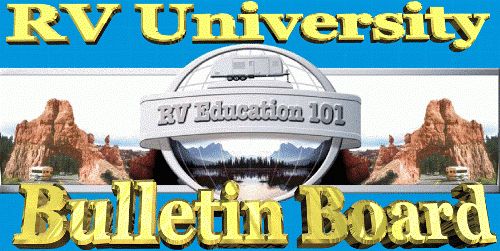 RV University this Week
Your weekly source for interesting
RV articles, tips, tricks, video clips and advice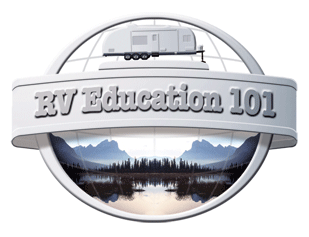 From the Industry Leader in RV Education:
RV Education 101
U of RV Journal #104 - June 20, 2011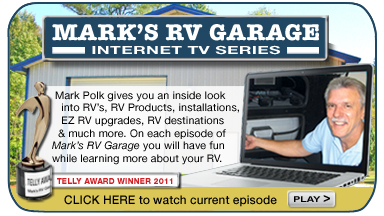 ---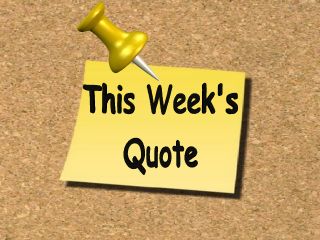 "'Nothing was ever achieved without enthusiasm."
~Ralph Waldo Emerson
---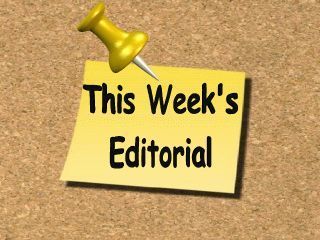 by Mark Polk
Hi Everybody,
Summer officially begins tomorrow and camping season is in full swing. We have three RV trips planned over the summer, and I can't wait to hit the open road. Until then we are continuing to work on the old Yellowstone restoration project and on upcoming episodes of "Mark's RV Garage."
I am no Chip Foose, but the other day I made several renderings of what the old Yellowstone trailer could look like when it is finished. I ran into a snag when I showed the drawings to Dawn and Tyler. We could not agree on the final design. As a matter of fact, we all liked a different version of the finished trailer. We also disagreed on the color combination. We did agree that part of the trailer would be painted silver, but could not agree whether to use red or blue as the secondary color. To help settle the dispute I told them we would let the viewers decide the final outcome.
Below there are two versions of each of our favorite designs. The drawings are labeled 1, 2 & 3 and the color is depicted after the number. We would like you to pick your favorite design and color and E-mail: Mark or E-mail: Dawn with your design number and color choice. We will tally up all of the votes and when it's time to paint the old Yellowstone the viewer's choice is what we will go with.
Until next week, plan your trip, travel safe and enjoy your RV experiences. Remember, getting there is half the fun!
Mark Polk
**REMINDER! Like the RV Education 101 Facebook page. We post helpful RV information often and would also appreciate feedback, tips, RV related photos and comments from you!
---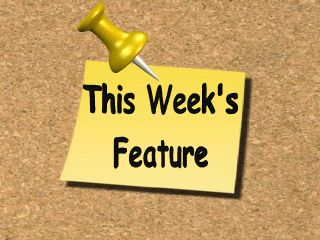 Why Weigh your RV? Weighing your RV can be the difference between a safe, enjoyable trip and a costly, disastrous trip. With multiple slide out rooms, amenities like washers and dryers, large holding tank capacities and the ample amount of storage space available on today's RVs it's easy to see why so many are overloaded. Overloaded RVs are extremely dangerous. Actually there are a lot more reasons for weighing your RV than I listed here, but my intent was to highlight some of the most important reasons for weighing your RV.............. Read the article
---
...with Mark Polk

Q. First let me say thanks for all your hard work and effort that you put forth to produce such an informative site. I own some of your DVD series, and find myself reviewing key features each year to refresh my knowledge....one of the best purchases ever.
I need to replace the tires on my Trail Lite travel trailer and am considering either the Towmaster or the Maxxis tire and was wondering if you had any opinion to offer one way or the other. We pull our travel trailer about 1000 miles a year (at most).
I am replacing the original Goodyear Marathon tires and have decided not use this brand as they are not only much more expensive, but also I have not read many good reviews since they moved their production to China.
The Towmasters are about 80.00 cheaper for the set of 4, but I don't want to let price be the final determining factor. Quality and safety of my family is the most important factor.
Thanks you so much for your time.
Mark Says:
For the most part tires are built the same way regardless of the name or brand. Over the years lots of tire manufacturers have experienced some problems at one time or another, but for the most part tires in general will hold up to the rigors of what they are designed and built for.
The important thing with trailers is getting the proper type and load rating of tire. The designation "ST" is used for trailer tires. Load ranges are designated by a letter. "C" would be equivalent to 6 ply, "D" 8 ply and "E" 10 ply.
Both Towmaster and Maxxis brands would work for your trailer as long as the load rating is at least the same or higher than what came on the trailer when it was new.
---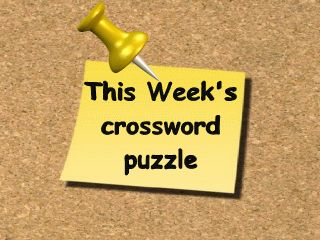 RV Education Crossword Puzzle
This play and learn crossword puzzle is "RV Roof Care & Maintenance 101", by Mark Polk.
Have fun, play and learn.
---
Check out this week's poll: "Are you happy with your current RV, or would you prefer a different type or size?"
To participate in the poll, look on the left hand column (here at RV University) towards the top left hand column
---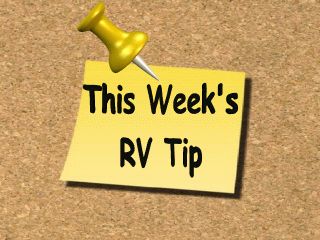 by Mark Polk
One golden rule for RV holding tanks is to never dump the black water tank until it is at least two thirds full. You can check the tank levels at the monitor panel. You want the tank nearly full so the weight and the gravity will force the contents of the tank to drain properly. Another golden rule is to never leave the black tank valve open at the campground and expect the toilet to drain or flush like the toilet in your home. It won't work.
---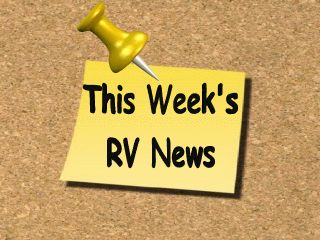 Homes roll, sales rock
Demand for RVs high despite gas prices, economy........
Thousands without power after thunderstorms hit Upstate
Wednesday night's severe thunderstorm tossed RVs and large tool boxes around like toys at Bob Ledford's Adventure Motor Homes in Greer, SC. RVs weighing 7,000 to 11,000 pounds were moved by the wind. A large RV, about 11,000 pounds, was picked up from the lot by the wind and dropped on Interstate 85..........
For couples in close quarters, squeeze-y does it
If absence makes the heart grow fonder, could time spent together in extremely close quarters make the heart grow ... ummm ... considerably less fond? ........
Swanton company opens road to handicap
Swanton-based Walters Travel Trailers is opening the road to wheelchair-bound campers.........
Recent RV Recalls
Get the latest recall information for RVs, campers, trailers and other recreational vehicles. We provide the most current & comprehensive recall information from the NHTSA (National Highway Traffic Safety Administration). Browse or search through our database to find the RV you are interested in & stay informed.........
NOAA Weather Radio All Hazards
Station Listing and Coverage.........
RVAct- Recreational Vehicle Alliance for Camping & Travel
Act Now! Tell Congress to Renew GSP!The expiration of the Generalized System of Preferences (GSP) program is costing the RV industry thousands of dollars a day..........
---
Mark's RV Product Spotlight:
6 Shaded Globe Lights:
One of the most enjoyable times RVing is when you are sitting outside on a beautiful evening. Whether it's enjoying a campfire, the company or the sounds surrounding you at night it's a lot of fun. Nothing adds to the ambiance more than a nice set of patio lights for your awning. These lights come in all shapes and sizes to suit your personal preference. Black shade directs light to your campsite, adding a welcoming glow. Uses standard 60-watt or lower bulbs (sold separately). Don't leave home without this great light set ~
Mark Polk
Available at
Camping World
---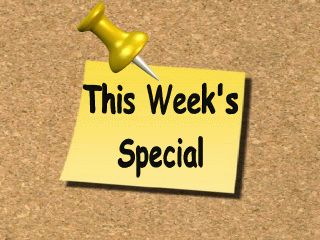 Let RV Education 101 help you save money in 2011
This weeks featured product:
ONLINE RV Roof Care & Maintenance E-Course
Maintaining your RV roof adds years of life to your RV. Water damage is one of the most common & expensive types of damage to an RV, and much of this damage starts on the RV roof. If there is a way in the RV water will find it. Let Mark Polk show you how to protect your RV roof from water intrusion, how to properly clean the roof, inspect the roof, seal the roof and much more in this informative online RV e-course. This e-course is over 10 minutes in length, and is priced at only $5.99
RV Videos on Demand Tip: Repairing water damage on the RV roof can cost upwards of 160 times the price of this online e-course.
BUY Mini Online Course NOW
---
Watch the RV Cooking Show: A virtual cooking class on wheels with an RV travel component, The RV Cooking Show takes viewers on adventures to some of the most sought-after or interesting but little-known RV locations in the country and then creates a healthy, easy, delicious destination-related dish in host Evanne Schmarder's RV kitchen.Each less-than-10-minute episode - part travelogue, part cooking show - shares travel tips, ideas and recommendations on popular RVing locales and products then walks viewers through the preparation of a delicious destination-related dish. Past episodes include a tour of Albuquerque's 505 Chili Factory and Huevos Rancheros, Mojitos and the Fabulous Florida Keys and a salmon dinner in conjunction with the spectacular Olympic National Park.Viewers have the option of watching the RV Cooking Show on YouTube, various RV-related websites such as Camping.com and RVDreamRadio or on the RV Cooking Show website. So as not to miss a single savory episode, viewers may subscribe to the show on YouTube or on this website. An RV industry insider, full-time RVer Ms. Schmarder connects with viewers in part by "living the (their) RV dream". She is a professional speaker, writer, foodie and unabashed explorer.
---
Thanks for joining me today in my RV garage. Travel safe and have fun in your RV and remember when it comes to learning about RV's we've got you covered. Be sure to take a minute and visit
www.rvconsumer.com
and we'll see you right back here next on our next episode of marks RV garage.
Mark Polk
EPISODE #1
EPISODE #2
EPISODE #3
EPISODE #4
EPISODE # 5
EPISODE #6
EPISODE #7
EPISODE #8
EPISODE #9
EPISODE #10
---
Sponsors and Helpful RV Links endorsed by RV Education 101:

Own a motorhome?
Membership in FMCA brings with it a wealth of benefits and services
— all specially designed to meet the needs of motorhome owners.
The value of these benefits and services far exceeds the cost of the annual dues.
Benefit highlights
Explorer RV Insurance: An auto policy can't begin to cover the complexities of an RV. You need specialty coverage like vacation liability, total loss replacement, personal effects and much more........
MBA Rental Insurance for Dealers and Consumers: Specializing in RV Rental Motorhome Insurance Since 1978. An "A" Rated Insurance Company Insuring over 2,000 Rental Dealers Nationwide. .......
MaxxAir : The best way to describe MaxxAir is to say it's in the air moving business -- RV ventilation to be more specific........
DirecLink: Stop relying on brake controllers that use devices to sense what's happening. DirecLink gets its information direct from the source - your tow vehicle. ........
KOA: KOA camping is different. Our Great People make sure of that. At every one of our over 475 locations our focus is you. Your experiences. Your enjoyment. Your memories. Your camping. ........
Camping World: Placing your order with Camping World is easy with knowledgeable crew members ready to assist with questions, or find just the right product you need. ........
Progressive Dynamics Inc. The source of bright ideas since 1964 Progressive Dynamics offers quality Recreational Vehicle products to the RV industry.
Dicor Corporation is a leading supplier of innovative products to the OEM and component manufacturers for recreational and conversion vehicle industries, as well to distributors in the recreational vehicle and automotive aftermarkets.
The 2011 Via® With its introduction, the Winnebago Via® created the exclusive Mercedes-Benz® Sprinter-based Class A category and revolutionized the definition of what a Class A coach could be with unparalleled fuel economy and eye-catching styling. For 2011, the revolution continues and the Via shines even brighter with a host of improvements, including the all-new double-slide 25Q floorplan, an improved design of the Flex Bed Sleeping System featured on the popular 25T and a more powerful Mercedes-Benz diesel engine that provides improved fuel economy. The Class A revolution is here. Join in with your very own 2011 Winnebago Via.
Camping/RV Battery Chargers- BatteryMINDers® are the new generation of SMART, pulse type "computer-on-a-chip" chargers, that safely charge and maintain all size / type / brands of batteries including starter, deep cycle and sealed types including AGM "dry" made by OPTIMA, ODYSSEY, EXIDE, INTERSTATE, et al. They do all of this without ever overcharging, no matter how long they are left on charge – days-weeks-or even months. Dubbed the chargers with "brains," they are the first to fully-automatically reverse the primary cause of early battery failure known as "sulfation". Sulfated batteries once considered beyond recovery can now be brought back to long-term useful condition. Certain models of BatteryMINDers® can more than double the useful life of new batteries.
Whether you are brand new to the RV experience or a veteran of the traveled road, learn step-by-step, all the facets of RVing - from the obvious to the "I never realized that"... Go HERE to find out....
---

Are you an RV dealer? RV Education 101 created a program just for your customers! The RV Orientation Online Training Program.
This online RV training program includes an RV orientation video similar to the walk-through class you receive at the RV dealership. The RV Orientation video is 54 minutes long and is packed with information on topics like campground setup, the LP gas system, water system, wastewater system, electrical system, RV appliances, RV accessories and much more. We even added a bonus chapter on RV safety features, and some bloopers to make it more entertaining. The video is generic and covers all types of RV's including motorized and towable RV's. If your RV dealer does not offer this online RV training program you can purchase it here
We also offer RV Dealer bulk discounts on our training materials. Our Walk through DVDs have helped tens of thousands of RV consumers learn how to properly operate and maintain their RVs. Hundreds of RV dealers across the country are benefiting from what our program has to offer the customer oriented RV dealership. Contact Dawn today for your RV dealership pricing: dawn@rveducation101.com

---


RV Education 101 & RV University went mobile!
Check us out on the go
http://www.rveducation101.mobi
&
http://www.rvuniversity.mobi
from your phone!. .....


Share your thoughts & experiences with other RVers and Campers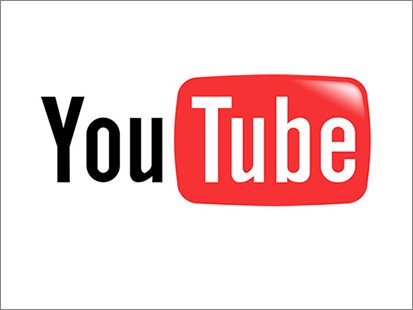 Money Saving DVD Sets Available

5th Wheel Training DVD Sets
Travel Trailer Training DVD Sets
Class A Training DVD Sets
Class C Training DVD Sets
---
17 RV Single DVD Titles in our Library
An Introduction to RV's
Pop Up 101
Travel Trailer 101
Class A Motor Home 101
Class C Rental / Owner
RV Awning Use, Care and Accessories
RV Safety Features, Tips and Tricks
Winterizing & Storing your RV
EZ RV Add Ons and Must Have RV Products
Tow Your 5th Wheel Like a Pro
Trailer Towing, Weights, Hitch Work & Backing
Drive Your Motorhome Like a Pro
Motorhome Towing
RV Campground Basics
Marks Recommended 10 minute RV Essential Items
Deep Cycle Battery Care & Maintenance for RV's and Boats
RV Care and Maintenance
---
15 RV Instant Download E-Book Titles in our Library
The Original Checklists for RVers
Winterizing and Storing your RV
THE RV BOOK now available as an ebook
The Three Primary Systems of an RV
Insider's Guide to Buying an RV
RV Buyers Survival Guide
Trailer Towing, Weights, Hitch Work & Backing
A Collection of RV Tips
Pop-Up Basics 101
Dinghy Towing
Deep Cycle Battery Care and Maintenance
RV Awning Use and Care
RV Safety Features, Tips and Tricks
RV Care and Maintenance
RV Campground Basics
---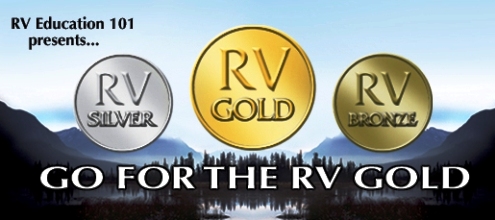 Go for the RV Gold Program
The Go For the RV Gold program is loaded with one-on-one RV training videos, feature articles, RV tips, crossword puzzles, member discounts for RV services and RV products, quizzes, and much more. This is the only online RV training program that will teach you everything you need to know about your RV at such a reasonable cost, and totally at your leisure with no deadlines. There are customized worksheets provided for navigation, so nothing is missed or overlooked. There is a space provided for you to make notes for each topic and then a feature to print the worksheet when completed.
At the end of the program there is a 25 question final exam. If you pass the final exam (you need a 72% or higher score) you will receive your "Go for the RV Gold" training certificate that you that you can proudly display in your home or RV. P.S. If you don't pass the final exam, you will be given an opportunity to take it again until you do pass, so you can receive your Go for the RV Gold certificate.
National Interstate Insurance company offers a 5% safe driver discount when you successfully complete the "Go for the RV Gold" program. Just present your "Go for the RV Gold" certificate of completion to an authorized National Interstate Insurance agent.
The membership fee is only $49.95 per month for 3 months. Billing is on a 30 recurring basis until the final payment is made. This equates to only $12.49 for each in-depth weekly RV training course. When you select the recurring billing payment option you receive the a new RV training module each month. You can't beat this low pricing for one-on-one RV education training in the comfort of your own home or RV. There is no driving to get to the training location, no packed classrooms and no time restraints.
Note: There is second payment option available where you can pay the full $149.85 program price in one payment. If you select this payment option you will receive all 3 RV modules (12 weekly courses) at one time, after payment and registration.
This program compliments our current line of RV Education 101 training dvds!
3 payments of $49.95 or a 1 time payment of $149.85
Buy Now
---
Episode #1 of "Mark's RV Garage"

Episode #2 of "Mark's RV Garage"

Episode #3 of "Mark's RV Garage"

Episode #4 of "Mark's RV Garage"

Episode #5 of "Mark's RV Garage"

Episode #6 of "Mark's RV Garage"

Episode #7 of "Mark's RV Garage"

Episode #8 of "Mark's RV Garage"



Episode #9 of "Mark's RV Garage"

Episode #10 of "Mark's RV Garage"

---
---
General and Unsubscribe Info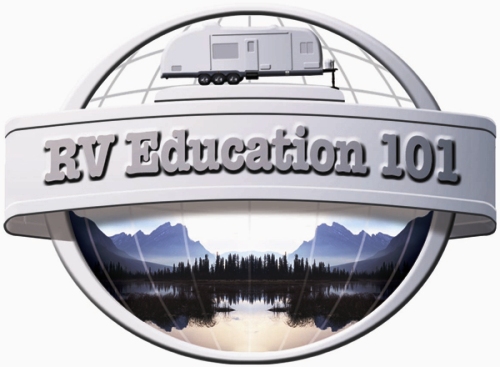 About us:
Our goal with RV University This Week is to provide you with helpful information to make all of your RV experiences more enjoyable. I left my position as an RV Sales and F&I manager in 2000 to start my own company, RV Education 101. We produce educational videos, DVDs and e-books on how to use and maintain your RV. The reason I left my job was due to my concern about the lack of educational and safety awareness material available to the RV consumer, in other words, you. We are a small company. My wife Dawn left her position in RV sales to help start the company and is our Sales and Marketing Director. We currently have a 35-foot Class A motor home. We have two boys, Tyler 14 and Josh 20, both avid RVers and three dogs, Roxie, Gracie and Buck. If you would like to learn more about us and RV Education 101 feel free to visit http://www.rveducation101.com
RV University This Week © Copyright 1999- 2011 Mark J. Polk, except where indicated otherwise. All rights reserved worldwide. Reprint only with permission from copyright holder(s). All trademarks are property of their respective owners. All contents provided as is. Advertisers are solely responsible for ad content.
To subscribe, please go to: http://rveducation101.com/email/
RV Education 101 Newsletter is an opt-in ezine available by subscription only. We neither use nor endorse the use of spam. Your email address will ONLY be used to distribute this newsletter and will NEVER be sold or given to any other entity!!
Happy Camping,
Mark & Dawn
RV Education 101
150 Bay Ridge Rd
Harrells, NC 28444-8896
910-484-7615
mark@rveducation101.com
dawn@rveducation101.com
Copyright 2011 by RV Education 101