Mark's RV Garage Episode #5 by RV Education 101
Monday, April 04 2011 @ 02:10 pm UTC
Contributed by: RVED101

Mark's RV Garage Episode #5 by RV Education 101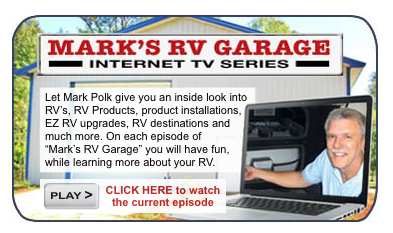 FOR IMMEDIATE RELEASE
RV Education 101 Releases Episode #5 of RV How-To Series titled "Mark's RV Garage"
Harrells, NC – April, 2011- RV Education 101 released Episode 5 of "Mark's RV Garage", an Internet based RV How-To series. The show is available for viewing at www.rvconsumer.com and on You Tube
Show host and producer Mark Polk said, "We are midway through season one of the show and are looking at our options for season two. The show has been well received by viewers and a second season is not out of the question."
Mark's RV Garage features a vintage travel trailer restoration project, RV product reviews, RV product installations, EZ RV upgrade projects, RV tips and information and an RV destination spot.
On this episode of Mark's RV Garage:
Mark & Tyler finish framing the vintage travel trailer and start the rough-in wiring.
Learn how to protect your RV from power surges and improper campground wiring
Get some great tips for extending the life of your RV holding tanks and controlling odors
Get some answers on how to protect your RV awnings
See what camping tip won the author a free copy of Microsoft Streets & Trips
All Episodes of Mark's RV Garage are archived at http://rvconsumer.com/ for easy retrieval and viewing.
Episode # 6 will be available at www.rvconsumer.com on 18 April 2011.
GO HERE to view Mark's RV Garage, and keep checking back for new episodes.
For advertising rates or to get more information on these online RV training programs contact Dawn @ 910-484-7615
E-mail: Dawn Polk