RV University This Week 01/31/2011
Monday, January 31 2011 @ 02:15 pm UTC
Contributed by: RVED101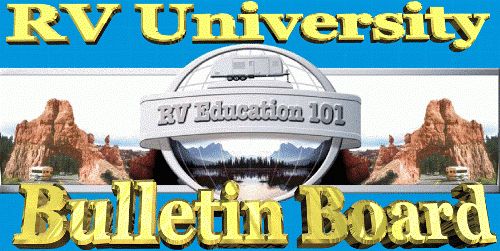 RV University this Week
Your weekly source for interesting
RV articles, tips, tricks, video clips and advice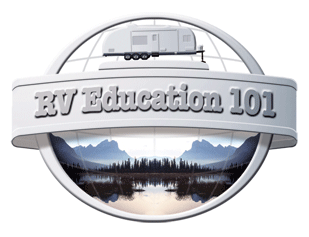 From the Industry Leader in RV Education:
RV Education 101
U of RV Journal #88 - January 31, 2011
---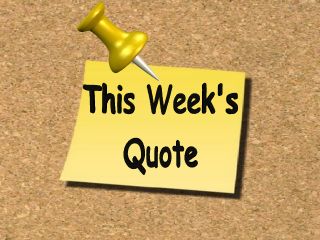 "Twenty years from now you will be more disappointed by the things you didn't do than by the ones you did do. So throw off the bowlines. Sail away from the safe harbor. Catch the trade winds in your sails. Explore. Dream. Discover."
~Mark Twain
---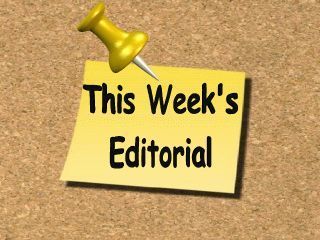 by Mark Polk
Hi Everybody,
Well the countdown is on to the Super Bowl and to the launch of our new "Mark's RV Garage" Internet TV show. I am excited for both the Pittsburgh Steeler's opportunity for an unprecedented 7th Super Bowl championship, and for the first episode of our new show.
Working on the new show is a lot of work and a lot of fun at the same time. There is definitely a learning curve involved with attempting to produce any type of show, even an RV how-to Internet based show . We learned a lot working on the first episode and hopefully future episodes will improve as time goes on.
The current episodes of Mark's RV Garage will be announced HERE with the first episode airing 7 February 2011. The show is streamed video, which means you will need an Internet connection to view it. We will be working on additional distribution channels to increase viewing options as time goes on. Each episode will be archived for easy retrieval and viewing. We are proud to offer our readers this new Internet based RV how-to show in addition to our other comprehensive online RV training programs.
Until next week, plan your trip, travel safe and enjoy your RV experiences. Remember, getting there is half the fun!
Mark Polk
**REMINDER! Like the RV Education 101 Facebook page. We post helpful RV information often and would also appreciate feedback, tips, RV related photos and comments from you!
---

Mark's RV Garage Internet TV Show
---
Check out this week's poll: " Do you plan to use your RV more in 2011 than you did in 2010? " To participate in the poll, look on the left hand column (here at RV University) towards the top
---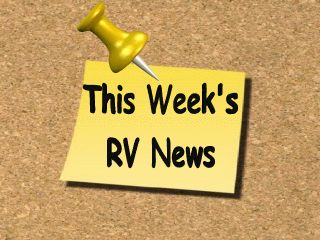 Division of Tourism considers new discount program
A statewide program that could impact Northwest Missouri tourism and sales tax revenue.Participating destinations also would be able to post special offers on the Roadtrip Rewards site, where millions of McDonald's customers could find them, and make plans to visit and redeem their rewards throughout the summer ...
Heater may have caused RV fire
An RV fire which started on a Sunday morning is being blamed on an unattended space heater, the Ruston Daily Leader reported.........
IE hiring to improve with big RV contract
Riverside-based MVP RV has inked a deal to manufacture 30,000 of its recreational vehicles for export to China........
---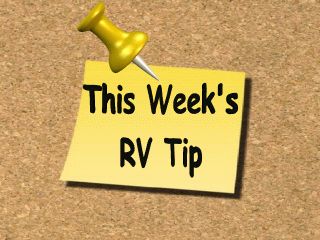 by Mark Polk
Mark's RV Quick Tip:
How to live with 30 amps:
One of the hardest things for RVers to get used to is how to live with 30 amps. People are accustomed to 100 or 200 + amp systems in their home. You don't need to be concerned with what you are using or how much you are using, everything just works.
Depending on the type of RV you have, or purchase, it will either have a 30 Amp or a 50 Amp electrical system. The majority of RV's are 30 Amp systems so that is what we are going to discuss today. Campgrounds provide you with an external 120 volt electrical source to plug in to. Your RV has a heavy-duty power cord that is normally about 20 to 25 feet long. The plug on the end of the cord is a 30 Amp RV plug. When you plug into the proper campground electrical source it will supply 120 volts AC throughout your RV.
You need to have a 120 Volt AC power source if you are going to use the microwave, roof air conditioner, the refrigerator in the electric mode, the 120 volt electrical outlets, and any other 120 volt AC appliances and electronics. This is where things start to get different from the electrical system in your home. Just because we have all of these 120 volt AC appliances doesn't mean we can use them all at the same time. RVers need to learn how to live with 30 amps. It's not that difficult, and with some simple math formulas and a little practice you will catch on quick.
You can calculate what you are using in watts or in amps.
Amps X Volts = Watts
Watts divided by Volts = Amps
An RV with a 30 amp electrical system X 120 volts = 3,600 watts.
What this means is you don't want to exceed 30 amps, or 3,600 watts at any given time. If you try to use too much electricity or run too many appliances the RV will let you know by tripping a breaker in the power distribution box and hopefully no harm will be done.
To demonstrate how easy it would be to exceed 30 amps lets say you are using the microwave, which draws about 10 amps, the coffee maker is brewing a pot of coffee, another 7 amps, and you turn the A/C on. Keep in mind that many RV appliances require more amps to start the appliance than they do to run the appliance. A roof air conditioner can draw 16 amps to start, but might only use 13 amps once it is running. So we were drawing 33 amps and risking damage to the air conditioner when the compressor initially engaged. This is just one example of why it is important to manage the electricity you are using in your RV.
---
...with Mark Polk

Q. Is there any way I can look up what a trailer has or determine the value by information on the title?
I am trying to look up the value of a travel trailer so we can sell it, but it is in a different state and we cannot travel there to make any arrangements. I did discover that the manufacturer is out of business now. The trailer park where it is located is not very helpful they just want the monthly rent.
All I really know about the trailer is that it didn't get towed much, it only stays at the park. On the title the year is 2000, Make is Elite and Model was left blank, the body is listed as TL and Wt-L-Shp is 6200. That is all the information I have to go on besides the ID and title number. I have been looking at the blue book value and there are tons of extras that could affect the value, that is why I was wondering if I could find any information by using the ID number on the title.
This maybe a subject for a newsletter, "how to sell a trailer from another state".
Thank you for your help.
Mark Says:
You really can't determine much from the ID or title number. In addition to the year and name of the manufacturer you need more specific information like the make and model number of the travel trailer.
I recommend contacting the park where it is located and ask an employee to go to the unit and write down any and all information they can. There is usually a model number located by the entry door and a data plate on the left front corner (by the A-frame) with the name of the manufacturer, year, and other pertinent information.
This information would give you a general idea of the trailer's value, but as you mentioned options on the trailer can and do affect the pricing as well.
If the park employees are not willing to help, as you mentioned, another idea is to pay a local RV dealer a reasonable fee to have a qualified employee go to the RV park and appraise the unit for you. They can determine what the trailer is worth based on the condition and optional equipment. Ask them to give you a retail value if you were to sell the trailer and a dollar amount they might be willing to pay for the trailer to take it off your hand and re-sell it.
---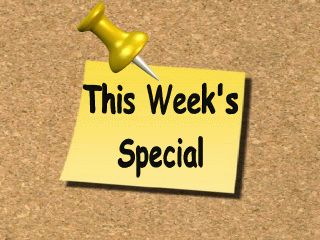 Let RV Education 101 help you save money in 2011
This weeks featured product:
Retire to an RV -The Roadmap to Affordable Retirement Living E-Book By: Jaimie Hall Bruzenak and Alice Zyetz Are you considering the RV lifestyle? Is it for you? Can you afford to retire AND travel 365 days a year? Retire to an RV provides you with the information to help you make that decision. This ebook address key questions and areas that those considering the lifestyle want to know. Resources and URLs are included with each chapter as well as a special 10-page resource section to provide even more information. In addition to the authors' considerable knowledge, 41 experienced RV solo and couples contribute their viewpoint and experiences on each topic, adding a depth not ordinarily found in most "how-to" RV books. "Retire in an RV-Roadmap to Affordable RV Retirement is by far the most comprehensive guide to full-time RVing I have ever seen. It is easy to read. In addition to getting the authors' knowledgeable information on all these topics, the opinions and comments from numerous other full-time RVers covers all of the bases. For anybody planning, or just considering full-time RVing this is a must, must read. Great e-book!" ~Mark Polk
Price $19.95
Buy Now
---
RV Links:

Own a motorhome?
Membership in FMCA brings with it a wealth of benefits and services
— all specially designed to meet the needs of motorhome owners.
The value of these benefits and services far exceeds the cost of the annual dues.
Benefit highlights
RV Insurance-Consignment Coverage: In today's economy more and more RVers are looking at consignment contracts with RV dealerships as an option to sell their RV. The typical RV insurance policy may not provide coverage for your RV while it is in the possession of an RV dealership; in fact, many policies specifically exclude coverage for RVs being sold on consignment.......
MBA Rental Insurance for Dealers and Consumers: Specializing in RV Rental Motorhome Insurance Since 1978. An "A" Rated Insurance Company Insuring over 2,000 Rental Dealers Nationwide. .......
MaxxAir : The best way to describe MaxxAir is to say it's in the air moving business -- RV ventilation to be more specific........
DirecLink: Stop relying on brake controllers that use devices to sense what's happening. DirecLink gets its information direct from the source - your tow vehicle. ........
Camping/RV Battery Chargers- BatteryMINDers® are the new generation of SMART, pulse type "computer-on-a-chip" chargers, that safely charge and maintain all size / type / brands of batteries including starter, deep cycle and sealed types including AGM "dry" made by OPTIMA, ODYSSEY, EXIDE, INTERSTATE, et al. They do all of this without ever overcharging, no matter how long they are left on charge – days-weeks-or even months. Dubbed the chargers with "brains," they are the first to fully-automatically reverse the primary cause of early battery failure known as "sulfation". Sulfated batteries once considered beyond recovery can now be brought back to long-term useful condition. Certain models of BatteryMINDers® can more than double the useful life of new batteries.
The Itasca Reyo® made a splash last year as the first full-size Class A coach built on the nimble Mercedes-Benz® Sprinter chassis. For 2011, the Reyo adds a third model to take full advantage of the improved fuel-economy and power of the Mercedes-Benz turbo-diesel engine. A whole new Class A revolution continues to grow. Join in the fun today with your very own 2011 Itasca Reyo.
Whether you are brand new to the RV experience or a veteran of the traveled road, learn step-by-step, all the facets of RVing - from the obvious to the "I never realized that"... Go HERE to find out....

Are you an RV dealer? RV Education 101 created a program just for your customers! The RV Orientation Online Training Program.
This online RV training program includes an RV orientation video similar to the walk-through class you receive at the RV dealership. The RV Orientation video is 54 minutes long and is packed with information on topics like campground setup, the LP gas system, water system, wastewater system, electrical system, RV appliances, RV accessories and much more. We even added a bonus chapter on RV safety features, and some bloopers to make it more entertaining. The video is generic and covers all types of RV's including motorized and towable RV's. If your RV dealer does not offer this online RV training program you can purchase it here
We also offer RV Dealer bulk discounts on our training materials. Our Walk through DVDs have helped tens of thousands of RV consumers learn how to properly operate and maintain their RVs. Hundreds of RV dealers across the country are benefiting from what our program has to offer the customer oriented RV dealership. Contact Dawn today for your RV dealership pricing: dawn@rveducation101.com

---


RV Education 101 & RV University went mobile!
Check us out on the go
http://www.rveducation101.mobi
&
http://www.rvuniversity.mobi
from your phone!. .....


Share your thoughts & experiences with other RVers and Campers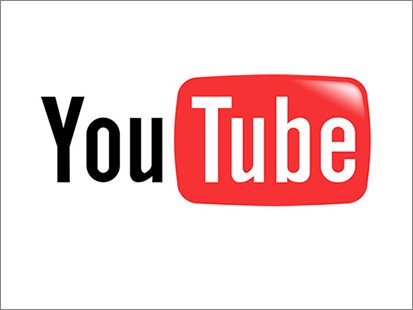 Money Saving DVD Sets Available

5th Wheel Training DVD Sets
Travel Trailer Training DVD Sets
Class A Training DVD Sets
Class C Training DVD Sets
---
17 RV Single DVD Titles in our Library
An Introduction to RV's
Pop Up 101
Travel Trailer 101
Class A Motor Home 101
Class C Rental / Owner
RV Awning Use, Care and Accessories
RV Safety Features, Tips and Tricks
Winterizing & Storing your RV
EZ RV Add Ons and Must Have RV Products
Tow Your 5th Wheel Like a Pro
Trailer Towing, Weights, Hitch Work & Backing
Drive Your Motorhome Like a Pro
Motorhome Towing
RV Campground Basics
Marks Recommended 10 minute RV Essential Items
Deep Cycle Battery Care & Maintenance for RV's and Boats
RV Care and Maintenance
---
15 RV Instant Download E-Book Titles in our Library
The Original Checklists for RVers
Winterizing and Storing your RV
THE RV BOOK now available as an ebook
The Three Primary Systems of an RV
Insider's Guide to Buying an RV
RV Buyers Survival Guide
Trailer Towing, Weights, Hitch Work & Backing
A Collection of RV Tips
Pop-Up Basics 101
Dinghy Towing
Deep Cycle Battery Care and Maintenance
RV Awning Use and Care
RV Safety Features, Tips and Tricks
RV Care and Maintenance
RV Campground Basics
---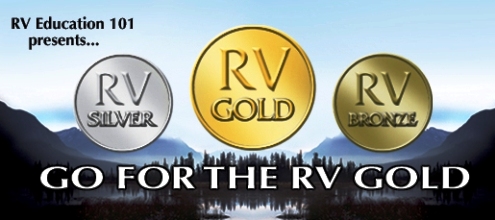 Go for the RV Gold Program
The Go For the RV Gold program is loaded with one-on-one RV training videos, feature articles, RV tips, crossword puzzles, member discounts for RV services and RV products, quizzes, and much more. This is the only online RV training program that will teach you everything you need to know about your RV at such a reasonable cost, and totally at your leisure with no deadlines. There are customized worksheets provided for navigation, so nothing is missed or overlooked. There is a space provided for you to make notes for each topic and then a feature to print the worksheet when completed.
At the end of the program there is a 25 question final exam. If you pass the final exam (you need a 72% or higher score) you will receive your "Go for the RV Gold" training certificate that you that you can proudly display in your home or RV. P.S. If you don't pass the final exam, you will be given an opportunity to take it again until you do pass, so you can receive your Go for the RV Gold certificate.
National Interstate Insurance company offers a 5% safe driver discount when you successfully complete the "Go for the RV Gold" program. Just present your "Go for the RV Gold" certificate of completion to an authorized National Interstate Insurance agent.
The membership fee is only $49.95 per month for 3 months. Billing is on a 30 recurring basis until the final payment is made. This equates to only $12.49 for each in-depth weekly RV training course. When you select the recurring billing payment option you receive the a new RV training module each month. You can't beat this low pricing for one-on-one RV education training in the comfort of your own home or RV. There is no driving to get to the training location, no packed classrooms and no time restraints.
Note: There is second payment option available where you can pay the full $149.85 program price in one payment. If you select this payment option you will receive all 3 RV modules (12 weekly courses) at one time, after payment and registration.
This program compliments our current line of RV Education 101 training dvds!
3 payments of $49.95 or a 1 time payment of $149.85
Buy Now
---
---
General and Unsubscribe Info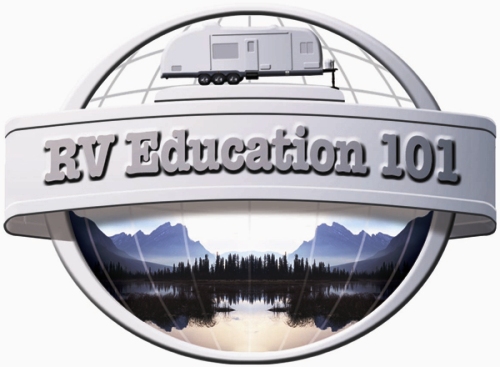 About us:
Our goal with RV University This Week is to provide you with helpful information to make all of your RV experiences more enjoyable. I left my position as an RV Sales and F&I manager in 2000 to start my own company, RV Education 101. We produce educational videos, DVDs and e-books on how to use and maintain your RV. The reason I left my job was due to my concern about the lack of educational and safety awareness material available to the RV consumer, in other words, you. We are a small company. My wife Dawn left her position in RV sales to help start the company and is our Sales and Marketing Director. We currently have a 35-foot Class A motor home. We have two boys, Tyler 13 and Josh 19, both avid RVers and two dogs, Gracie and Buck. Gracie is the good one. If you would like to learn more about us and RV Education 101 feel free to visit http://www.rveducation101.com
RV University This Week © Copyright 2010 Mark J. Polk, except where indicated otherwise. All rights reserved worldwide. Reprint only with permission from copyright holder(s). All trademarks are property of their respective owners. All contents provided as is. Advertisers are solely responsible for ad content.
To subscribe, please go to: http://rveducation101.com/email/
To unsubscribe, please go to: http://rveducation101.com/email/unsubscribe.asp
RV Education 101 Newsletter is an opt-in ezine available by subscription only. We neither use nor endorse the use of spam. Your email address will ONLY be used to distribute this newsletter and will NEVER be sold or given to any other entity!!
Happy Camping,
Mark & Dawn
RV Education 101
150 Bay Ridge Rd
Harrells, NC 28444-8896
910-484-7615
mark@rveducation101.com
dawn@rveducation101.com
Copyright 2011 by RV Education 101