RV University This Week 09/20/2010
Wednesday, September 22 2010 @ 02:44 pm UTC
Contributed by: RVED101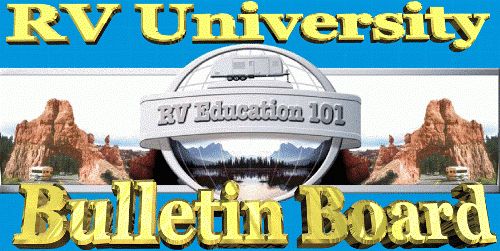 RV University this Week
Your weekly source for interesting
RV articles, tips, tricks, video clips and advice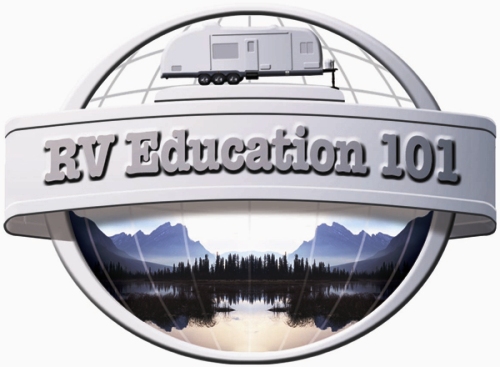 From the Industry Leader in RV Education:
RV Education 101
U of RV Journal #75 - September 20, 2010
---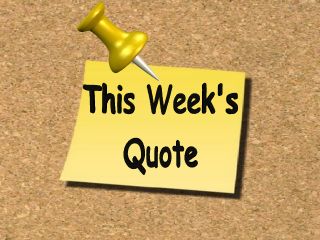 "Teaching is more than imparting knowledge, it is inspiring change. Learning is more than absorbing facts, it is acquiring understanding."
~William Arthur Ward
---

Are you an RV dealer? RV Education 101 created a program just for your customers! The RV Orientation Online Training Program.
This online RV training program includes an RV orientation video similar to the walk-through class you receive at the RV dealership. The RV Orientation video is 54 minutes long and is packed with information on topics like campground setup, the LP gas system, water system, wastewater system, electrical system, RV appliances, RV accessories and much more. We even added a bonus chapter on RV safety features, and some bloopers to make it more entertaining. The video is generic and covers all types of RV's including motorized and towable RV's. If your RV dealer does not offer this online RV training program you can purchase it here
We also offer RV Dealer bulk discounts on our training materials. Our Walk through DVDs have helped tens of thousands of RV consumers learn how to properly operate and maintain their RVs. Hundreds of RV dealers across the country are benefiting from what our program has to offer the customer oriented RV dealership. Contact Dawn today for your RV dealership pricing: dawn@rveducation101.com
---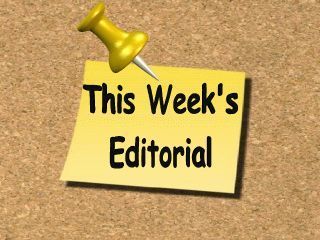 by Mark Polk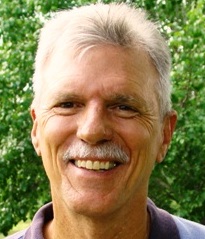 Hi Everybody,
I just returned from the Pennsylvania RV trade/public show where I saw lots of new RV's, RV products, RV accessories & old friends. It was great to attend the show and get an idea of the state of the RV Industry. Talking to many of the RV dealers at the show, they all were in agreement that sales were rebounding and things were looking better. Attendance records were up from last year and on Saturday it was nearly impossible to walk through the area without bumping into other people.
In addition to seeing new RV products and visiting with friends, we worked on some of the new RV Savvy segments for RVTV. RVTV is back on the R&R channel for its sixth season. That's channel 354 for all DirecTV viewers and later this year it will be available on the Dish Network as well. You can look for it on Saturday and Sunday afternoons at 2:30 PM ET and on Monday at 9 PM ET.
One of the many things that caught my eye at the RV show was the new emissions systems incorporated on the 2010/11 diesel motorhomes that were on display. To learn more about how RV manufacturers are meeting the 2010 emissions standards be sure and check out this week's feature article.
Until next week, plan your trip, travel safe and enjoy your RV experiences. Remember, getting there is half the fun!
Mark Polk
---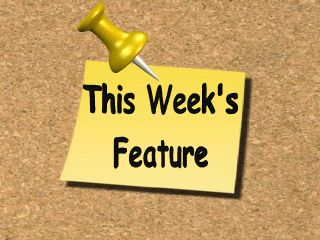 Government Diesel Emissions Standards & RV's I just returned from the Pennsylvania trade/public RV show and while looking at a new motorhome on a Freightliner Custom Chassis I noticed what looked to be a small fuel tank located under one of the outside storage compartment doors. ........ Read the article
---
...with Mark Polk

Q.Hello Mark & Dawn,
We have purchased several of your DVDs. The DVD, Driving Like a Pro, was incredibly helpful to us as first-timers as we prepared ourselves to drive over 1,100 miles this past May.
Since then, with a few shorter trips under our belt, we are turning our attention to towing. We have your Towing DVD that focuses on various considerations about towing. One piece of information that we have missed is more specifics as to how dinghy towing (4-on-the-ground) impacts the Driving Like A Pro instruction tips. In the DVD, mention is made you have to allow for wider turns, but we are wondering what does that requirement mean in terms of our pivot point that we learned about in the Driving Like a Pro DVD?
Do we use the same pivot point even with the dinghy? Or, is there a new pivot point, and if so, what is it? For example, is the new pivot point approximately where the tow bar is? We would appreciate if you could help clarify for us now what is the new pivot point with a dinghy (4-on-the-ground), and then consider in future editions of either the Driving DVD or the Towing DVD to be more explicit in addressing that topic for a minute or so. I can't imagine it would take too much time. And simply saying we need to take wider turns does not help me understand what happens to our pivot point.
Mark Says:
I talked to Lorrin Walsh about your question and this is what he said:
Yes, the dinghy would have its own pivot point, but I have yet to find one that would cut inside the path of the motorhome. A dinghy tows just like a conventional trailer, in that the hitch swings the opposite direction of the turn causing the dinghy to swing out before it starts to turn, so it takes a wider radius. I guess it could happen if the motorhome had a short rear overhang and they were towing a long dinghy or trailer, it would be possible for the tow to cut inside the path of the motorhome. We vaguely addressed it in the Drive DVD, by saying to also do the turn off-set exercise with your tow vehicle to see how it tracked.
The best way to establish if the dinghy is an issue is to perform a turn off-set exercise by marking both the pivot point of the motorhome and the pivot point of the dinghy. Do a full lock turn in the direction of the pivot marks and see if the dinghy runs over the motorhome's pivot point mark. If it does, I would then use the pivot point of the dinghy to establish my turn reference marks.
I will think about this some more to see if there is anything else that would need to be considered.
Follow up reply:
Mark,
Thank you very much for taking the time to answer our question on dinghy towing and pivot point impact -- especially with the extra effort to reach out to Lorrin. Keep up the good work on the web site - your services are like a lighthouse amidst stormy seas!
---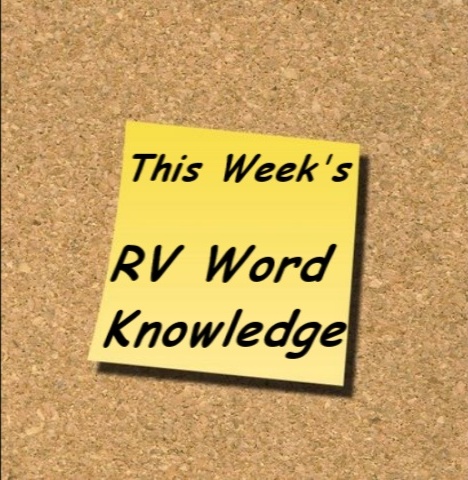 ...with Mark Polk

Slider Hitch –
A 5th wheel hitch used with short wheel base pickup trucks. With short wheel base trucks the front of the 5th wheel trailer can make contact with the cab of the truck when turning to sharp. A slider hitch has two positions. One for normal driving conditions and one for maneuvering where turns are required

---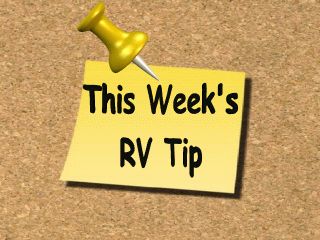 by Mark Polk
Mark's RV Quick Tip:
Inverters: Inverters are available in small portable units that plug directly into a cigarette lighter or 12-volt outlet; to larger high power, hardwired units that can provide electricity for the entire RV electrical system and are permanently installed in the RV. Many of the inverters found in RVs today are inverter/chargers. What this means basically is that they are inverters, battery chargers and a transfer switch all in one. They act as a battery charger when you're plugged into an electrical source or using the generator and they invert stored DC battery power when no electrical source or generator power is available. Many are capable of transferring from inverter to battery charger automatically.
---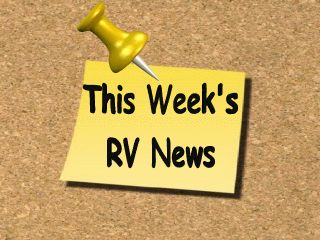 Hundreds of acres to be added to Oregon coast natural area near Newport
BEAVER CREEK STATE NATURAL AREA – Just as Oregon prepares to dedicate its newest state natural area – 374 acres of wetland, forest, and meadows, including a quiet creek that is a paddler's dream – comes news that outdoor enthusiasts may have yet another reason to celebrate: a new campground to go with it..........
Tracing the Family Tree of Vacation Road Trips
EVEN if you love museums, the thought of spending hours touring a collection of historical motor homes and recreational vehicles might strike you as the equivalent of an afternoon in the dentist's chair. .........
KOA campground saves with green technology"
The bright green glow of healthy algae in his lagoon. The new family of ducks, feasting on dragonflies. The easily installed, easy-to-repair system of black pipes keeping his swimming pool toasty and his snowbird clientele happy.......
---
Check out this week's poll: "When on an RV trip with more than 1 person, do you let other people share in the driving/towing responsibilities?" To participate in the poll, look on the left hand column (here at RV University) towards the top
---

---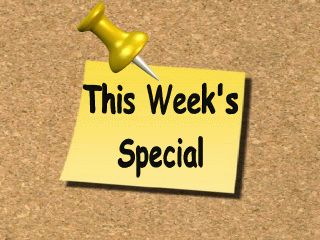 Let RV Education 101 help you save money in 2010
This weeks featured product:
Winterizing and Storing your RV DVD How much does your RV dealer charge to winterize your RV? Have you ever wanted to take a trip in your RV but canceled it because the RV was winterized and you didn't want to pay to have it done again? Once your RV is winterized how do you put the RV in storage until next spring? You can learn how to winterize your own RV! NOTE: This dvd applies to trailers and motorized. If you own a pop up that is equipped with water heater, shower and toilet, this DVD will apply.
sale price: $21.95
Buy Now
---
RV Links:

Own a motorhome?
Membership in FMCA brings with it a wealth of benefits and services
— all specially designed to meet the needs of motorhome owners.
The value of these benefits and services far exceeds the cost of the annual dues.
Benefit highlights
A product that Mark personally uses: Camping/RV Battery Chargers- BatteryMINDers® are the new generation of SMART, pulse type "computer-on-a-chip" chargers, that safely charge and maintain all size / type / brands of batteries including starter, deep cycle and sealed types including AGM "dry" made by OPTIMA, ODYSSEY, EXIDE, INTERSTATE, et al. They do all of this without ever overcharging, no matter how long they are left on charge – days-weeks-or even months. Dubbed the chargers with "brains," they are the first to fully-automatically reverse the primary cause of early battery failure known as "sulfation". Sulfated batteries once considered beyond recovery can now be brought back to long-term useful condition. Certain models of BatteryMINDers® can more than double the useful life of new batteries.
---


RV Education 101 & RV University went mobile!
Check us out on the go
http://www.rveducation101.mobi
&
http://www.rvuniversity.mobi
from your phone!. .....


Share your thoughts & experiences with other RVers and Campers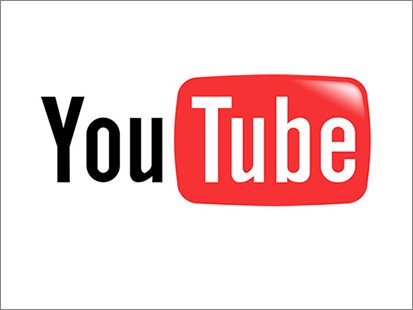 16 RV Single DVD Titles in our Library
An Introduction to RV's
Drive Your Motorhome Like a Pro
RV Awning Use, Care and Accessories
RV Safety Features, Tips and Tricks
Pop Up 101
Travel Trailer 101
Class A Motor Home 101
Class C Rental / Owner
Winterizing & Storing your RV
EZ RV Add Ons and Must Have RV Products
Trailer Towing, Weights, Hitch Work & Backing
Motorhome Towing
RV Campground Basics
Marks Recommended 10 minute RV Essential Items
Deep Cycle Battery Care & Maintenance for RV's and Boats
RV Care and Maintenance
Money Saving DVD Sets Available

Travel Trailer / 5th Wheel Training DVD Sets
Class A Training DVD Sets
Class C Training DVD Sets
---
14 RV Instant Download E-Book Titles in our Library
The Original Checklists for RVers
Winterizing and Storing your RV
THE RV BOOK now available as an ebook
The Three Primary Systems of an RV
Insider's Guide to Buying an RV
RV Buyers Survival Guide
Trailer Towing, Weights, Hitch Work & Backing
A Collection of RV Tips
Pop-Up Basics 101
Dinghy Towing
Deep Cycle Battery Care and Maintenance
RV Awning Use and Care
RV Safety Features, Tips and Tricks
RV Care and Maintenance
RV Campground Basics
---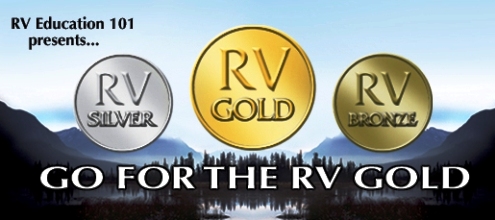 Go for the RV Gold Program
The Go For the RV Gold program is loaded with one-on-one RV training videos, feature articles, RV tips, crossword puzzles, member discounts for RV services and RV products, quizzes, and much more. This is the only online RV training program that will teach you everything you need to know about your RV at such a reasonable cost, and totally at your leisure with no deadlines. There are customized worksheets provided for navigation, so nothing is missed or overlooked. There is a space provided for you to make notes for each topic and then a feature to print the worksheet when completed.
At the end of the program there is a 25 question final exam. If you pass the final exam (you need a 72% or higher score) you will receive your "Go for the RV Gold" training certificate that you that you can proudly display in your home or RV. P.S. If you don't pass the final exam, you will be given an opportunity to take it again until you do pass, so you can receive your Go for the RV Gold certificate.
National Interstate Insurance company offers a 5% safe driver discount when you successfully complete the "Go for the RV Gold" program. Just present your "Go for the RV Gold" certificate of completion to an authorized National Interstate Insurance agent.
The membership fee is only $49.95 per month for 3 months. Billing is on a 30 recurring basis until the final payment is made. This equates to only $12.49 for each in-depth weekly RV training course. When you select the recurring billing payment option you receive the a new RV training module each month. You can't beat this low pricing for one-on-one RV education training in the comfort of your own home or RV. There is no driving to get to the training location, no packed classrooms and no time restraints.
Note: There is second payment option available where you can pay the full $149.85 program price in one payment. If you select this payment option you will receive all 3 RV modules (12 weekly courses) at one time, after payment and registration.
This program compliments our current line of RV Education 101 training dvds!
3 payments of $49.95 or a 1 time payment of $149.85
Buy Now
---
---
General and Unsubscribe Info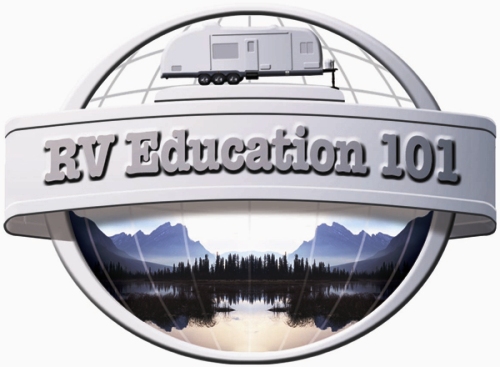 About us:
Our goal with RV University This Week is to provide you with helpful information to make all of your RV experiences more enjoyable. I left my position as an RV Sales and F&I manager in 2000 to start my own company, RV Education 101. We produce educational videos, DVDs and e-books on how to use and maintain your RV. The reason I left my job was due to my concern about the lack of educational and safety awareness material available to the RV consumer, in other words, you. We are a small company. My wife Dawn left her position in RV sales to help start the company and is our Sales and Marketing Director. We currently have a 35-foot Class A motor home. We have two boys, Tyler 13 and Josh 19, both avid RVers and two dogs, Gracie and Buck. Gracie is the good one. If you would like to learn more about us and RV Education 101 feel free to visit http://www.rveducation101.com
RV University This Week © Copyright 2010 Mark J. Polk, except where indicated otherwise. All rights reserved worldwide. Reprint only with permission from copyright holder(s). All trademarks are property of their respective owners. All contents provided as is. Advertisers are solely responsible for ad content.
To subscribe, please go to: http://rveducation101.com/email/
To unsubscribe, please go to: http://rveducation101.com/email/unsubscribe.asp
RV Education 101 Newsletter is an opt-in ezine available by subscription only. We neither use nor endorse the use of spam. Your email address will ONLY be used to distribute this newsletter and will NEVER be sold or given to any other entity!!
Happy Camping,
Mark & Dawn
RV Education 101
150 Bay Ridge Rd
Harrells, NC 28444-8896
910-484-7615
mark@rveducation101.com
dawn@rveducation101.com
Copyright 2010 by RV Education 101