RV University This Week 08/02/2010
Monday, August 02 2010 @ 10:36 am UTC
Contributed by: RVED101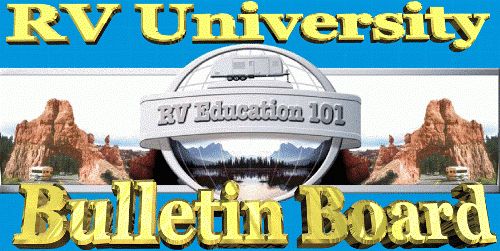 RV University this Week
Your weekly source for interesting
RV articles, tips, tricks, video clips and advice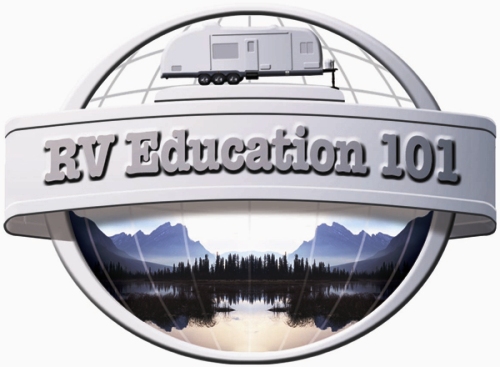 From the Industry Leader in RV Education:
RV Education 101
U of RV Journal #71 - August 2, 2010

---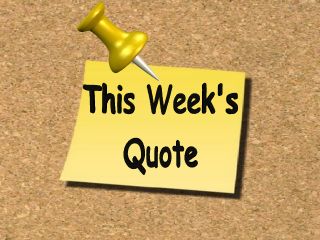 "Our progress as a nation can be no swifter than our progress in education. The human mind is our fundamental resource."
~John F. Kennedy
---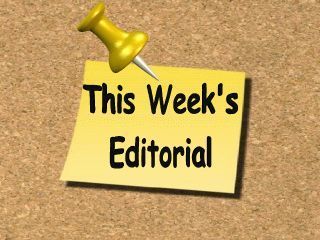 by Mark Polk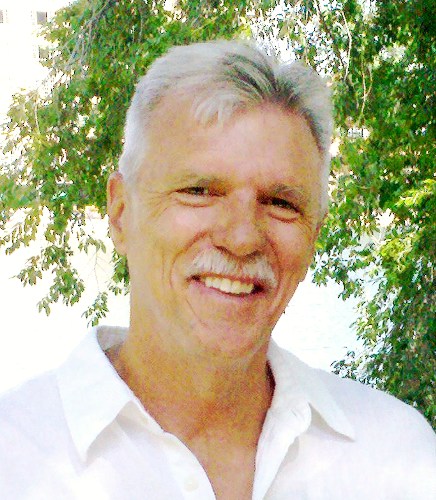 Hi Everybody,
I am beginning to realize how similar a boat is to an RV. They are both lots of fun, but you have to maintain them to thoroughly enjoy them. We had our 15' center console fishing boat on the water the other day when out of nowhere the steering cable broke.
It was going to happen eventually (the boat is 10-years old), but now I need to remove the motor to replace the steering cable. In an effort to save a little money I ordered the cable and plan to tackle the job this weekend.
The lesson learned; whether it's your boat or your RV keep up with a preventive maintenance schedule and you can avoid many of these unexpected breakdowns. My plan was to take the kids tubing this weekend, but now most of it will be spent in the garage!
In lieu of this week's feature article I am including some RV Frequently Asked Questions.
Until next week, plan your trip, travel safe and enjoy your RV experiences. Remember, getting there is half the fun!
Mark Polk
---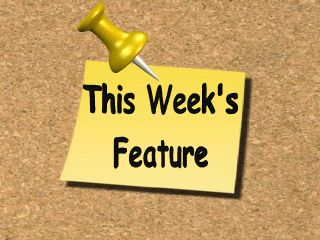 RV FAQ with Mark Polk
....... Read it Here
---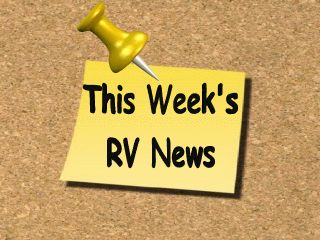 Eco-Friendly Battery System Now Provided In All Newly Manufactured Liberty Coach Models
Liberty Coach, a leader in the motor coach conversion industry for more than 40 years, has announced that it will be incorporating an eco-friendly battery system into all newly constructed motor coaches. .......
Storm damages 26 campers at dealership; losses estimated at $1M
Trent Huelle knew something was wrong when a stationary 13,000-pound camper was being pushed toward him by a huge gust of wind......
Survivor of Mont. bear attack says she played dead
A woman who was attacked by a bear at a Montana campground says she was bit on her arm and leg before she instinctively played dead so the animal would leave her alone. ....
How to Help Pets During Diasters
As pet lovers, our hearts do double-duty, going out to both the people involved as well as their displaced pets. Now that the Gulf Coast is once again in the midst of a disaster due to the BP oil spill, we can't help but wonder how to help the people and pets in the area.....
Pet Travel Tips
Before setting out on your trip be sure that your pet has all the essentials to ensure that their trip is happy and safe.....
---
Check out this week's poll: "How do you receive your TV signal while in your RV?" To participate in the poll, look on the left hand column (here at RV University) towards the top
---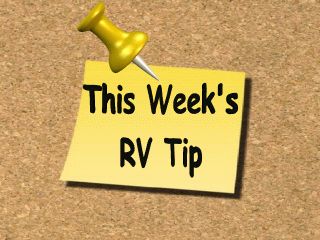 by Mark Polk
Mark's RV Quick Tip:
Here are some quick tips to help maximize your RV refrigerator's efficiency during the dog days of summer:
Turn the RV refrigerator on several hours before putting food in it. It's best to leave it on overnight and put your food in it just prior to leaving on a trip. If at all possible try not to put warm food in the refrigerator. Putting cold food in the refrigerator and freezer will make it work more efficiently.
Always keep a small thermometer in your RV refrigerator so you can monitor the temperature. Food can begin to go bad at about 40 degrees.
Don't pack the food to close or put too much food in the refrigerator. Air must be able to circulate around the food for the refrigerator to operate properly. Keep a couple of day's supply of food in the refrigerator and replenish as necessary.
Use a small battery operated fan in the refrigerator to assist with air circulation. Place the fan in the lower compartment blowing upward.
Try to avoid opening the refrigerator door too much. Continuously opening the refrigerator door and leaving it open for periods of time will affect the efficiency of the refrigerator.
The outside temperature will affect the operation of the refrigerator. In hot temperatures try to park the RV in shaded areas, especially on the side of the RV where the refrigerator is located. You can also install a thermostatically controlled refrigerator vent fan that will move the hot air out from behind the refrigerator and make it operate more efficiently.
The RV refrigerator must be close to level to operate properly.
---
...with Mark

Here is how one savvy RVer took care of a hot situation:
One topic I have not seen a lot written about is insulating the engine compartment to reduce heat and noise in the cabin.
We bought a 2004 Georgie Boy Pursuit 3500 (Triton V-10) in March and I perform all the recommended maintenance (using your checklists) before, during, and after each trip, but did not pay much attention to the insulation around the engine. A couple of weeks ago we were coming home from a 7 day trip to when I noticed that my feet were slowly cooking from heat coming off the dog house cover. It was over 100 degrees outside and we were running the generator and house air but could barely hold back the heat coming in through the front window and the engine compartment.
When we finally got home, I pulled the dog house cover to see how the insulation was installed. I was amazed to find only a small 1/4 in thick piece of foil-backed materiel glued to the top of the dog house cover - nothing on the sides or around the floor boards. There were scraps of foil tape flapping around here and there that indicated that once upon a time there may have been more insulating materiel, but it was long gone.
After checking several blogs for information on insulating motorhome engine compartments, I finally ordered a Kit from J.C. Whitney that comes with 48 sq ft (2 4' X 6' sheets) of 3/8 in thick foil-backed materiel, a can of high temp spray glue, and a roll of high temp foil tape. Using this Kit, I was able to completely insulate the entire dog house, and extend the materiel under the flooring of the driver and passenger areas. One thing I did that was not in the instructions, however, was to use a staple gun to back-up the glue whenever the materiel covered the wood flooring (extra peace on mind.
It took about 3 hours on a Saturday morning to measure, cut, and attach the materiel, but the effort has paid off in a much cooler cabin and less toasted feet! There is even a noticeable reduction in engine noise.
Lesson learned: Pay attention to the insulating around the engine compartment and between the engine and cabin. If I had check this out when we first bought our rig and addressed the problem then, we could have had a much more comfortable summer vacation. My next project is to check the generator compartment and install or add additional insulation.
Thanks for your ebooks, sound advice, and insights into RVing.
---
Are you an RV dealer? We offer bulk discounts on our training materials. Our Walk through DVDs have helped tens of thousands of RV consumers learn how to properly operate and maintain their RVs. Hundreds of RV dealers across the country are benefiting from what our program has to offer the customer oriented RV dealership. Contact Dawn today for your RV dealership pricing: dawn@rveducation101.com
---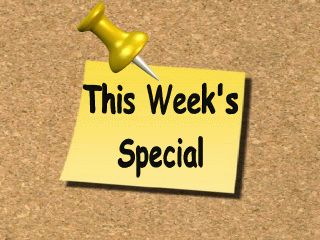 Let RV Education 101 help you save money in 2010
This weeks featured product:
THE RV BOOK now available as an ebook
Review by:
GREG GERBER
The independent voice of the RV industry and Founder of RV Daily Report ~
"Mark Polk has written a superbly insightful book on how to use and properly maintain any recreation vehicle. This indispensable guide will save RV owners plenty of money and countless hours of frustration. With the possible exception of a sewer hose, The RV Book should be the first thing new RV owners buy. After reading it, they should store it in the cabinet above their refrigerator - it will be like taking an RV service technician with them on vacation. As a seasoned RV user himself, Mark knows first hand what all RV owners need to know to enjoy a hassle-free and safe experience on the road and in the campground. Don't have an RV yet? The RV Book can help anyone select the right motorhome or travel trailer based on the unique needs of his or her family. Mark skillfully guides even the most novice of RV users through the sometimes complicated maze of buying, owning, storing and maintaining a recreation vehicle. The book's resource section lists the names of scores of companies and associations directly involved in the RV industry, along with their web addresses should further information be desired. Reading The RV Book is just like buying 10 years of RVing experience."
sale price: $17.00 Buy Now
---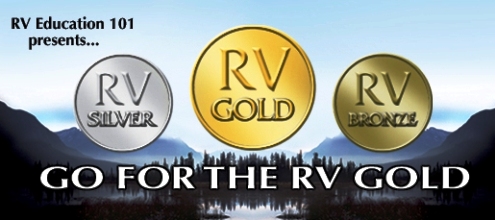 Go for the RV Gold Program
The Go For the RV Gold program is loaded with one-on-one RV training videos, feature articles, RV tips, crossword puzzles, member discounts for RV services and RV products, quizzes, and much more. This is the only online RV training program that will teach you everything you need to know about your RV at such a reasonable cost, and totally at your leisure with no deadlines. There are customized worksheets provided for navigation, so nothing is missed or overlooked. There is a space provided for you to make notes for each topic and then a feature to print the worksheet when completed.
At the end of the program there is a 25 question final exam. If you pass the final exam (you need a 72% or higher score) you will receive your "Go for the RV Gold" training certificate that you that you can proudly display in your home or RV. P.S. If you don't pass the final exam, you will be given an opportunity to take it again until you do pass, so you can receive your Go for the RV Gold certificate.
National Interstate Insurance company offers a 5% safe driver discount when you successfully complete the "Go for the RV Gold" program. Just present your "Go for the RV Gold" certificate of completion to an authorized National Interstate Insurance agent.
The membership fee is only $49.95 per month for 3 months. Billing is on a 30 recurring basis until the final payment is made. This equates to only $12.49 for each in-depth weekly RV training course. When you select the recurring billing payment option you receive the a new RV training module each month. You can't beat this low pricing for one-on-one RV education training in the comfort of your own home or RV. There is no driving to get to the training location, no packed classrooms and no time restraints.
Note: There is second payment option available where you can pay the full $149.85 program price in one payment. If you select this payment option you will receive all 3 RV modules (12 weekly courses) at one time, after payment and registration.
This program compliments our current line of RV Education 101 training dvds!
3 payments of $49.95 or a 1 time payment of $149.85
Buy Now
---
RV Links:

Own a motorhome?
Membership in FMCA brings with it a wealth of benefits and services
— all specially designed to meet the needs of motorhome owners.
The value of these benefits and services far exceeds the cost of the annual dues.
Benefit highlights
A product that Mark personally uses: Camping/RV Battery Chargers- BatteryMINDers® are the new generation of SMART, pulse type "computer-on-a-chip" chargers, that safely charge and maintain all size / type / brands of batteries including starter, deep cycle and sealed types including AGM "dry" made by OPTIMA, ODYSSEY, EXIDE, INTERSTATE, et al. They do all of this without ever overcharging, no matter how long they are left on charge – days-weeks-or even months. Dubbed the chargers with "brains," they are the first to fully-automatically reverse the primary cause of early battery failure known as "sulfation". Sulfated batteries once considered beyond recovery can now be brought back to long-term useful condition. Certain models of BatteryMINDers® can more than double the useful life of new batteries.
---


RV Education 101 & RV University went mobile!
Check us out on the go
http://www.rveducation101.mobi
&
http://www.rvuniversity.mobi
from your phone!. .....


Share your thoughts & experiences with other RVers and Campers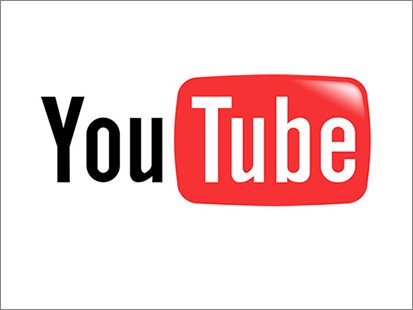 16 RV Single DVD Titles in our Library
An Introduction to RV's
Drive Your Motorhome Like a Pro
RV Awning Use, Care and Accessories
RV Safety Features, Tips and Tricks
Pop Up 101
Travel Trailer 101
Class A Motor Home 101
Class C Rental / Owner
Winterizing & Storing your RV
EZ RV Add Ons and Must Have RV Products
Trailer Towing, Weights, Hitch Work & Backing
Motorhome Towing
RV Campground Basics
Marks Recommended 10 minute RV Essential Items
Deep Cycle Battery Care & Maintenance for RV's and Boats
RV Care and Maintenance
Money Saving DVD Sets Available

Travel Trailer / 5th Wheel Training DVD Sets
Class A Training DVD Sets
Class C Training DVD Sets
---
14 RV Instant Download E-Book Titles in our Library
The Original Checklists for RVers
Winterizing and Storing your RV
THE RV BOOK now available as an ebook
The Three Primary Systems of an RV
Insider's Guide to Buying an RV
RV Buyers Survival Guide
Trailer Towing, Weights, Hitch Work & Backing
A Collection of RV Tips
Pop-Up Basics 101
Dinghy Towing
Deep Cycle Battery Care and Maintenance
RV Awning Use and Care
RV Safety Features, Tips and Tricks
RV Care and Maintenance
RV Campground Basics
---
General and Unsubscribe Info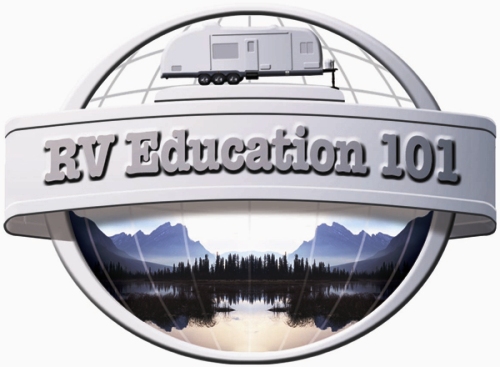 About us:
Our goal with RV University This Week is to provide you with helpful information to make all of your RV experiences more enjoyable. I left my position as an RV Sales and F&I manager in 2000 to start my own company, RV Education 101. We produce educational videos, DVDs and e-books on how to use and maintain your RV. The reason I left my job was due to my concern about the lack of educational and safety awareness material available to the RV consumer, in other words, you. We are a small company. My wife Dawn left her position in RV sales to help start the company and is our Sales and Marketing Director. We currently have a 35-foot Class A motor home. We have two boys, Tyler 13 and Josh 19, both avid RVers and two dogs, Gracie and Buck. Gracie is the good one. If you would like to learn more about us and RV Education 101 feel free to visit http://www.rveducation101.com
RV University This Week © Copyright 2010 Mark J. Polk, except where indicated otherwise. All rights reserved worldwide. Reprint only with permission from copyright holder(s). All trademarks are property of their respective owners. All contents provided as is. Advertisers are solely responsible for ad content.
To subscribe, please go to: http://rveducation101.com/email/
To unsubscribe, please go to: http://rveducation101.com/email/unsubscribe.asp
RV Education 101 Newsletter is an opt-in ezine available by subscription only. We neither use nor endorse the use of spam. Your email address will ONLY be used to distribute this newsletter and will NEVER be sold or given to any other entity!!
Happy Camping,
Mark & Dawn
RV Education 101
150 Bay Ridge Rd
Harrells, NC 28444-8896
910-484-7615
mark@rveducation101.com
dawn@rveducation101.com
Copyright 2010 by RV Education 101