RV University This Week 07/26/2010
Monday, July 26 2010 @ 11:32 am UTC
Contributed by: RVED101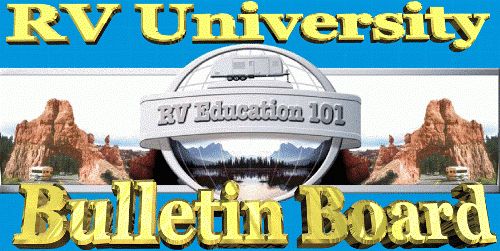 RV University this Week
Your weekly source for interesting
RV articles, tips, tricks, video clips and advice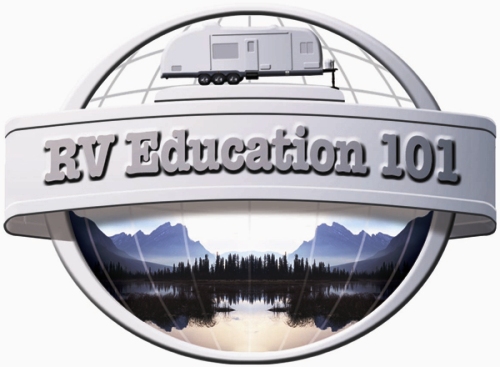 From the Industry Leader in RV Education:
RV Education 101
U of RV Journal #70 - July 26, 2010

---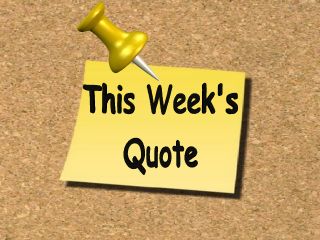 "Education is the key to unlock the golden door of freedom."
~George Washington Carver
---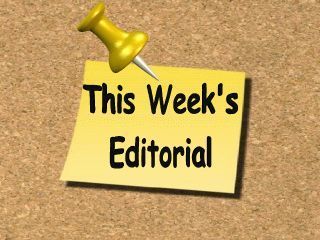 by Mark Polk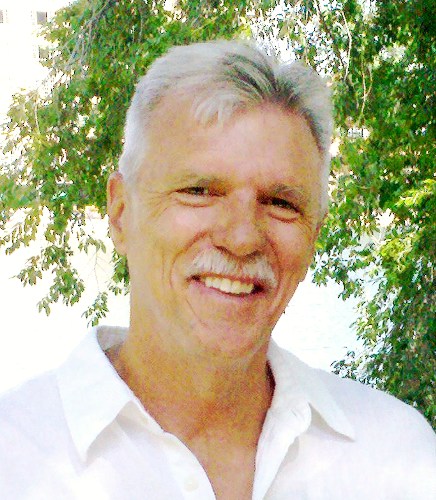 Hi Everybody,
It's hard to get back into a work routine after a few weeks off in the RV. By 1:00 in the afternoon it feels like it should be 6:00. It makes me wish we were back in the RV with no time constraints or schedules to follow. Back to reality! Don't get me wrong, I actually enjoy my job but I enjoy our time spent RVing more.
We have lots of projects in the works. We are filming a new "Tow your 5th Wheel Trailer Like a Pro" DVD in August and we are working on some other new programs, including promoting our "Go for the RV Gold "online RV training program.
We are also filming new RV Savvy segments for the RVTV program. If you didn't know, after five seasons on the Outdoor channel RVTV can now be seen on the R&R channel, which allows 100 percent of all DIRECTV (channel 354) to receive RVTV no matter what programming package you have. New RVTV episodes will air three times each week: Saturdays at 2:30 PM EST, Sundays at 2:30 PM EST and Mondays at 9:00 PM EST.
With all of this stuff going on the rest of the summer will be over in the blink of an eye. Hopefully we will be able to make a couple of short RV trips to the beach before it's over.
Something that surprised me during our trip was how few people I saw checking their tow vehicle or motorhome out before traveling the next day. I'm not talking about spending 20 or 30 minutes checking things out; I'm talking about checking the basics. Read this week's feature article to see what I recommend you check before heading out each day.
Until next week, plan your trip, travel safe and enjoy your RV experiences. Remember, getting there is half the fun!
Mark Polk
---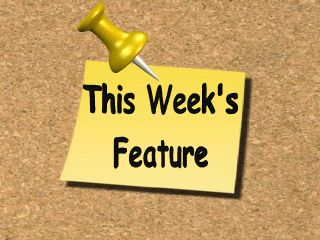 Daily Preventive Maintenance Travel Checks
We just returned from a five week long RV trip, traversing the country from east to west and back again. Something I noticed that surprised me is the majority of RVers I saw at the campground did not take a minute or two to check the fluid levels in their RV or tow vehicle after arriving at the campground, or before leaving on the next days journey..... ....... Read the article
---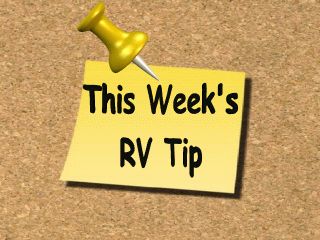 by Mark Polk
Mark's RV Quick Tip #1:
Camping Tip: When you are packing items in your RV it is much easier if you use various sizes of see through plastic containers. It is more organized and will prevent items from moving and falling while you travel. You can also look and see what is in each container without removing every thing. Be careful when opening cabinet and refrigerator doors when you get to your destination.
Mark's RV Quick Tip #2:
Camping Tip: It would not be practical for me to list what food to take with you. That is solely a matter of preference. I will mention that you should not pack the refrigerator so tight that it prevents air circulation. This will make the refrigerator less efficient. Consider taking a few days supply of food and replenish as needed.
---
RV Education Crossword Puzzle
We have had so many people write asking for the crosswords to come back, so this week's play and learn crossword puzzle is "RV Safety". We will periodically post a puzzle. Have fun, play and learn.
Watch this RV Safety video to help you get the answers to the crossword
"I have completed your crossword puzzle. That was fun and fairly easy. You guys put out a good service for your customers. I wish you much luck with your business."~ Robert Murphy
---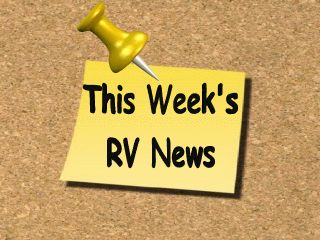 Is it legal to drink alcohol when riding in an RV?
I know someone who uses his RV to haul people around for weddings and celebrations and those people are drinking in the vehicle........
RV Hall of Fame Museum provides unique history of a prominent local industry
Despite the economic environment that brought Michiana's RV industry to its knees, it is making a comeback and going strong in Elkhart.. .....
Spartan Motors Reports Second Quarter 2010 Results; Progress on Implementing Business Realignment and Continued Investments in Growth Initiatives
Spartan Motors, Inc. (www.spartanmotors.com) designs, engineers and manufactures specialty chassis, specialty vehicles and truck bodies and aftermarket parts for the outdoor recreation/RV, emergency-response, defense, government services, and delivery and service markets. The Company's brand names - Spartan(TM), Crimson Fire(TM), Crimson Fire Aerials(TM), Road Rescue(TM) and Utilimaster(R) - are known for quality, value, service and being the first to market with innovative products. ....
Woman attacked by bison: 'I thought I was going to die'
A woman gored by a bison at Yellowstone National Park in Wyoming said she is happy to be alive days after the attack.........
---
Check out this week's poll: "How often do you lift the hood and check things out when traveling?" To participate in the poll, look on the left hand column (here at RV University) towards the top
---
...with Mark

Q: 1
At different times during the camping season or even if the campground has no electric sites available, it's nice to camp primitively and have piece of mind your battery will hold up.
I've had different recommendations from RV suppliers and department stores on what size of solar panel we require. We have an expandable 19 ft trailer equipped with the standard accessories such as automatic monitor for the fridge, demand water pump, bunk fans w/lights, electronic control for the water heater, propane leak detector and interior/exterior lighting. Do I need to consider the battery draw of all these accessories when sizing a solar panel? Wouldn't it be better to install a second deep cycle battery because the cost seem to be very close? I've priced a 15 watt solar panel at $100 where another battery is $110-130. Then I hear that the solar panels only last 5 years as do batteries if treated properly, so what would you suggest?
Mark Says:
It really depends on what you are trying to do. With large battery banks, there are solar panels that can be used to run 12 volt and 120 volt devices, and there are solar panels designed to simply recharge a battery when there is no other method of recharging it. It sounds like you are more interested in recharging the battery as you use it to supply power to some of the 12 volt devices in your RV.
If your primary concern is recharging the battery, as you use the 12 volt devices, the first step is to get an idea of how many amp hours you will use in any given day. There are a couple ways to do this. You can find a sample sizing chart that will give you the approximate amps for the amount of time you plan to use each item every day. Or as a general guideline, let's say if you are conservative you will use roughly 35 amp hours a day. To further illustrate this (and keep it simple) let's say you have a 105 amp hour battery in the RV. This means that mathematically it could last 3 days, but you want to charge it every day to prevent it from completely discharging.
Now let's look at what a 100 watt rated solar panel would do to recharge the battery based on this situation. For starters a 100 watt rated panel will actually produce about 80 watts when you factor in all the variables. So,80 watts divided by 12 volts equals 6.7 amps. If you plan on 6 hours of sun per day a 100 watt panel would give you roughly 40 amp hours per day, or about the same amount you are using from the battery, if you are conservative. If you plan to use more than 35 amp hours a day you would add to the wattage rating of the solar panels required to recharge the battery on a daily basis.
Now let's look at what adding an additional battery to the equation (and not using a solar panel) would do. First, deep cycle batteries are rated by group size, for example Group 24, 27, 31. Each battery size or rating offers a different amp hour rating i.e., Group 24 70-85 AH, Group 27 85-105 AH, Group 31 95-125 AH.
If you connect two 12-volt batteries in parallel the voltage stays the same, but the AH capacity is doubled. So adding another 105 AH battery in parallel would give you 210 AH capacity when dry camping. Parallel wiring connects all of the positive sides of each battery together and all of the negative sides together. One important consideration is both batteries should be the same type, size and age. So in reality you would probably need to purchase both batteries at the same time (costing more). Another consideration is, even though you have 210 AH (which will last much longer) you still need a method of recharging the batteries.
It can get complicated and as I mentioned it really depends what you want to do, so you benefit the most both time wise when camping and cost wise when you configure it.
XXXXXX
Q: 2
I noticed that my gray water tank is leaking between the RV floor & top of the tank but I can't pinpoint the exact location. At first, I was retracting the stabilizer jacks and didn't notice it. The tank was almost full & when I pulled the trailer 3 feet away so that I can remove my levelling wood blocks under the tires I noticed the leaks. It seems that the leak was coming from an opening on top of the tank since it occured when the water level shifted due to uneven ground. Are the sinks & tub piping supposed to be connected to the tank in such a way that it shouldn't leak? If the tank was so full, shouldn't it had back up into the tub being the lowest spot with opening? How could I fix this? Thanks for the help. Have a nice day.
Mark Says:
Lots of things can happen to holding tanks, but most commonly leaks are a result of stress on the tank and on the fittings. When a tank is full, or nearly full it's not uncommon for it to weigh in excess of 300 pounds. When things are shifting a little or rubbing against something else it can cause a leak in the tank or a crack in one of the fittings going into the tank. It can also be difficult to isolate and repair the leak.
Since the water was shifting in the tank it's possible that it wasn't actually full enough to come up through the shower or tub, but when it shifted it leaked out under the RV. One consideration is how big of a leak it is and where it is located. It could be leaking around the vent pipe connection or other plumbing fitting in the tank, or the tank itself could be leaking.
If you wanted to test the system there is what is referred to as a flood test. You fill the gray tank until the water is visible in the bottom of the lowest fixture, normally the tub or shower floor, and visually inspect for any leaks. It can be difficult to find a leak and as you are aware sometimes the only indication is water running out from under the RV.
Holding tanks are made of different types of material and require different types of repairs, if it is the tank that is leaking. If a leak is evident it is probably best to have it checked out and repaired by a RV service center.
---
Are you an RV dealer? We offer bulk discounts on our training materials. Our Walk through DVDs have helped tens of thousands of RV consumers learn how to properly operate and maintain their RVs. Hundreds of RV dealers across the country are benefiting from what our program has to offer the customer oriented RV dealership. Contact Dawn today for your RV dealership pricing: dawn@rveducation101.com
---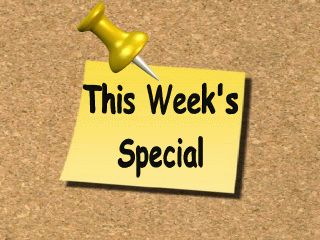 Let RV Education 101 help you save money in 2010
This weeks featured product:
RV DVD 6PACK
RV Education 101 made it easier for you to learn about YOUR RV! We took 6 of our individual DVD titles and put them together into a full set for you which is equal to over 5 hours of one on one instruction. You SAVE a significant amount of money with the set discount.
sale price: $99.95 Buy Now
---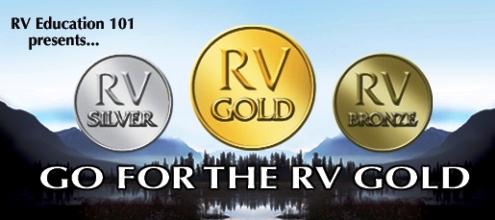 Go for the RV Gold Program
"I go on tour with Beacher's Madhouse for about 6 months out of the year and we usually use an RV as our tour bus. When I started searching for educational materials for RV owners to help me better understand everything I should know, every search led me to the RV Education 101 folks. When I'm not touring, I'm still on the road, operating my shopping site, Buynana(dot)com, from my mobile office. The Go For the RV Gold package is perfect for me because the less I have to carry around with me, the better. I have data coverage over 98% of the United States so if anything ever happened on the road, I could just pull off, log on, and figure it out! After signing up, Dawn contacted me to welcome me and say thanks. At 33, I only vaguely remember when this type of service was the norm, and it's refreshing to find that some people still greet their customers personally. I'm glad that when I searched for "RV Training Videos" in Google, RV Education 101 made up 4 out of the first 6 listings. What I suspected then is what I clearly now know - Dawn and Mark do a fantastic job and this is, by far, the best RV Education product on the market, and one that's certainly needed. Thanks for everything, I'm looking forward to getting my Gold RV Certification!" ~Sincerely, Brian Hogan
President, Buynana(dot)com
VP of Production, Beacher's Madhouse
The program is loaded with one-on-one RV training videos, feature articles, RV tips, crossword puzzles, member discounts for RV services and RV products, quizzes, and much more. This is the only online RV training program that will teach you everything you need to know about your RV at such a reasonable cost, and totally at your leisure with no deadlines. There are customized worksheets provided for navigation, so nothing is missed or overlooked. There is a space provided for you to make notes for each topic and then a feature to print the worksheet when completed.
At the end of the program there is a 25 question final exam. If you pass the final exam (you need a 72% or higher score) you will receive your "Go for the RV Gold" training certificate that you that you can proudly display in your home or RV. P.S. If you don't pass the final exam, you will be given an opportunity to take it again until you do pass, so you can receive your Go for the RV Gold certificate.
National Interstate Insurance company offers a 5% safe driver discount when you successfully complete the "Go for the RV Gold" program. Just present your "Go for the RV Gold" certificate of completion to an authorized National Interstate Insurance agent.
The membership fee is only $49.95 per month for 3 months. Billing is on a 30 recurring basis until the final payment is made. This equates to only $12.49 for each in-depth weekly RV training course. When you select the recurring billing payment option you receive the a new RV training module each month. You can't beat this low pricing for one-on-one RV education training in the comfort of your own home or RV. There is no driving to get to the training location, no packed classrooms and no time restraints.
Note: There is second payment option available where you can pay the full $149.85 program price in one payment. If you select this payment option you will receive all 3 RV modules (12 weekly courses) at one time, after payment and registration.
This program compliments our current line of RV Education 101 training dvds!
3 payments of $49.95 or a 1 time payment of $149.85
Buy Now
---
RV Links:

Own a motorhome?
Membership in FMCA brings with it a wealth of benefits and services
— all specially designed to meet the needs of motorhome owners.
The value of these benefits and services far exceeds the cost of the annual dues.
Benefit highlights
A product that Mark personally uses: Camping/RV Battery Chargers- BatteryMINDers® are the new generation of SMART, pulse type "computer-on-a-chip" chargers, that safely charge and maintain all size / type / brands of batteries including starter, deep cycle and sealed types including AGM "dry" made by OPTIMA, ODYSSEY, EXIDE, INTERSTATE, et al. They do all of this without ever overcharging, no matter how long they are left on charge – days-weeks-or even months. Dubbed the chargers with "brains," they are the first to fully-automatically reverse the primary cause of early battery failure known as "sulfation". Sulfated batteries once considered beyond recovery can now be brought back to long-term useful condition. Certain models of BatteryMINDers® can more than double the useful life of new batteries.
---


RV Education 101 & RV University went mobile!
Check us out on the go
http://www.rveducation101.mobi
&
http://www.rvuniversity.mobi
from your phone!. .....


Share your thoughts & experiences with other RVers and Campers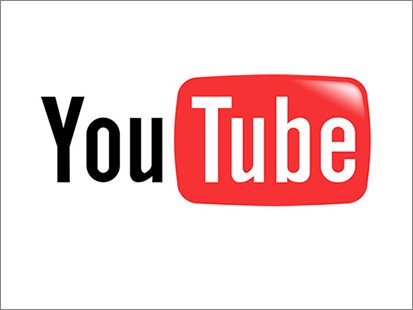 16 RV Single DVD Titles in our Library
An Introduction to RV's
Drive Your Motorhome Like a Pro
RV Awning Use, Care and Accessories
RV Safety Features, Tips and Tricks
Pop Up 101
Travel Trailer 101
Class A Motor Home 101
Class C Rental / Owner
Winterizing & Storing your RV
EZ RV Add Ons and Must Have RV Products
Trailer Towing, Weights, Hitch Work & Backing
Motorhome Towing
RV Campground Basics
Marks Recommended 10 minute RV Essential Items
Deep Cycle Battery Care & Maintenance for RV's and Boats
RV Care and Maintenance
Money Saving DVD Sets Available

Travel Trailer / 5th Wheel Training DVD Sets
Class A Training DVD Sets
Class C Training DVD Sets
---
14 RV Instant Download E-Book Titles in our Library
The Original Checklists for RVers
Winterizing and Storing your RV
THE RV BOOK now available as an ebook
The Three Primary Systems of an RV
Insider's Guide to Buying an RV
RV Buyers Survival Guide
Trailer Towing, Weights, Hitch Work & Backing
A Collection of RV Tips
Pop-Up Basics 101
Dinghy Towing
Deep Cycle Battery Care and Maintenance
RV Awning Use and Care
RV Safety Features, Tips and Tricks
RV Care and Maintenance
RV Campground Basics
---
General and Unsubscribe Info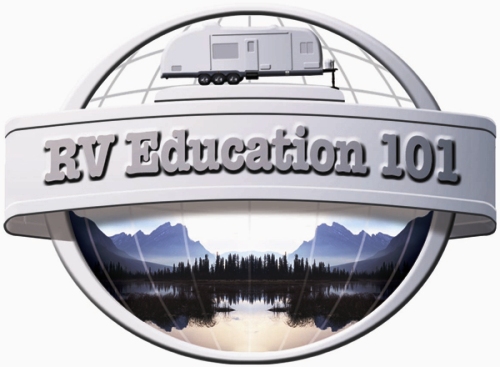 About us:
Our goal with RV University This Week is to provide you with helpful information to make all of your RV experiences more enjoyable. I left my position as an RV Sales and F&I manager in 2000 to start my own company, RV Education 101. We produce educational videos, DVDs and e-books on how to use and maintain your RV. The reason I left my job was due to my concern about the lack of educational and safety awareness material available to the RV consumer, in other words, you. We are a small company. My wife Dawn left her position in RV sales to help start the company and is our Sales and Marketing Director. We currently have a 35-foot Class A motor home. We have two boys, Tyler 13 and Josh 19, both avid RVers and two dogs, Gracie and Buck. Gracie is the good one. If you would like to learn more about us and RV Education 101 feel free to visit http://www.rveducation101.com
RV University This Week © Copyright 2010 Mark J. Polk, except where indicated otherwise. All rights reserved worldwide. Reprint only with permission from copyright holder(s). All trademarks are property of their respective owners. All contents provided as is. Advertisers are solely responsible for ad content.
To subscribe, please go to: http://rveducation101.com/email/
To unsubscribe, please go to: http://rveducation101.com/email/unsubscribe.asp
RV Education 101 Newsletter is an opt-in ezine available by subscription only. We neither use nor endorse the use of spam. Your email address will ONLY be used to distribute this newsletter and will NEVER be sold or given to any other entity!!
Happy Camping,
Mark & Dawn
RV Education 101
150 Bay Ridge Rd
Harrells, NC 28444-8896
910-484-7615
mark@rveducation101.com
dawn@rveducation101.com
Copyright 2010 by RV Education 101