RV University This Week 07/19/2010
Tuesday, July 20 2010 @ 01:13 pm UTC
Contributed by: RVED101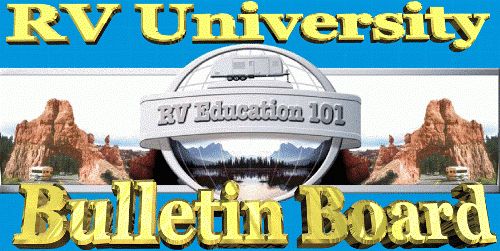 RV University this Week
Your weekly source for interesting
RV articles, tips, tricks, video clips and advice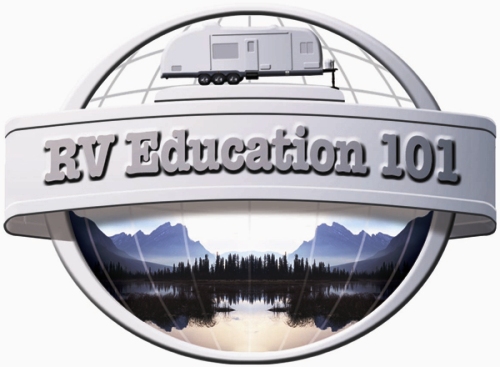 From the Industry Leader in RV Education:
RV Education 101
U of RV Journal #69 - July 19, 2010

---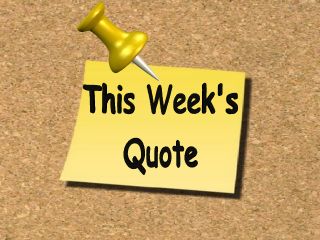 "Every act of conscious learning requires the willingness to suffer an injury to one's self-esteem. That is why young children, before they are aware of their own self-importance, learn so easily."
~Thomas Szasz
---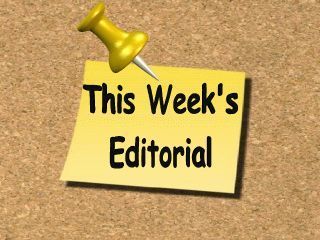 BY MARK

Hi Everybody,
We have not sent our weekly e-newsletter out for several weeks now. Looking back I'm not sure why I didn't send out a news blast explaining that we wouldn't be sending the newsletter out for a few weeks, but hindsight is 20/20.
The reason for not sending it out was that we were on a 7,200 mile coast to coast RV trip. My youngest son made me promise that this was a real vacation, and not one where we would be working more than relaxing. This trip was in fact the longest vacation I have ever taken away from work. At first that made me nervous just thinking about all of the work I should be doing, but wasn't doing. After awhile I said, "You know what, this can wait until we get back." And so it was done, no work, just lots of fun!
I apologize to all of you who wrote asking about the newsletter, or if something was wrong, and also to those business clients who patiently waited for us to return to get caught up with things.
We traveled from North Carolina to Washington state to attend our nephew's wedding, stopping in Colorado Springs for a few days to pick up a small caravan of Dawn's family members for the second leg of the westbound trip. Her brother's family rented an RV and her sister's family went with us in our RV. The teenagers followed behind in an SUV. That worked out good for us and for them. In all, there were 15 of us heading to Camano Island, WA for the young couples nuptials.
All 15 of us went horseback riding in Wyoming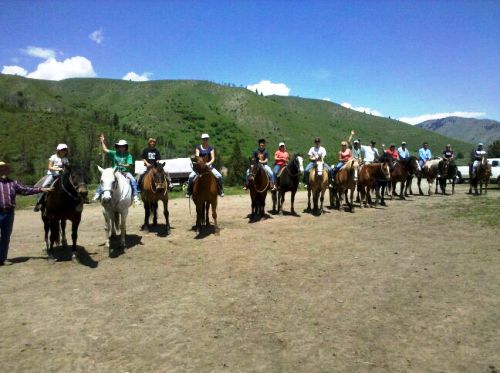 We had a great time on our RV trip and it would be nearly impossible to write about everything we did and saw along the way, but I can give you a quick recap.
The trip took us through at least a part of 21 states.
The average MPG during the trip was 7.6
The average price per gallon of gasoline was $2.71
The total distance travelled was 7,241 miles.
We spent 6 nights at Wal-Marts along the way.
We stayed at 9 KOA campgrounds. The thing I really like about KOA is you always know what to expect when you stay at a KOA. They are clean, friendly, well maintained and affordable.
We stayed at 2 privately owned campgrounds along the way. I liked one of them, but not the other one. In fact, if there would have been another campground close by I would have packed our things up and left.
We connected with people we worked with through the Internet for 10 years, but never met in person. Namely Chuck Woodbury and Jody Allcott with RV Travel, who we enjoyed spending the afternoon with.
We saw some of the country's most beautiful sights and made lasting memories.
I played golf for the first time in my life. I scored 1 bogey and 2 double bogey's in 18 holes. The others said that was really good, but I thought it could have been better. I won't talk about the other 15 holes!

Jody, Dawn, Chuck and Mark on the Washington Ferry

On the way back we spent the 4th of July in Manitou Springs Colorado, where we enjoyed the fireworks. From Colorado we went to Pennsylvania to pick up my mother and nephew and bring them to NC for a week. They headed back to Pa. this morning so the vacation is officially over and it's back to work again.
One thing I was really concerned about on this trip was the tires on the RV and the Jeep we were towing. Be sure to read this week's feature article to see what I did to relieve my concerns.
Until next week, plan your trip, travel safe and enjoy your RV experiences. Remember, getting there is half the fun!
Mark Polk
---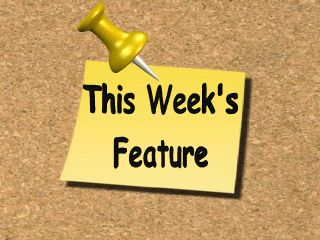 Rest Assured with a Tire Minder TPMS
For everyone who contacted me asking why I haven't posted to the blog for the last month or so thank you for your concern. We just returned from a 7,200 mile coast to coast RV trip. My youngest son said I always work when we travel in the RV so I promised him I wouldn't work on this trip. We had a wonderful time and saw lots of this beautiful country along the way. I can't wait to start planning the next trip.... ....... Read the article
---
Check out this week's poll: "Have you ever stayed at a KOA campground?" To participate in the poll, look on the left hand column (here at RV University) towards the top
---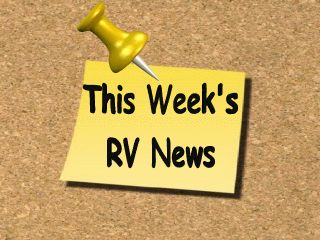 Camping vacations are sizzling!
Industry giant Kampgrounds of America recorded a record Fourth of July Weekend, indicating that more of us are camping out this summer......
NFL Legend and Horse Breeder, Terry Bradshaw, Becomes the Face of Eco-Friendly EverGreen RVs
EverGreen Recreational Vehicles, LLC, is pleased to announce its new association with football legend and three-time Emmy winning co-host of FOX NFL Sunday, Terry Bradshaw. .....
Firefighters say a tire blew
then caught fire causing two propane tanks to explode ....
Yosemite Offering More Sites for Campers
Yosemite National Park is offering more sites for campers, including a campground that's been closed for 13 years........
Insurance May Not Cover Campers' Flood Damage Friday campers were bailing out their recreational vehicles and cleaning up what they could salvage....
---
...with Mark

Q:
Hi Mark, I have recently purchased a 2003 Coleman Bayside pop up camper and am towing it with a 2002 Chevy Tahoe. I have noticed some sway as I get around the 60 mph speeds. I am confident that I have appropriate tongue weight. On some of the pop up trailer forums, people talk about having the sway control bar on the hitch system. Suggestion are the Draw Tite 3400 sway control bar. These run around 120.00. But I also find the exact same setup in "non Draw Tite" brand for $25.00-$70.00. I would like to know what is the difference and why the large variance in price?
Mark Says:
You are talking about a friction sway control unit that is usually sufficient for lighter RV's like a pop up. Always keep in mind that no sway control eliminates sway completely, but if properly adjusted it will dampen and lessen the potential for sway. As for the difference in price between manufacturers I don't have a good explanation for you. Friction sway controls are very similar in construction and design and I don't see any added benefits in the Draw Tite model you mentioned. Reese offers a friction sway control for under $50 and I'm sure it would work just as well as the Draw Tite model. I would try to avoid a $20 model that is made in China, just because you have no idea of the metal used or other manufacturing variables involved.
---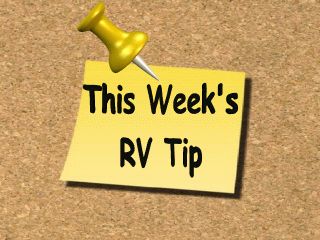 BY Mark Polk
Mark's RV Quick Tip #1: The term boondocking means rough country, roughing it, or out in the sticks, but for RVers it basically translates into free or dry camping. You find a place to camp in an RV, where minimal fees may or may not be charged, and you camp without any utility hook-ups like water, electric, and sewer. It might be at a Flying J truck stop, a Wal-Mart parking lot, a remote area in the wilderness or in the middle of a desert.
You can still use all of the 12-volt appliances and accessories as long as the deep cycle battery(s) has a charge. You can also use the onboard water system with the 12-volt demand type water pump. If you have solar panels and an inverter or an onboard generator you can use some or all of the 120-volt appliances and recharge the auxiliary battery(s). This is what makes an RV fully self-contained.
Mark's RV Quick Tip #2: Dinghy is a term used for the vehicle you are towing behind a motor home, also called a Toad.
---
Are you an RV dealer? We offer bulk discounts on our training materials. Our Walk through DVDs have helped tens of thousands of RV consumers learn how to properly operate and maintain their RVs. Hundreds of RV dealers across the country are benefiting from what our program has to offer the customer oriented RV dealership. Contact Dawn today for your RV dealership pricing: dawn@rveducation101.com
---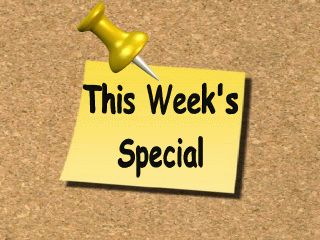 Let RV Education 101 help you save money in 2010
This weeks featured product: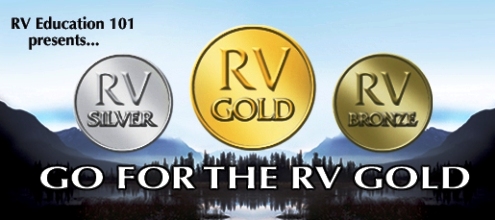 Go for the RV Gold Program
"I go on tour with Beacher's Madhouse for about 6 months out of the year and we usually use an RV as our tour bus. When I started searching for educational materials for RV owners to help me better understand everything I should know, every search led me to the RV Education 101 folks. When I'm not touring, I'm still on the road, operating my shopping site, Buynana(dot)com, from my mobile office. The Go For the RV Gold package is perfect for me because the less I have to carry around with me, the better. I have data coverage over 98% of the United States so if anything ever happened on the road, I could just pull off, log on, and figure it out! After signing up, Dawn contacted me to welcome me and say thanks. At 33, I only vaguely remember when this type of service was the norm, and it's refreshing to find that some people still greet their customers personally. I'm glad that when I searched for "RV Training Videos" in Google, RV Education 101 made up 4 out of the first 6 listings. What I suspected then is what I clearly now know - Dawn and Mark do a fantastic job and this is, by far, the best RV Education product on the market, and one that's certainly needed. Thanks for everything, I'm looking forward to getting my Gold RV Certification!" ~Sincerely, Brian Hogan
President, Buynana(dot)com
VP of Production, Beacher's Madhouse

The program is loaded with one-on-one RV training videos, feature articles, RV tips, crossword puzzles, member discounts for RV services and RV products, quizzes, and much more. This is the only online RV training program that will teach you everything you need to know about your RV at such a reasonable cost, and totally at your leisure with no deadlines. There are customized worksheets provided for navigation, so nothing is missed or overlooked. There is a space provided for you to make notes for each topic and then a feature to print the worksheet when completed.

At the end of the program there is a 25 question final exam. If you pass the final exam (you need a 72% or higher score) you will receive your "Go for the RV Gold" training certificate that you that you can proudly display in your home or RV. P.S. If you don't pass the final exam, you will be given an opportunity to take it again until you do pass, so you can receive your Go for the RV Gold certificate.

National Interstate Insurance company offers a 5% safe driver discount when you successfully complete the "Go for the RV Gold" program. Just present your "Go for the RV Gold" certificate of completion to an authorized National Interstate Insurance agent.

The membership fee is only $49.95 per month for 3 months. Billing is on a 30 recurring basis until the final payment is made. This equates to only $12.49 for each in-depth weekly RV training course. When you select the recurring billing payment option you receive the a new RV training module each month. You can't beat this low pricing for one-on-one RV education training in the comfort of your own home or RV. There is no driving to get to the training location, no packed classrooms and no time restraints.

Note: There is second payment option available where you can pay the full $149.85 program price in one payment. If you select this payment option you will receive all 3 RV modules (12 weekly courses) at one time, after payment and registration.

This program compliments our current line of RV Education 101 training dvds!


3 payments of $49.95 or a 1 time payment of $149.85 Buy Now
---
RV Links:

Own a motorhome?
Membership in FMCA brings with it a wealth of benefits and services
— all specially designed to meet the needs of motorhome owners.
The value of these benefits and services far exceeds the cost of the annual dues.
Benefit highlights
A product that Mark personally uses: Camping/RV Battery Chargers- BatteryMINDers® are the new generation of SMART, pulse type "computer-on-a-chip" chargers, that safely charge and maintain all size / type / brands of batteries including starter, deep cycle and sealed types including AGM "dry" made by OPTIMA, ODYSSEY, EXIDE, INTERSTATE, et al. They do all of this without ever overcharging, no matter how long they are left on charge – days-weeks-or even months. Dubbed the chargers with "brains," they are the first to fully-automatically reverse the primary cause of early battery failure known as "sulfation". Sulfated batteries once considered beyond recovery can now be brought back to long-term useful condition. Certain models of BatteryMINDers® can more than double the useful life of new batteries.
---


RV Education 101 & RV University went mobile!
Check us out on the go
www.rveducation101.mobi
&
www.rvuniversity.mobi
from your phone!. .....


Share your thoughts & experiences with other RVers and Campers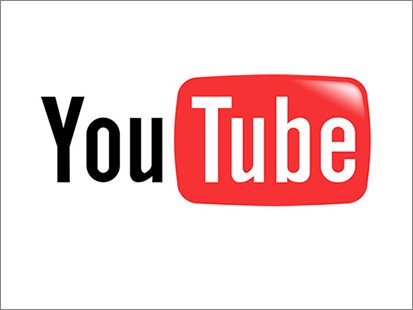 16 RV Single DVD Titles in our Library
An Introduction to RV's
Drive Your Motorhome Like a Pro
RV Awning Use, Care and Accessories
RV Safety Features, Tips and Tricks
Pop Up 101
Travel Trailer 101
Class A Motor Home 101
Class C Rental / Owner
Winterizing & Storing your RV
EZ RV Add Ons and Must Have RV Products
Trailer Towing, Weights, Hitch Work & Backing
Motorhome Towing
RV Campground Basics
Marks Recommended 10 minute RV Essential Items
Deep Cycle Battery Care & Maintenance for RV's and Boats
RV Care and Maintenance
Money Saving DVD Sets Available

Travel Trailer / 5th Wheel Training DVD Sets
Class A Training DVD Sets
Class C Training DVD Sets
---
14 RV Instant Download E-Book Titles in our Library
The Original Checklists for RVers
Winterizing and Storing your RV
THE RV BOOK now available as an ebook
The Three Primary Systems of an RV
Insider's Guide to Buying an RV
RV Buyers Survival Guide
Trailer Towing, Weights, Hitch Work & Backing
A Collection of RV Tips
Pop-Up Basics 101
Dinghy Towing
Deep Cycle Battery Care and Maintenance
RV Awning Use and Care
RV Safety Features, Tips and Tricks
RV Care and Maintenance
RV Campground Basics
---
General and Unsubscribe Info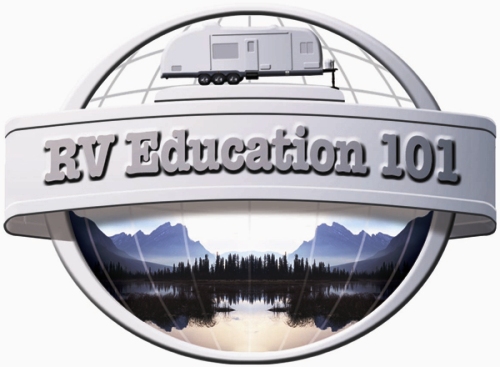 About us:
Our goal with RV University This Week is to provide you with helpful information to make all of your RV experiences more enjoyable. I left my position as an RV Sales and F&I manager in 2000 to start my own company, RV Education 101. We produce educational videos, DVDs and e-books on how to use and maintain your RV. The reason I left my job was due to my concern about the lack of educational and safety awareness material available to the RV consumer, in other words, you. We are a small company. My wife Dawn left her position in RV sales to help start the company and is our Sales and Marketing Director. We currently have a 35-foot Class A motor home. We have two boys, Tyler 13 and Josh 19, both avid RVers and two dogs, Gracie and Buck. Gracie is the good one. If you would like to learn more about us and RV Education 101 feel free to visit http://www.rveducation101.com
RV University This Week © Copyright 2010 Mark J. Polk, except where indicated otherwise. All rights reserved worldwide. Reprint only with permission from copyright holder(s). All trademarks are property of their respective owners. All contents provided as is. Advertisers are solely responsible for ad content.
To subscribe, please go to: http://rveducation101.com/email/
To unsubscribe, please go to: http://rveducation101.com/email/unsubscribe.asp
RV Education 101 Newsletter is an opt-in ezine available by subscription only. We neither use nor endorse the use of spam. Your email address will ONLY be used to distribute this newsletter and will NEVER be sold or given to any other entity!!
Happy Camping,
Mark & Dawn
RV Education 101
150 Bay Ridge Rd
Harrells, NC 28444-8896
910-484-7615
mark@rveducation101.com
dawn@rveducation101.com
Copyright 2010 by RV Education 101