RV University This Week 04/26/2010
Monday, April 26 2010 @ 01:06 pm UTC
Contributed by: RVED101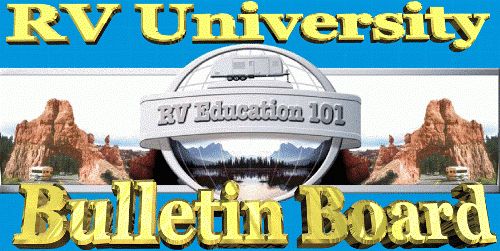 RV University this Week
Your weekly source for interesting
RV articles, tips, tricks, video clips and advice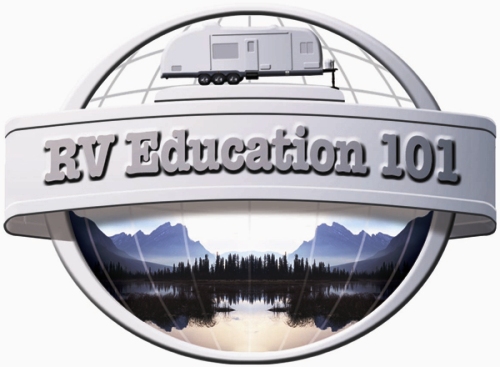 From the Industry Leader in RV Education:
RV Education 101
U of RV Journal #62 - April 26, 2010


Share your thoughts & experiences with other RVers and Campers. This week we are promoting a little fun and education at the same time. Go to our facebook page and post your RV tip. Have fun and learn from other RVers at the same time!

---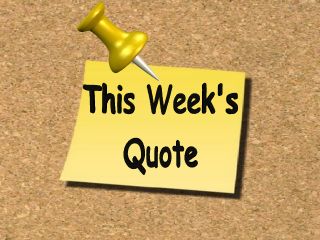 Learning is not attained by chance, it must be sought for with ardor and attended to with diligence.
~ Abigail Adams (1744 - 1818), 1780
---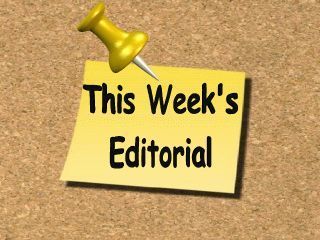 BY MARK

Hi Everybody,
The weather is warming up, the trees and flowers are in bloom and it's time for another great season of camping. Each year about this time I like to talk about prepping your RV for another season. When your RV sits for months at a time it's not a good idea to just head out on an RV adventure without checking it out first. This week's feature article is basically a checklist that you can use to give your RV a good spring check-up.
In other news, we have been working on an in-depth online RV training program, called 'Go for the RV Gold'. It is a 12 week RV training program. Each week the training is delivered directly to your e-mail address where you can learn in the comfort of your home or RV. Members start in the Bronze RV training module for 4 weeks, advance to the Silver RV module for 4 weeks and finish in the RV Gold module for 4 weeks.
The program is loaded with videos, articles, tips, crossword puzzles, quizzes, member discounts and much more. This is the only online RV training program that will teach you everything you need to know about your RV at such a reasonable cost. If you pass the final exam at the end of the 12 weeks, you will receive a Go for the RV Gold training certificate that you that you can proudly display in your home or RV. We are hoping to launch this new program in June. This new program will compliment our current line of training DVDs and books. I will keep you posted.
Until next week, plan your trip, travel safe and enjoy your RV experiences. Remember, getting there is half the fun!
Mark Polk
---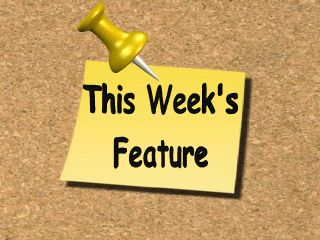 Time to go Camping, but First…
It's time again for my annual RV spring preparation checklist. If your RV has been sitting idle all winter you need to whip it back into shape for another season of camping. At first glance this checklist looks like it would take two days to complete, but it's actually something you can do on a Saturday when there's nothing else to do. Following a checklist helps make sure nothing is overlooked........ ....... Read the article
---
...with Mark
Q. Last year we bought a motorhome and have enjoyed using it over this last year. We are very new to RV'ing and have had it in several times for small warranty issues. We recently picked it up to travel to Sedona, AZ and the Grand Canyon. In Sedona, we hooked up to the 50 amp service and all appeared well. Late that evening, the furnace stopped working as there was no power in the batteries.
That seemed strange to me as we were plugged in. In the morning we started the engine and charged things up and the electrical panel all seemed to be working. Over the next two nights it appears we were not getting electricity from outside the coach.
The problem continued at the Grand Canyon. I do not know what is wrong. Upon returning home, it also appears that now the inverter is not working. We push the button to turn it on and nothing happens.
Mark Says:
It's difficult to say without seeing it. It could be a problem with switching between AC sources. Did the system work okay with the generator running? There are several methods for switching between shore power cord and the generator. Some units require you plug the cord into an outlet in a compartment, some use a manual transfer switch and some use an automatic transfer switch. If this switching mechanism is not working you may not be getting power inside the RV. Another thought is the RV converter. If there is a problem with the converter you are running the 12 volt devices off of the battery(s). When the battery(s) lose its charge things aren't working inside. There are different types of converters and there is always the possibility of electrical shock when working on or around the converter, so I recommend taking it back to the dealership to have it looked at.
Followup:
Thanks for your response...it is more than I received from my dealer!
I finally had to bring the RV over to them and ask...they said it is probably the converter as you mentioned. Since it is still under warranty, they will be repairing it, whatever they find!
Thanks again. I do appreciate it and your website.
---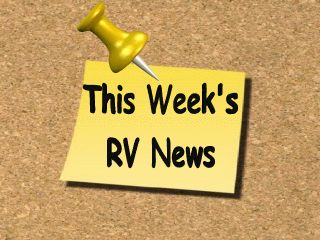 Identifying and preventing mold in recreational vehicle
Reducing the indoor humidity and identifying potential leaks or places where moisture collects will keep your RV or trailer from smelling musty and damp and improve the air quality inside. Here are some maintenance items to identify the source and prevent further moisture issues. .....
State looks to crack down on RV tax evasion
Local owners using Montana plates to avoid luxury tax ....
How Campers Can Help Camping & RV Parks Rebound from the Tough Year Behind
The impact of the recession on campgrounds has been bitter-sweet. On one hand some folks that once stayed in hotels for family vacations are saving money by camping, while other occasional campers are staying at home due to rising fuel prices, being out of work or just deciding the recreational cost is too much in the current economy.....
---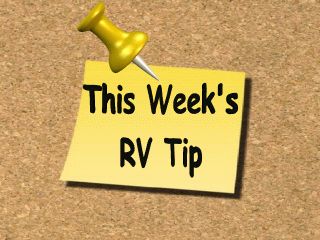 BY Mark Polk
Mark's RV Quick Tip #1: Always wear gloves when working around the RV waste water system.
Disposable gloves work well.
Mark's RV Quick Tip #2: Never let the gray or black water drain on the ground.
---
Check out this week's poll: "Do you use a checklist to perform maintenance or routine tasks on your RV?" To participate in the poll, look on the left hand column (here at RV University) towards the top
---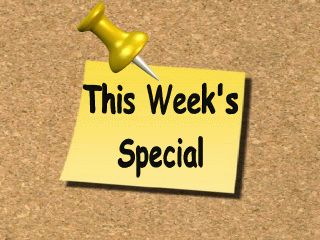 Let RV Education 101 help you save money in 2010
This weeks special:
RV Packing Tips, RV Life Lessons and Easy Living Hints e-book By Peggi McDonald
Three E-Books in One! This e-book does NOT suggest what to pack. HOWEVER it DOES deal with HOW TO FIND SPACE for what you have on board. Informative tips, hints and ideas include Peggi's personal favourites. PLUS much-loved suggestions from those they met along the way. During Peggi & John's 20-years of Fulltiming, they have continually moved from place to place – Experience is a comprehensive teacher, but sometimes it comes with expensive price tags. With this e-book you can avoid their mistakes and the pricey invoice that accompanied most of them! Excerpt: "During a propane fill last winter, our rubber gasket on the horizontal tank-fill valve stayed on the propane nozzle of the truck that filled our tank. Without this gasket it was impossible to add propane into our tank. We didn't realize this gasket was missing until we tried to fill up with propane. Thankfully the missing rubber ring is available from most propane dealers; ours was replaced at no cost. Apparently it happens frequently - this was a first for us in 19-years." With this e-book purchase, Peggi will send you updates to your e-mail as she gets them.
sale price: $12.95 Buy Now
---
Are you an RV dealer? We offer bulk discounts on our training materials. Our Walk through DVDs have helped tens of thousands of RV consumers learn how to properly operate and maintain their RVs. Hundreds of RV dealers across the country are benefiting from what our program has to offer the customer oriented RV dealership. Contact Dawn today for your RV dealership pricing: dawn@rveducation101.com
---
RV Links:

Own a motorhome?
Membership in FMCA brings with it a wealth of benefits and services
— all specially designed to meet the needs of motorhome owners.
The value of these benefits and services far exceeds the cost of the annual dues.
Benefit highlights
A product that Mark personally uses: Camping/RV Battery Chargers- BatteryMINDers® are the new generation of SMART, pulse type "computer-on-a-chip" chargers, that safely charge and maintain all size / type / brands of batteries including starter, deep cycle and sealed types including AGM "dry" made by OPTIMA, ODYSSEY, EXIDE, INTERSTATE, et al. They do all of this without ever overcharging, no matter how long they are left on charge – days-weeks-or even months. Dubbed the chargers with "brains," they are the first to fully-automatically reverse the primary cause of early battery failure known as "sulfation". Sulfated batteries once considered beyond recovery can now be brought back to long-term useful condition. Certain models of BatteryMINDers® can more than double the useful life of new batteries.
---


RV Education 101 & RV University went mobile!
Check us out on the go
www.rveducation101.mobi
&
www.rvuniversity.mobi
from your phone!. .....


Share your thoughts & experiences with other RVers and Campers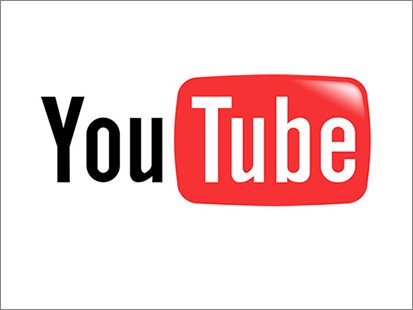 16 RV Single DVD Titles in our Library
An Introduction to RV's
Drive Your Motorhome Like a Pro
RV Awning Use, Care and Accessories
RV Safety Features, Tips and Tricks
Pop Up 101
Travel Trailer 101
Class A Motor Home 101
Class C Rental / Owner
Winterizing & Storing your RV
EZ RV Add Ons and Must Have RV Products
Trailer Towing, Weights, Hitch Work & Backing
Motorhome Towing
RV Campground Basics
Marks Recommended 10 minute RV Essential Items
Deep Cycle Battery Care & Maintenance for RV's and Boats
RV Care and Maintenance
Money Saving DVD Sets Available

Travel Trailer / 5th Wheel Training DVD Sets
Class A Training DVD Sets
Class C Training DVD Sets
---
14 RV Instant Download E-Book Titles in our Library
The Original Checklists for RVers
Winterizing and Storing your RV
THE RV BOOK now available as an ebook
The Three Primary Systems of an RV
Insider's Guide to Buying an RV
RV Buyers Survival Guide
Trailer Towing, Weights, Hitch Work & Backing
A Collection of RV Tips
Pop-Up Basics 101
Dinghy Towing
Deep Cycle Battery Care and Maintenance
RV Awning Use and Care
RV Safety Features, Tips and Tricks
RV Care and Maintenance
RV Campground Basics
---
General and Unsubscribe Info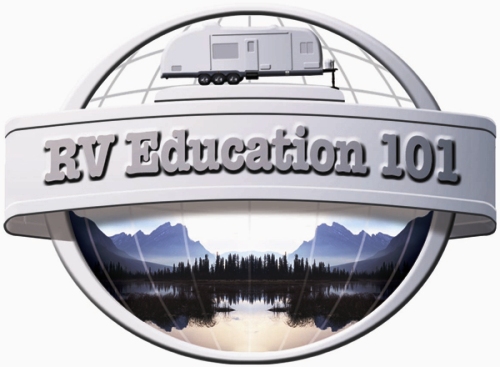 About us:
Our goal with RV University This Week is to provide you with helpful information to make all of your RV experiences more enjoyable. I left my position as an RV Sales and F&I manager in 2000 to start my own company, RV Education 101. We produce educational videos, DVDs and e-books on how to use and maintain your RV. The reason I left my job was due to my concern about the lack of educational and safety awareness material available to the RV consumer, in other words, you. We are a small company. My wife Dawn left her position in RV sales to help start the company and is our Sales and Marketing Director. We currently have a 35-foot Class A motor home. We have two boys, Tyler 13 and Josh 19, both avid RVers and two dogs, Gracie and Buck. Gracie is the good one. If you would like to learn more about us and RV Education 101 feel free to visit http://www.rveducation101.com
RV University This Week © Copyright 2010 Mark J. Polk, except where indicated otherwise. All rights reserved worldwide. Reprint only with permission from copyright holder(s). All trademarks are property of their respective owners. All contents provided as is. Advertisers are solely responsible for ad content.
To subscribe, please go to: http://rveducation101.com/email/
To unsubscribe, please go to: http://rveducation101.com/email/unsubscribe.asp
RV Education 101 Newsletter is an opt-in ezine available by subscription only. We neither use nor endorse the use of spam. Your email address will ONLY be used to distribute this newsletter and will NEVER be sold or given to any other entity!!
Happy Camping,
Mark & Dawn
RV Education 101
150 Bay Ridge Rd
Harrells, NC 28444-8896
910-484-7615
mark@rveducation101.com
dawn@rveducation101.com
Copyright 2010 by RV Education 101