RV University This Week 03/1/2010
Tuesday, March 02 2010 @ 10:06 am UTC
Contributed by: RVED101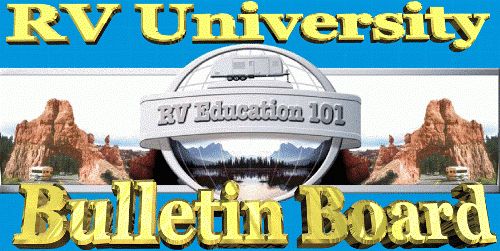 RV University this Week
Your weekly source for interesting
RV articles, tips, tricks, video clips and advice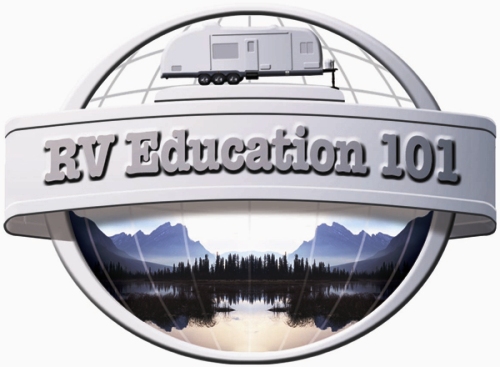 From the Industry Leader in RV Education:
RV Education 101
U of RV Journal #54 - March 1, 2010
---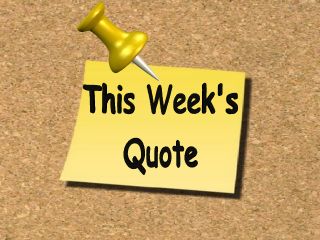 "Your total RV experience will be enhanced through your RV education."
~ Mark Polk
---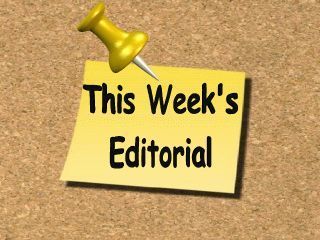 BY MARK

Hi Everybody,
Something that really bothers me is when I see state officials under-funding and closing state parks for budget reasons. If state officials think there is nothing wrong with closing preserved historical recreation areas I would be deeply concerned about their capability in making other important decisions affecting the citizens of that state. The last thing that should be considered, when reducing a budget, is the land that belongs to the people.
It is our moral obligation to protect and preserve our state and national parks. The reality is, closing parks does not really save a significant amount of money but it does affect the local economy in a negative way. And it deprives the taxpayer from enjoying cost effective camping and recreation on land that should be available to the taxpayer.
I am really concerned for some of the states being affected by park closings and reductions, and I can only hope it never spills over to our national parks. The President's 2011 budget request for National Park Service is 21.6 million lower than the current 2010 fiscal year budget. The National Park Service is already grossly under funded. The first step is always to cut the funding. In reality the Park Service budget is miniscule compared to the federal budget. It is a small price to pay to be good stewards of this precious land. Make your voice heard by asking Congress to boost national park funding levels rather than lower them.
To help keep your state parks open I encourage you to contact the governor's office, state supervisors and other state officials.
For more information on state park closures be sure and read this week's feature article.
Until next week, plan your trip, travel safe and enjoy your RV experiences. Remember, getting there is half the fun!
Mark
---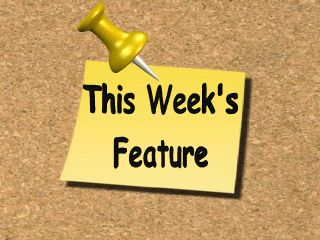 Why are State Parks Taking the Budget Hit?
I find it odd that while numerous states are reporting state park attendance is up during the recession many parks are getting the ax to shave a few dollars off the state deficit. Something else I see as odd is while state park attendance increases many state budgets to fund the parks continue to decrease, and that some of the most beautiful and historical state parks in the country are closing altogether....... Read the article
---
...with Mark
Q. We park our RV at home, and have access to a 30-amp line; my inclination is to keep our MH plugged in continuously during nonuse with the fridge running and ready to go. Would we extend the life of the refrigerator by putting it in storage, that is, putting our selector switch to "STORAGE", thereby turning the unit off, removing all foods, and leaving the door open if we're not planning to use it for several months? Our fridge is a two-way: LPG or 120 VAC.
Mark Says: The only reason for leaving the refrigerator on would be if you use it for additional food storage when you are at home. If not, I would recommend turning it off and leaving the doors open when the RV is in storage. If you leave the RV plugged in all the time remember that the battery is being charged by the converter charger and you will have to keep an eye on the water levels in the battery too.
---
Check out this week's poll: "Do you see closing state parks as a way to decrease state budgets?" To participate in the poll, look on the left hand column (here at RV University) towards the top
---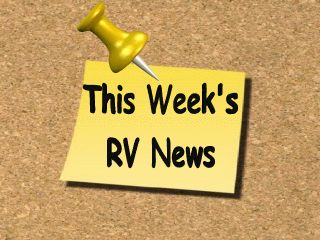 Investing in National Parks Is Investing in America
Ask Congress to invest in our national parks
--America's best idea--by boosting funding levels above those proposed in the President's budget.....
KOA-sponsored USA Bobsled Team Takes Gold Medal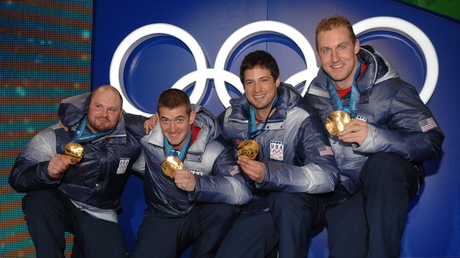 Kampgrounds of America picked a winner when it decided to become a major sponsor of the USA Bobsled and Skeleton Team at the 2010 Olympics in Vancouver, British Columbia.
The USA Four-Man Bobsled Team took the gold medal in exciting fashion Saturday during the next-to-last day of Olympic competition. The four-man team, which also is the current World Champion and World Cup Champion team, claimed the first U.S. medal in four-man bobsled since 1948.
"KOA is a great company and proved to be an enthusiastic partner," said Darrin Steele, CEO of the United States Bobsled and Skeleton Federation (USBSF). "We depend on sponsorships like this one with KOA to have success like we had at this Olympics." Kampgrounds of America CEO Jim Rogers congratulated the USA team, and said the relationship between the team and KOA has been rewarding for both sides. "The Winter Olympics brought the world's elite athletes together to demonstrate the very best in outdoor recreation. Both KOA and the USBSF share a passion for dedication, hard work, competitive excellence and national pride and we are proud to be a member of the USBSF family."
---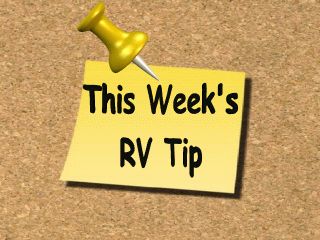 BY Mark Polk
Mark's RV Quick Tip #1:
Public Campgrounds
Public campgrounds are the campgrounds found in our national parks and national forests, state parks and state forests, army corps of engineer projects and bureau of land management areas. These campgrounds are run by a government agency and are quite affordable. Public camping is more of what I consider back to nature type camping whereas most private campgrounds offer more amenities like a camp store, recreation centers, laundry rooms, playgrounds, swimming pools, full hook-ups and more. Public campgrounds will usually offer restrooms; a picnic table, fire pit and some will have shower facilities. You will see much more tent camping at public campgrounds than you will at private parks, and hook-ups like water and electricity may or may not be available for RVers. Many of these public campgrounds have size restrictions for RVs too. Be sure and check on any restrictions that may apply before attempting to stay at a public campground. If you enjoy getting back to nature and more primitive type camping try out a public campground while they are at this moment, still available.
Mark's RV Quick Tip #2:
Site Survey
When you arrive at your campsite the first thing you need to do is what I refer to as a site survey. You need to locate the electric, water and sewer hook ups and make sure the electrical service is compatible with the electrical system on your RV. Next, you want to check the site for any overhead obstacles like low hanging tree branches that might interfere with parking or setting up the RV. When you position the unit on the site, make sure there is enough clearance for any slide-outs and that there is room to put the patio awning out. Before disconnecting a towable unit from the tow vehicle you will want to level the RV side to side and double check all clearances and access to utility hook ups. .
---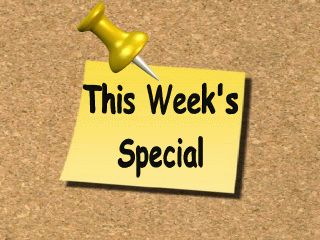 Let RV Education 101 help you save money in 2010
This weeks special:
RV Campground Basics Ebook
I have always said if you're going to buy an RV you need to use it; otherwise it is nothing more than a large and expensive lawn ornament. Where to go and what to do when you get there, can be confusing until you have a few RV trips under your belt. There is a lot to learn about public and private campgrounds and RV parks, and the more you know, the better your camping experience will be.
You need to determine how you plan to use your RV, where you plan to use your RV, and explore all of your options. How do you find these campgrounds, RV parks and RV resorts? Should you make reservations before leaving on a trip? How do you register when you arrive? What kind of site should you request? Do you need a partial hook up or a full hook up? What does campground etiquette mean? How do you determine the right camping club for you? The purpose of this e-book is to answer all of these questions and much more
sale price: $10.95 Buy Now



Share your thoughts & experiences with other RVers and Campers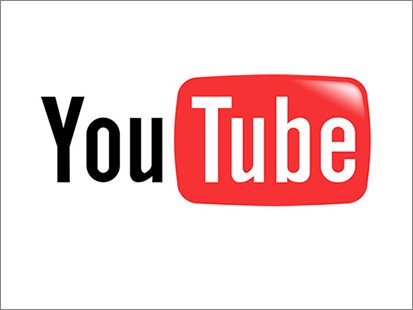 RV Education 101 & RV University went mobile!
Check us out on the go
www.rveducation101.mobi
&
www.rvuniversity.mobi
from your phone!. .....
---
RV Links:

Own a motorhome?
Membership in FMCA brings with it a wealth of benefits and services
— all specially designed to meet the needs of motorhome owners.
The value of these benefits and services far exceeds the cost of the annual dues.
Benefit highlights
A product that Mark personally uses: Camping/RV Battery Chargers- BatteryMINDers® are the new generation of SMART, pulse type "computer-on-a-chip" chargers, that safely charge and maintain all size / type / brands of batteries including starter, deep cycle and sealed types including AGM "dry" made by OPTIMA, ODYSSEY, EXIDE, INTERSTATE, et al. They do all of this without ever overcharging, no matter how long they are left on charge – days-weeks-or even months. Dubbed the chargers with "brains," they are the first to fully-automatically reverse the primary cause of early battery failure known as "sulfation". Sulfated batteries once considered beyond recovery can now be brought back to long-term useful condition. Certain models of BatteryMINDers® can more than double the useful life of new batteries.

16 RV Single DVD Titles in our Library
An Introduction to RV's
Drive Your Motorhome Like a Pro
RV Awning Use, Care and Accessories
RV Safety Features, Tips and Tricks
Pop Up 101
Travel Trailer 101
Class A Motor Home 101
Class C Rental / Owner
Winterizing & Storing your RV
EZ RV Add Ons and Must Have RV Products
Trailer Towing, Weights, Hitch Work & Backing
Motorhome Towing
RV Campground Basics
Marks Recommended 10 minute RV Essential Items
Deep Cycle Battery Care & Maintenance for RV's and Boats
RV Care and Maintenance
Money Saving DVD Sets Available

Travel Trailer / 5th Wheel Training DVD Sets
Class A Training DVD Sets
Class C Training DVD Sets
---
14 RV Instant Download E-Book Titles in our Library
The Original Checklists for RVers
Winterizing and Storing your RV
THE RV BOOK now available as an ebook
The Three Primary Systems of an RV
Insider's Guide to Buying an RV
RV Buyers Survival Guide
Trailer Towing, Weights, Hitch Work & Backing
A Collection of RV Tips
Pop-Up Basics 101
Dinghy Towing
Deep Cycle Battery Care and Maintenance
RV Awning Use and Care
RV Safety Features, Tips and Tricks
RV Care and Maintenance
RV Campground Basics
---
General and Unsubscribe Info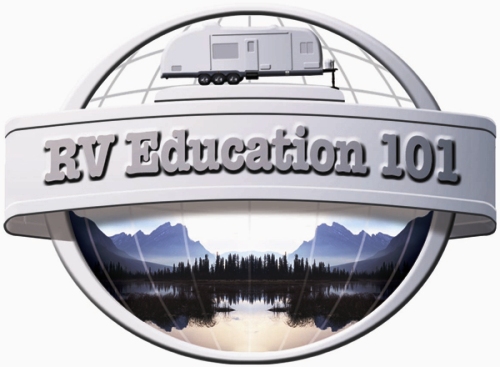 About us:
Our goal with RV University This Week is to provide you with helpful information to make all of your RV experiences more enjoyable. I left my position as an RV Sales and F&I manager in 2000 to start my own company, RV Education 101. We produce educational videos, DVDs and e-books on how to use and maintain your RV. The reason I left my job was due to my concern about the lack of educational and safety awareness material available to the RV consumer, in other words, you. We are a small company. My wife Dawn left her position in RV sales to help start the company and is our Sales and Marketing Director. We currently have a 35-foot Class A motor home. We have two boys, Tyler 13 and Josh 19, both avid RVers and two dogs, Gracie and Buck. Gracie is the good one. If you would like to learn more about us and RV Education 101 feel free to visit http://www.rveducation101.com
RV University This Week © Copyright 2010 Mark J. Polk, except where indicated otherwise. All rights reserved worldwide. Reprint only with permission from copyright holder(s). All trademarks are property of their respective owners. All contents provided as is. Advertisers are solely responsible for ad content.
To subscribe, please go to: http://rveducation101.com/email/
To unsubscribe, please go to: http://rveducation101.com/email/unsubscribe.asp
RV Education 101 Newsletter is an opt-in ezine available by subscription only. We neither use nor endorse the use of spam. Your email address will ONLY be used to distribute this newsletter and will NEVER be sold or given to any other entity!!
Happy Camping,
Mark & Dawn
RV Education 101
150 Bay Ridge Rd
Harrells, NC 28444-8896
910-484-7615
mark@rveducation101.com
dawn@rveducation101.com
Copyright 2010 by RV Education 101