RV University This Week 12/14/2009
Sunday, December 13 2009 @ 03:15 pm UTC
Contributed by: RVED101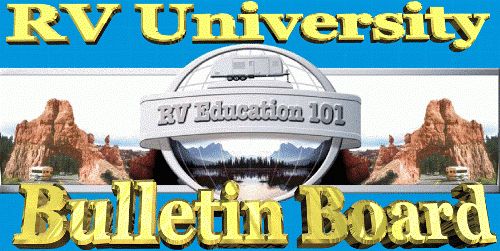 RV University this Week
Your weekly source for interesting
RV articles, tips, tricks, video clips and advice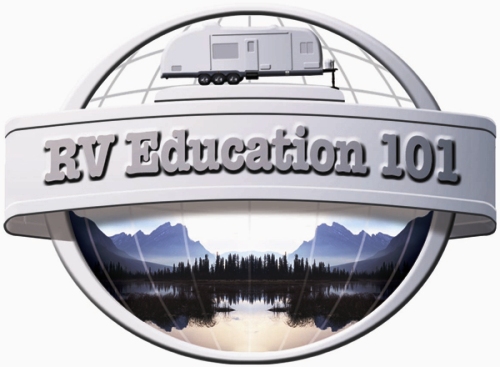 From the Industry Leader in RV Education:
RV Education 101
U of RV Journal #45 - December 14th, 2009
---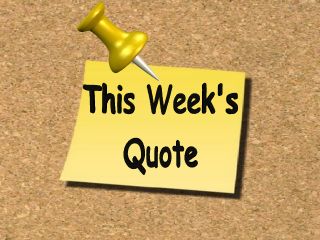 "Anyone who stops learning is old, whether at twenty or eighty.
Anyone who keeps learning stays young.
The greatest thing in life is to keep your mind young."
~Henry Ford
---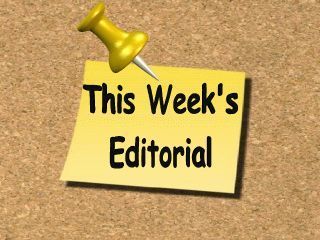 BY MARK

Hi Everybody,
With just 11 days left before Christmas, my wife Dawn, asked me to give her my RV Christmas wish list. Now, when it comes to the RV my wish list can get pretty expensive, sort of like champagne taste on a beer budget. Quite honestly, I have been extremely fortunate to outfit our RV with some really great equipment and gadgets over the years, so there's not a lot left to wish for.
I think just having the RV and a little discretionary money to be able to use and enjoy it is a wish come true. Having the time to really use it, as much as we would like to, is another matter. Even though we can't take 2-month long trips in the RV right now, our RV is our weekend getaway, a summer beach house, a cross-country road trip, a mountain retreat, a guest house for friends & family, a 2-week summer vacation, my hunting and fishing lodge and whatever else we want it to be.
We have memories that will last a lifetime. Memories from trips we took in our RV and plans for many more memorable RV trips in the future. What else could you wish for? Well… for the material side of our human nature, I guess it would be nice to have a brand new hi tech GPS to replace the one in the RV that quit working several months ago (hint-hint Dawn).
I will continue to tinker, modify and add new equipment to the RV, but my real Christmas wish list is that we stay happy and healthy so we can continue exploring all of the wonderful places still left to see in our RV.
Until next week happy camping & safe travels
Mark
---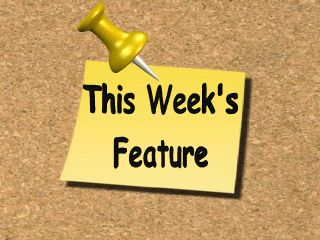 RV Converters: Just when I thought we thoroughly covered RV electrical systems I get another good question about something I failed to discuss in my previous articles. I received one of these good questions and thought there would be many other RVers who would like to hear the answer. Read the article
---
...with Mark
Q: Hi Mark, I Have enriched my knowledge greatly reading your newsletters and watching your videos, but I just want to submit the following to make sure I understand correctly.
We recently traded up to a Class A with lots of new options that our older Class C did not have, including the battery disconnect buttons.
I keep the auxiliary batteries in the MH during outside winter storage so I can run the generator monthly. If I understand correctly, in between my monthly generator charging I should turn the auxiliary battery button to the off position. In doing so, this would stop the draw of electricity from such items as the carbon monoxide and LP gas monitors, storage monitor panel, and other things that may draw off the aux. batteries, correct? What about the main battery on/off switch? I would assume that I can leave this on as there should be little draw on it. But I wanted to make sure. During our cold Washington State months I also plug the MH into my 30 amp box once a month for 24 hours to charge the batteries. I have seen your short video on the battery charging units, but I am still reading and learning about them.
I know you have answered many questions like mine, I just wanted to have the assurance that I am doing the correct procedure with the batteries.
Mark Says: My general rule for battery disconnects is that when the unit is in storage both the auxiliary and main disconnects are in the off position. Some RV's have clocks and other various devices that can draw from the starting battery too if the switch is left on.
In extremely cold temperatures the batteries need to be fully charged to prevent freezing and other problems from occurring. Plugging it in once a month for 24 hours should be sufficient to keep the batteries charged, but I would check them every now and then with a multimeter to make sure they are in a fully charged state.
I personally use a product called the battery minder when the RV is stored because it also conditions the batteries in addition to charging them. This sort of breaks down any sulfation build up on the plates and extends the life of the batteries.
I would also continue to start and run the generator on a monthly basis as you mentioned. Try to run it with at least a 1/2 rated load and exercise it for an hour or two each month.
I hope this answers your questions
Have a Merry Christmas
Mark
---
Check out this week's poll: Have you ever dry camped in your RV? (camping without hookups)To participate in the poll, look on the left hand column (here at RV University) towards the top
---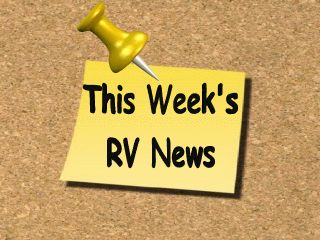 RVing Great Alternative to Expensive Hotel Lodging at Olympics
As Vancouver prepares to welcome the world for the 2010 Olympics and boasts sold out hotel rooms and exorbitant lodging rates, Go RVing Canada reports that RV rentals and campgrounds are still an available and much more affordable option for visitors.....
SunnyBrook RV introduces 2010 models
In a period during which the RV industry has seen its roughest times in decades, SunnyBrook RV considers itself proud to remain as one of the survivors.....
Internet scam traced to Thousand Oaks
Buyers were attempting to purchase vehicles online. Police said (suspect) had buyers interested in a recreational vehicle and a BMW sedan after he posted their photographs online........
The RV Industry celebrates 100 years of an American Tradition.
Take a look at the history of recreation vehicles in the U.S.

An interesting post on Youtube:
During my 6 week "Wii Fit Experiment"
I drove across the country for 2 weeks,
during which I still used Wii Fit to workout everyday.

---

---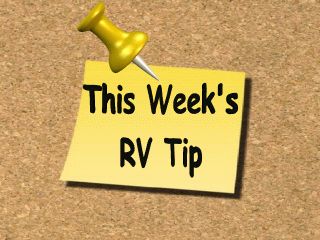 BY Mark Polk
Mark's RV Quick Tip #1:
How much power can you use before you start tripping breakers? If your RV has a 30-amp service there is a simple formula you can use to calculate how much power you are using: 30-amps X 120-volts = 3,600 watts. You can use up to 3,600 watts if you are plugged into a 30-amp outlet. Here are a few examples estimating how many watts some common appliances and equipment use. You can usually find the wattage requirements on the label of the appliance.
Air conditioner = 1,680 watts
TV = 300 watts
Microwave = 1,500 watts
Portable heater = 1,400 watts
Laptop = 360 watts
Radio = 200 watts
Toaster = 1,200 watts
You can see how quickly the power adds up. If you were running the air conditioner and you try to use a microwave or toaster and any other appliances, a breaker will probably trip. There will be many times that you will need to turn one appliance off so you can use another one.
Mark's RV Quick Tip #2:
Properly loading Your Pop-Up The way that you load your pop-up, and distribute the load will have a direct affect on how well it will tow. If you load too much weight in front of the pop-ups axle you increase the tongue weight and in some cases can affect the steering and handling of the tow vehicle. The opposite is true if you load too much weight behind the axle, taking weight off of the tongue, can result in trailer sway. Loading too much weight on one side of the axle can result in premature tire failure. Many of today's pop-ups offer a large storage compartment in the front. If yours has this storage feature it was the manufacturer's intent for a certain amount of weight to be added to increase the Tongue Weight of the pop-up somewhat. Check your owner's manual for the manufacturer's recommendations. It is easy to take advantage of these large spaces, and can lead to poor weight distribution and overloading one area of the pop-up.
---
---
RV Product Savvy with Mark Polk Free short videos
---
Let RV Education 101 help you save money in 2009


GREAT RV CHRISTMAS GIFTS or Stocking Stuffers!!!!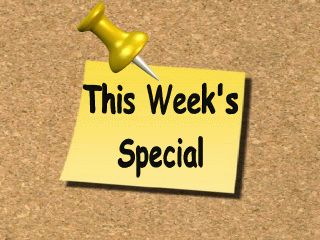 Our DVDs are on sale for the Christmas holiday season thru 20 December.
NOTE: Make sure you order by 15 December if you want it in time for Christmas!!!! These DVD sets make a great stocking stuffer for your favorite RVer.....So hurry now for some great RV Education at a great price!
Money Saving DVD Sets Available:
Travel Trailer / 5th Wheel Training DVD Sets
Class A Training DVD Sets
Class C Training DVD Sets
Single DVDs:
An Introduction to RV's
Drive Your Motorhome Like a Pro
RV Awning Use, Care and Accessories
RV Safety Features, Tips and Tricks
Pop Up 101
Travel Trailer 101
Class A Motor Home 101
Class C Rental / Owner
Winterizing & Storing your RV
EZ RV Add Ons and Must Have RV Products
Trailer Towing, Weights, Hitch Work & Backing
Motorhome Towing
RV Campground Basics
Marks Recommended 10 minute RV Essential Items
Deep Cycle Battery Care & Maintenance for RV's and Boats
RV Care and Maintenance
---
A product that Mark personally uses: Camping/RV Battery Chargers- BatteryMINDers® are the new generation of SMART, pulse type "computer-on-a-chip" chargers, that safely charge and maintain all size / type / brands of batteries including starter, deep cycle and sealed types including AGM "dry" made by OPTIMA, ODYSSEY, EXIDE, INTERSTATE, et al. They do all of this without ever overcharging, no matter how long they are left on charge – days-weeks-or even months. Dubbed the chargers with "brains," they are the first to fully-automatically reverse the primary cause of early battery failure known as "sulfation". Sulfated batteries once considered beyond recovery can now be brought back to long-term useful condition. Certain models of BatteryMINDers® can more than double the useful life of new batteries.
---
RVing with Mark Polk on Youtube. Over 27 free RV Video tips plus product sample clips
---
14 RV Instant Download E-Book Titles in our Library
The Original Checklists for RVers
Winterizing and Storing your RV
THE RV BOOK now available as an ebook
The Three Primary Systems of an RV
Insider's Guide to Buying an RV
RV Buyers Survival Guide
Trailer Towing, Weights, Hitch Work & Backing
A Collection of RV Tips
Pop-Up Basics 101
Dinghy Towing
Deep Cycle Battery Care and Maintenance
RV Awning Use and Care
RV Safety Features, Tips and Tricks
RV Care and Maintenance
RV Campground Basics
---

---
General and Unsubscribe Info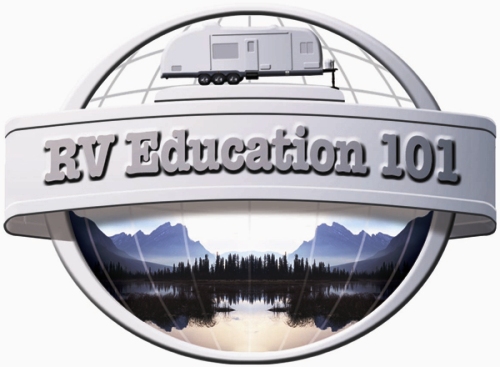 About us:
Our goal with RV University This Week is to provide you with helpful information to make all of your RV experiences more enjoyable. I left my position as an RV Sales and F&I manager in 2000 to start my own company, RV Education 101. We produce educational videos, DVDs and e-books on how to use and maintain your RV. The reason I left my job was due to my concern about the lack of educational and safety awareness material available to the RV consumer, in other words, you. We are a small company. My wife Dawn left her position in RV sales to help start the company and is our Sales and Marketing Director. We currently have a 35-foot Class A motor home. We have two boys, Tyler 12 and Josh 18, both avid RVers and two dogs, Gracie and Buck. Gracie is the good one. If you would like to learn more about us and RV Education 101 feel free to visit http://www.rveducation101.com
RV University This Week © Copyright 2009 Mark J. Polk, except where indicated otherwise. All rights reserved worldwide. Reprint only with permission from copyright holder(s). All trademarks are property of their respective owners. All contents provided as is. Advertisers are solely responsible for ad content.
To contact us with feedback or questions, email to: info@rveducation101.com
To subscribe, please go to: http://rveducation101.com/email/
To unsubscribe, please go to: http://rveducation101.com/email/unsubscribe.asp
RV Education 101 Newsletter is an opt-in ezine available by subscription only. We neither use nor endorse the use of spam. Your email address will ONLY be used to distribute this newsletter and will NEVER be sold or given to any other entity!!
Happy Camping,
Mark & Dawn
RV Education 101
150 Bay Ridge Rd
Harrells, NC 28444-8896
910-484-7615
Copyright 2009 by RV Education 101