RV University This Week 12/07/2009
Monday, December 07 2009 @ 01:46 pm UTC
Contributed by: RVED101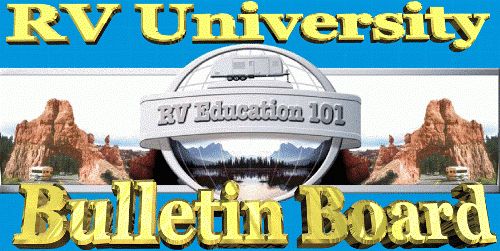 RV University this Week
Your weekly source for interesting
RV articles, tips, tricks, video clips and advice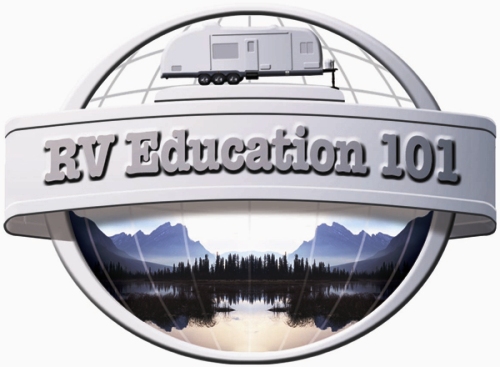 From the Industry Leader in RV Education:
RV Education 101
U of RV Journal #44 - December 7th, 2009
---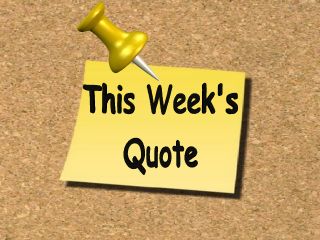 "I find that a great part of the information I have was acquired by looking up something and finding something else on the way."
~Franklin P. Adams
---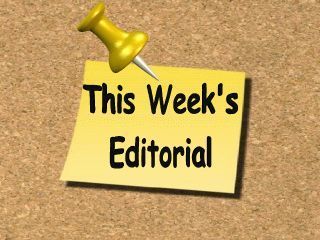 BY MARK

Hi Everybody,
Well the RV is tucked away for a couple of months of storage. It's all cleaned up, the batteries are fully charged and the fuel system is protected with a fuel stabilizer. The only thing left to do is winterize the water system. The temperature is expected to dip below freezing for the first time this year (in this part of the country) later this week, so I will winterize the water system in the next day or two. It's not very often where the temperature here drops below freezing and stays there for extended periods of time, but it can happen.
This week's feature article is about inspecting your RV for water leaks and water damage. If you store your RV outside it's important that you perform these inspections on a routine basis and especially prior to storage. Water can do lots of damage to your RV and it can be expensive to repair. It's like Benjamin Franklin said, "An ounce of prevention is worth a pound of cure."
Until next week happy camping & safe travels
Mark
---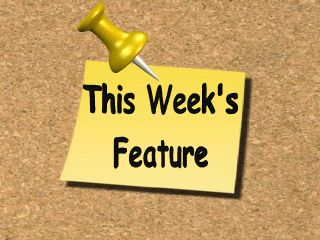 Inspecting your RV for Water Damage I received a question from a concerned RVer the other day that went something like this; "My neighbor just paid an expensive repair bill for water damage on his RV and I would like to know what I can do to prevent this same thing from happening to me?". Read the article
---
Check out this week's poll: On RV maintenanceTo participate in the poll, look on the left hand column (here at RV University) towards the top
---

---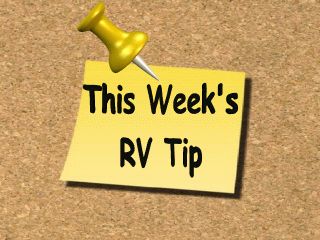 BY Mark Polk
Mark's RV Quick Tip #1:
Cleaning an Acrylic Awning Fabric To prevent dirt from imbedding into the woven fabric you should simply hose the fabric off on a monthly basis. If you ever store the fabric when it's wet, unroll it as soon as possible and allow it to thoroughly dry before storing it again. This is especially true for vinyl fabrics, to help prevent mildew.
Eventually the awning fabric will require a thorough cleaning. For more difficult stains, mildew, or cleaning I use a commercial RV awning cleaner. If it's an acrylic fabric, spray the cleaner thoroughly on the awning fabric, roll it up and let it sit for several minutes. This helps to distribute the cleaner over the entire surface of the awning fabric and allows the cleaner time to work. Open the awning and thoroughly rinse both sides of the fabric. Avoid scrubbing acrylic awning fabric. Scrubbing can remove the water retardant finish. For stubborn stains blot the cleaner on the fabric with a sponge or soft cloth.
Mark's RV Quick Tip #2:
Cleaning a Vinyl Awning Fabric Vinyl awning fabric is mildew resistant, but not necessarily mildew proof. Mildew can form on the dirt and dust that collects on the fabric. It will be worse in high temperatures, humidity and if the fabric is stored when it is wet. Apply the awning cleaner in the same fashion, roll it up and let it sit for several minutes. Open the awning and thoroughly rinse both sides of the fabric. To clean mildew or stains it may be necessary to scrub a vinyl fabric with a soft bristle brush before rinsing.
Note: Never use oil based or abrasive cleaners on awning fabrics. Clean and thoroughly rinse both sides of the awning fabric. Carefully follow all awning and cleaner manufacturer directions for the type of fabric you have.
---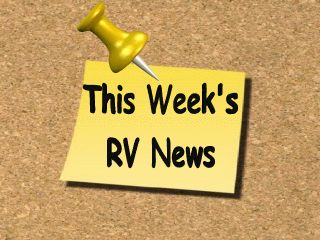 The Fleetwood RV Legacy Rolls On at the RVIA Industry Show in Louisville, Kentucky
Fleetwood will be unveiling its brand-new 2010 Encounter crossover motor home, which features the sleeping capacity and value of a Class C motor home along with the space and storage capacity of a Class A motor home.....
Juveniles under investigation at local RV park
Apparently the teenagers had accompanied the grandparents to the resort. However, the grandparents were apparently unaware of their grandsons' actions.... ....
Forest Service to eliminate Senior and Disabled camping discounts
The U.S. Forest Service has announced it plans to eliminate the 50% discount at National Forest campgrounds that has traditionally been available to holders of lifetime Senior and Access (permanent disability) passes.......
Jayco in fuel cell alliance for recreational vehicles
SFC Smart Fuel Cell in Germany has established a joint research and market development alliance with US-based recreational vehicles maker Jayco, to study the feasibility of the utilization of EFOY fuel cell technology in RVs in North America....
---
RV Product Savvy with Mark Polk Free short videos
---
...with Mark
Q. We have a 34 ft A Class gas motorhome. I'm letting my brother and sister-in-law use it for a few months. They are staying in it full time at one campground from this past Oct. until next June. Is there anything I need to do to keep it in good working order? Can I just let it sit or do I need to find times to operate the slide out, jacks and drive it a few miles to keep it working? I know normally you need to do this each month but you said in your latest article that you were going to put your RV up for a couple months and I was wondering if you were going to do anything with it during that time. Any information you could share would be greatly appreciated.
Mark Says:

I wrote an article on this subject
It will give you a good idea of what to do while it sits in one place for an extended period of time.
---
Let RV Education 101 help you save money in 2009


GREAT RV CHRISTMAS GIFTS or Stocking Stuffers!!!!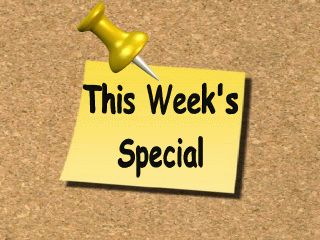 Our DVDs are on sale for the Christmas holiday season thru 20 December.
NOTE: Make sure you order by 15 December if you want it in time for Christmas!!!! These DVD sets make a great stocking stuffer for your favorite RVer.....So hurry now for some great RV Education at a great price!
Money Saving DVD Sets Available:
Travel Trailer / 5th Wheel Training DVD Sets
Class A Training DVD Sets
Class C Training DVD Sets
Single DVDs:
An Introduction to RV's
Drive Your Motorhome Like a Pro
RV Awning Use, Care and Accessories
RV Safety Features, Tips and Tricks
Pop Up 101
Travel Trailer 101
Class A Motor Home 101
Class C Rental / Owner
Winterizing & Storing your RV
EZ RV Add Ons and Must Have RV Products
Trailer Towing, Weights, Hitch Work & Backing
Motorhome Towing
RV Campground Basics
Marks Recommended 10 minute RV Essential Items
Deep Cycle Battery Care & Maintenance for RV's and Boats
RV Care and Maintenance
---
A product that Mark personally uses: Camping/RV Battery Chargers- BatteryMINDers® are the new generation of SMART, pulse type "computer-on-a-chip" chargers, that safely charge and maintain all size / type / brands of batteries including starter, deep cycle and sealed types including AGM "dry" made by OPTIMA, ODYSSEY, EXIDE, INTERSTATE, et al. They do all of this without ever overcharging, no matter how long they are left on charge – days-weeks-or even months. Dubbed the chargers with "brains," they are the first to fully-automatically reverse the primary cause of early battery failure known as "sulfation". Sulfated batteries once considered beyond recovery can now be brought back to long-term useful condition. Certain models of BatteryMINDers® can more than double the useful life of new batteries.
---
RVing with Mark Polk on Youtube. Over 27 free RV Video tips plus product sample clips
---
14 RV Instant Download E-Book Titles in our Library
The Original Checklists for RVers
Winterizing and Storing your RV
THE RV BOOK now available as an ebook
The Three Primary Systems of an RV
Insider's Guide to Buying an RV
RV Buyers Survival Guide
Trailer Towing, Weights, Hitch Work & Backing
A Collection of RV Tips
Pop-Up Basics 101
Dinghy Towing
Deep Cycle Battery Care and Maintenance
RV Awning Use and Care
RV Safety Features, Tips and Tricks
RV Care and Maintenance
RV Campground Basics
---

---
General and Unsubscribe Info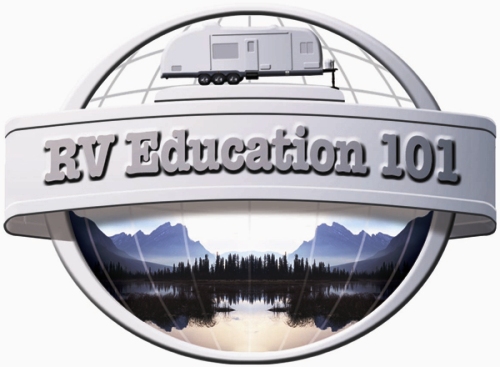 About us:
Our goal with RV University This Week is to provide you with helpful information to make all of your RV experiences more enjoyable. I left my position as an RV Sales and F&I manager in 2000 to start my own company, RV Education 101. We produce educational videos, DVDs and e-books on how to use and maintain your RV. The reason I left my job was due to my concern about the lack of educational and safety awareness material available to the RV consumer, in other words, you. We are a small company. My wife Dawn left her position in RV sales to help start the company and is our Sales and Marketing Director. We currently have a 35-foot Class A motor home. We have two boys, Tyler 12 and Josh 18, both avid RVers and two dogs, Gracie and Buck. Gracie is the good one. If you would like to learn more about us and RV Education 101 feel free to visit http://www.rveducation101.com
RV University This Week © Copyright 2009 Mark J. Polk, except where indicated otherwise. All rights reserved worldwide. Reprint only with permission from copyright holder(s). All trademarks are property of their respective owners. All contents provided as is. Advertisers are solely responsible for ad content.
To contact us with feedback or questions, email to: info@rveducation101.com
To subscribe, please go to: http://rveducation101.com/email/
To unsubscribe, please go to: http://rveducation101.com/email/unsubscribe.asp
RV Education 101 Newsletter is an opt-in ezine available by subscription only. We neither use nor endorse the use of spam. Your email address will ONLY be used to distribute this newsletter and will NEVER be sold or given to any other entity!!
Happy Camping,
Mark & Dawn
RV Education 101
150 Bay Ridge Rd
Harrells, NC 28444-8896
910-484-7615
Copyright 2009 by RV Education 101