RV University This Week 11/30/2009
Monday, November 30 2009 @ 06:01 pm UTC
Contributed by: RVED101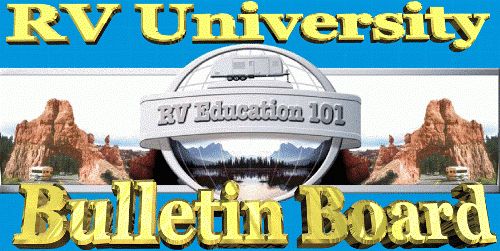 RV University this Week
Your weekly source for interesting
RV articles, tips, tricks, video clips and advice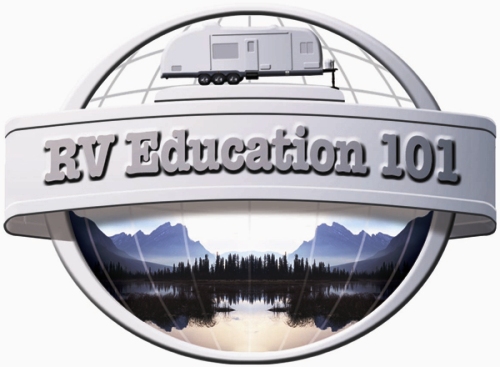 From the Industry Leader in RV Education:
RV Education 101
U of RV Journal #43 - November 30, 2009
---
RV Product Savvy with Mark Polk Free short videos
---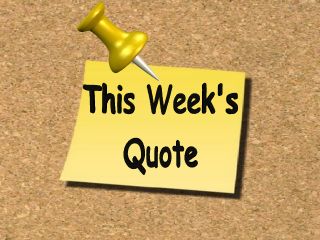 "Why I travel: to learn and grow, to challenge myself, stretch my limits and foster an appreciation of both the world at large and the chair waiting in front of the woodstove back home."
~Tim Patterson
---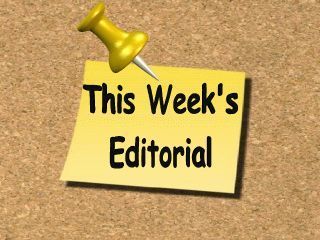 BY MARK

Hi Everybody,
I hope everybody had a great Thanksgiving. We did, but getting there and back wasn't so fun - at least for me the driver anyway! Dawn & the kids (our 2 sons and our niece) watched movies, played x-box, ate and napped while I slowly trudged along in the holiday traffic. AAA said that over 40 million travelers would be on the roads and highways over the holiday; I think 35 million of them were heading north on I-95 last Wednesday. It took about 3 hours longer than usual to make our trek north, but once there it is always nice to have the RV with us. With a house full of relatives and friends it's great to have our own home on wheels and our own bed to sleep in. It works out well with our 2 dogs too, something I'm sure my mom appreciates with her 2 dogs under foot in the house already.
With no RV trips planned in the immediate future we will prep the motorhome for a couple of months of storage and look forward to planning next year's camping trips. One trip I am already aware of is to my nephews wedding, which will take us from North Carolina to Washington state. We plan to take our time and enjoy many of the sites along the way. But first we will enjoy the Christmas holiday season and see what's in store for us with the new year.
Speaking of Christmas, from now until December 20th all of our single DVD's are on sale for $19.95. They make great stocking stuffers for the RVer on your Christmas list, and our already deeply discounted DVD box sets make great gift ideas too.
Until next week happy camping & safe travels
Mark
---
Let RV Education 101 help you save money in 2009


GREAT RV CHRISTMAS GIFTS or Stocking Stuffers!!!!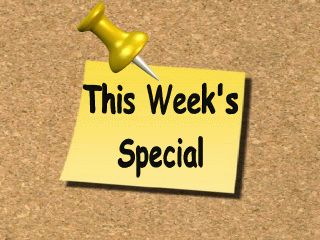 Our DVDs are on sale for the Christmas holiday season thru 20 December.
NOTE: Make sure you order by 15 December if you want it in time for Christmas!!!! These DVD sets make a great stocking stuffer for your favorite RVer.....So hurry now for some great RV Education at a great price!
Money Saving DVD Sets Available:
Travel Trailer / 5th Wheel Training DVD Sets
Class A Training DVD Sets
Class C Training DVD Sets
Single DVDs:
An Introduction to RV's
Drive Your Motorhome Like a Pro
RV Awning Use, Care and Accessories
RV Safety Features, Tips and Tricks
Pop Up 101
Travel Trailer 101
Class A Motor Home 101
Class C Rental / Owner
Winterizing & Storing your RV
EZ RV Add Ons and Must Have RV Products
Trailer Towing, Weights, Hitch Work & Backing
Motorhome Towing
RV Campground Basics
Marks Recommended 10 minute RV Essential Items
Deep Cycle Battery Care & Maintenance for RV's and Boats
RV Care and Maintenance
---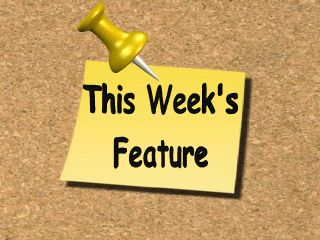 Testing your RV Battery State of Charge When you put your RV in storage the batteries lose their charge over time, not to mention the parasitic loads that can drain RV batteries during storage. You should test the state of charge every month and charge any battery that is at or below an 80% state of charge. Read the article
---
Check out this week's poll: "How many years has your original RV Coach battery lasted?"To participate in the poll, look on the left hand column (here at RV University) towards the top
---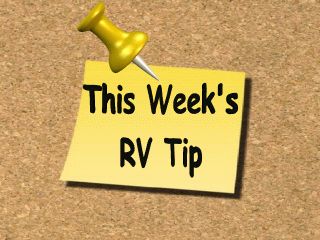 BY Mark Polk
Mark's RV Quick Tip #1:
Gross Combined Weight Rating (GCWR) is the maximum permissible weight of the tow vehicle and trailer combined when both are fully loaded for travel. GCWR also applies to a motor home towing a vehicle or trailer behind it. GCWR minus GVWR represents the allowable weight for the towed vehicle. Note: The hitch receiver mounted on the towing vehicle must be rated for this amount of weight. If it is rated for less, then that is the maximum amount you can tow.
Mark's RV Quick Tip #2:
Valve Extenders: If you have dual wheels you will want to add extension hoses to the valve stems to make the job of checking tire pressure easier. A word of caution, if you add extension hoses you will want to replace the rubber valve stems with all steel valve stems. The added weight of the extension hoses can cause rubber stems to leak air resulting in under inflation.
---

---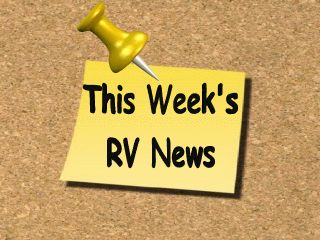 Couple can only watch as train destroys RV
Into every motorist's life, there comes a moment when the paved road turns unexpectedly to dirt, streetlights give way to starlight, and regardless of where you thought you were going, where you have arrived is the middle of nowhere..... ....
Report shows that camping is on the rise
If you spent any time camping this summer and fall, you weren't alone......
Judge orders liquidation of Country Coach
The CEO of the bankrupt RV company is barred from the site awaiting further legal developments....
---
...with Mark
Q. You may already be aware of this but I was a little surprised when I read it. Go to: discounttire.com According to this the speed rating for all "ST" tires is 65 mph. I'm wondering if this is accurate? If it is I'm guilty of running my trailer tires at and sometimes over their speed rating on a regular basis.
Mark Says:

Actually trailer tires are not tested for high speed ratings like passenger car tires, but ST tires are all lumped together and said to be rated at 65 mph. The concern with this is that once you exceed the 65 mph the excess heat generated will decrease the load rating of the tire as well. If the trailer is already at, or close to, the GVWR and you exceed 65 mph the tires can't handle the same load amount.
On the other hand if the trailer is significantly under the GVWR it isn't as serious of a problem. You can also increase the air pressure to offset the speed as long as you don't exceed the max pressure indicated on the tires sidewall. Other people choose to change out tires with LT tires with the same load ratings as the ST tires. These tires do have speed ratings.
But in reality 65 mph is probably a fast enough speed to travel at, even though I too have been guilty of exceeding 65 mph once in a while.
Here is an article you might enjoy about ST tires
---
A product that Mark personally uses: Camping/RV Battery Chargers- BatteryMINDers® are the new generation of SMART, pulse type "computer-on-a-chip" chargers, that safely charge and maintain all size / type / brands of batteries including starter, deep cycle and sealed types including AGM "dry" made by OPTIMA, ODYSSEY, EXIDE, INTERSTATE, et al. They do all of this without ever overcharging, no matter how long they are left on charge – days-weeks-or even months. Dubbed the chargers with "brains," they are the first to fully-automatically reverse the primary cause of early battery failure known as "sulfation". Sulfated batteries once considered beyond recovery can now be brought back to long-term useful condition. Certain models of BatteryMINDers® can more than double the useful life of new batteries.
---
RVing with Mark Polk on Youtube. Over 27 free RV Video tips plus product sample clips
---
14 RV Instant Download E-Book Titles in our Library
The Original Checklists for RVers
Winterizing and Storing your RV
THE RV BOOK now available as an ebook
The Three Primary Systems of an RV
Insider's Guide to Buying an RV
RV Buyers Survival Guide
Trailer Towing, Weights, Hitch Work & Backing
A Collection of RV Tips
Pop-Up Basics 101
Dinghy Towing
Deep Cycle Battery Care and Maintenance
RV Awning Use and Care
RV Safety Features, Tips and Tricks
RV Care and Maintenance
RV Campground Basics
---

---
General and Unsubscribe Info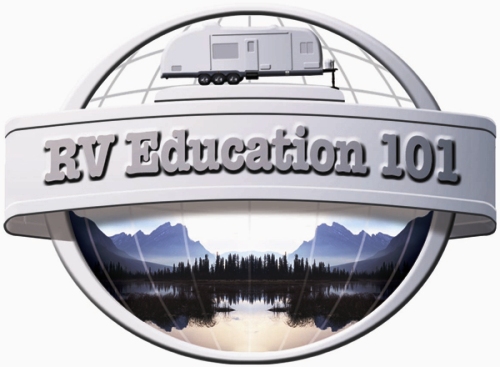 About us:
Our goal with RV University This Week is to provide you with helpful information to make all of your RV experiences more enjoyable. I left my position as an RV Sales and F&I manager in 2000 to start my own company, RV Education 101. We produce educational videos, DVDs and e-books on how to use and maintain your RV. The reason I left my job was due to my concern about the lack of educational and safety awareness material available to the RV consumer, in other words, you. We are a small company. My wife Dawn left her position in RV sales to help start the company and is our Sales and Marketing Director. We currently have a 35-foot Class A motor home. We have two boys, Tyler 12 and Josh 18, both avid RVers and two dogs, Gracie and Buck. Gracie is the good one. If you would like to learn more about us and RV Education 101 feel free to visit http://www.rveducation101.com
RV University This Week © Copyright 2009 Mark J. Polk, except where indicated otherwise. All rights reserved worldwide. Reprint only with permission from copyright holder(s). All trademarks are property of their respective owners. All contents provided as is. Advertisers are solely responsible for ad content.
To contact us with feedback or questions, email to: info@rveducation101.com
To subscribe, please go to: http://rveducation101.com/email/
To unsubscribe, please go to: http://rveducation101.com/email/unsubscribe.asp
RV Education 101 Newsletter is an opt-in ezine available by subscription only. We neither use nor endorse the use of spam. Your email address will ONLY be used to distribute this newsletter and will NEVER be sold or given to any other entity!!
Happy Camping,
Mark & Dawn
RV Education 101
150 Bay Ridge Rd
Harrells, NC 28444-8896
910-484-7615
Copyright 2009 by RV Education 101