RV University This Week 5/11/2009
Monday, May 11 2009 @ 02:10 pm UTC
Contributed by: RVED101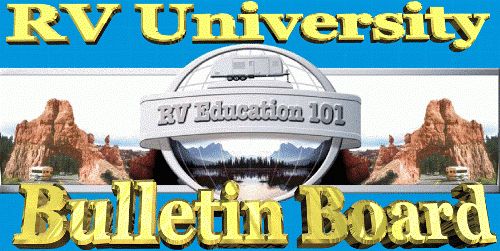 RV University this Week
Your weekly source for interesting
RV articles, tips, tricks, video clips and advice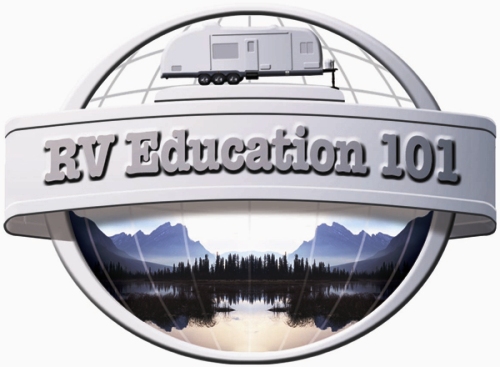 From the Industry Leader in RV Education:
RV Education 101
U of RV Journal #16- May 11, 2009
---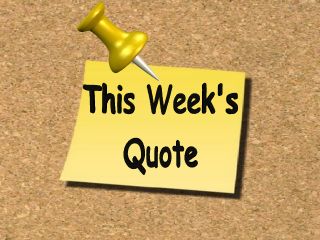 "The great aim of education is not knowledge but action." ~ Herbert Spencer
---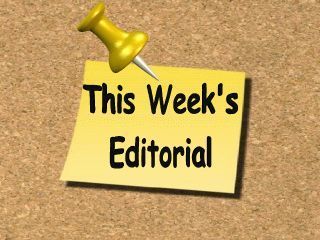 BY MARK

Hi Everybody,
There are certain topics that I talk about all of the time. Most are safety related topics like towing safety, and tire safety that I am an advocate for, and feel RVers need to be aware of.
The other morning I was reading a newspaper article that reinforced my need for tire safety awareness. The article was titled, "Tire Tips, Keep your Wheels in Good Shape before Summertime Driving" In the article it stated, "The Rubber Manufacturers Association found that 29 million drivers believe that tires require no regular maintenance." Now this number might be considered small when compared to our current deficit, but it is quite large when you consider 29 million people are driving around the country on tires they don't know the condition of.
I'm quite sure that what the article was referring too when it said "regular maintenance" are simple maintenance procedures the owner can perform, or have done to the tires. Things like checking the inflation pressure at regular intervals, inspecting the tires for obvious damage, monitoring the tread depth and taking the vehicle in for tire rotation as required.
With peak travel season quickly approaching I thought it would be a good time to offer some on my own tire tips for safer trips in this week's feature article and in My RV Garage video . These tire tips apply to your automobile as well as your RV.
This week we are discounting our RV Six Pack DVD set and throwing our RV Orientation DVD (only available to RV dealers) in for free. You can't beat that!
Happy Camping
Mark
---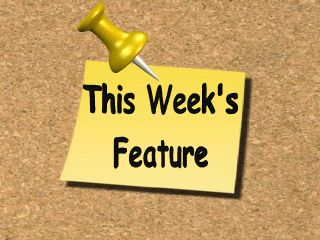 RV Tire Tips for Safer RV Trips
It seems as though I talk about tire safety all of the time. The reason I do is because tires are an important safety topic concerning RVers that are often times overlooked. Just recently I read a newspaper article that summed up just how overlooked tires, in general, are. The article stated, "The Rubber Manufacturers Association found that 29 million drivers believe that tires require no regular maintenance." This number might be considered small when compared to our current deficit, but it is quite large when you consider 29 million people are driving around the country on tires they don't know the condition of...... Read the article
---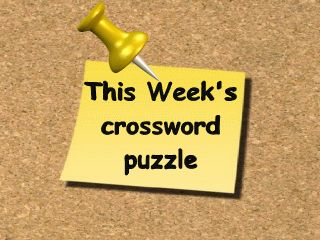 RV Education Crossword Puzzle
This play and learn crossword puzzle is "RV Tires"
Have fun, play and learn.
---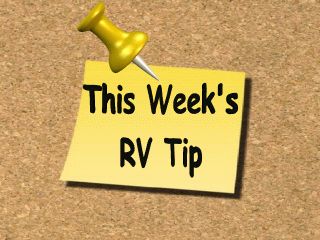 BY Mark Polk
RV Tire Tip: The tires on your RV are the most vulnerable component affected by overloading the RV. There are numerous reasons for this. First and foremost is when the tires are not inflated properly for the load. Failure to maintain correct tire pressure can result in fast tread wear, uneven wear, poor handling, and excessive heat build up, which can lead to tire failure. Another problem is when you weigh your RV the total weight of the axles may be within the axles weight rating but it may be overloaded on one side of the axle or the other. This is a common problem with RVs and many times the cause is poor weight distribution and / or improper loading of the RV. When this happens the tire or tires on the end of the axle that is overloaded are subject to tire failure. When a tire fails many RVers contribute it to a defect in the tire, but that is rarely the reason. The only way to avoid this is to weigh each axle end separately to determine if a tire overload condition exists. The maximum load on each axle end is half the GAWR for that axle. If an axle end has dual tires, the load on each tire is half the load on the axle end.
---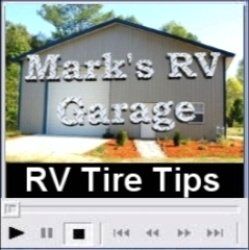 Mark's RV Garage
Some of our RV Video Tips are designed to provide basic RV information for new RVers and some of the future RV Video Tips will cover more advanced topics. If you have any ideas for future topics you can email me at Mark@rveducation101.com
This RV video tip is: "RV Tire Tips"
---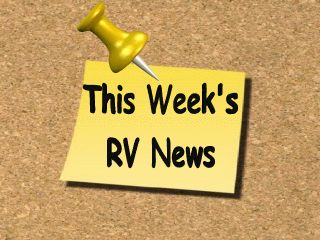 Take Action Now!
Maine is joining the ranks of states that are banning RVers
from parking at commercial business parking lots.
We need help to get this poorly written law stopped.
As it is written, you can not even stop to rest
at a truck stop in Maine: Escapees Discussion Forum...
Check out this months poll is "How many RV trips do you have planned for this Summer?"
To participate in the poll look on the left hand column of RV University towards the top
---
...with Mark
Q. I have been trying to figure out (once again) this formula for tow rating to find out if our minivan could pull a tent trailer with a GVWR of 3000lbs. Our minivan has a GVWR of 5440lbs. It takes 126 lbs. of gas to fill our tank and we travel dry (no water) when pulling a trailer. The propane (I'm guessing it is a 5 lb. tank) would weigh about 22 lbs. full. There are about 600 lbs. of people weight in our car. I know we have the tow package that allows our van to pull up to 3500 lbs. Is this doable for our van? Please help me figure this thing out as my brain is fried. Many thanks...
Mark Says:
When your vehicle was new it was rated to tow 3,500 lbs. As a vehicle ages you need to consider the overall condition of the vehicle to determine if it is still mechanically capable of towing this amount of weight.
In calculating tow rating most vehicle manufacturers state the rating implies there is a driver and all fluid capacities are full. With that said let's figure the driver weighs 150 lbs., that leaves 450 lbs of added weight to the vehicle. So the tow rating for the vehicle is now 3,050 lbs.
The general rule is if the fully loaded tow vehicle is rated to tow the GVWR of the trailer it will normally work. Now you need to look at the dry weight of the pop up plus any weight you plan to add to it. If it is less than 3,000 lbs you should be okay. I wouldn't recommend towing in high altitudes since the performance level drops more the higher you go.
---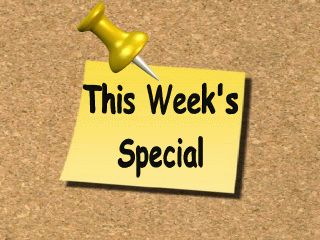 Let RV Education 101 help you save money in 2009
RV 6Pack DVD Set plus 1 DVD Mark said "After collecting a great deal of feedback from RVers who attend seminars all over the country I determined that live seminar presentations can not always offer numerous and sometimes cumbersome visual aids to effectively get the point across. That was the thought behind our new RV video seminar series. Seminars in video format allow me to present valuable information, using detailed graphics. It is the perfect solution to help educate the RV consumer." sale price: $94.95

---
General and Unsubscribe Info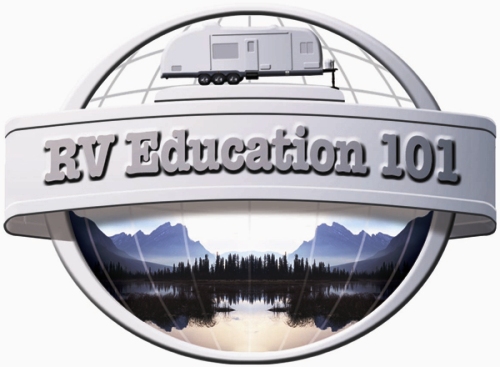 About us:
Our goal with RV University This Week is to provide you with helpful information to make all of your RV experiences more enjoyable. I left my position as an RV Sales and F&I manager in 2000 to start my own company, RV Education 101. We produce educational videos, DVDs and e-books on how to use and maintain your RV. The reason I left my job was due to my concern about the lack of educational and safety awareness material available to the RV consumer, in other words, you. We are a small company. My wife Dawn left her position in RV sales to help start the company and is our Sales and Marketing Director. We currently have a 35-foot Class A motor home. We have two boys, Tyler 12 and Josh 18, both avid RVers and two dogs, Gracie and Buck. Gracie is the good one. If you would like to learn more about us and RV Education 101 feel free to visit www.rveducation101.com
RV University This Week © Copyright 2009 Mark J. Polk, except where indicated otherwise. All rights reserved worldwide. Reprint only with permission from copyright holder(s). All trademarks are property of their respective owners. All contents provided as is. Advertisers are solely responsible for ad content.
To contact us with feedback or questions, email to: info@rveducation101.com
To subscribe, please go to: http://rveducation101.com/email/
To unsubscribe, please go to: http://rveducation101.com/email/unsubscribe.asp
RV Education 101 Newsletter is an opt-in ezine available by subscription only. We neither use nor endorse the use of spam. Your email address will ONLY be used to distribute this newsletter and will NEVER be sold or given to any other entity!!
Happy Camping,
Mark & Dawn
RV Education 101
3969 Stedman Cedar Creek Road
Fayetteville, NC 28312
910-484-7615
Copyright 2009 by RV Education 101