RV University This Week 5/04/2009
Monday, May 04 2009 @ 09:05 pm UTC
Contributed by: RVED101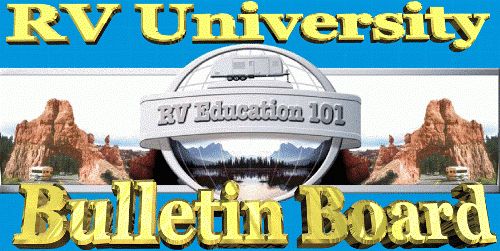 RV University this Week
Your weekly source for interesting
RV articles, tips, tricks, video clips and advice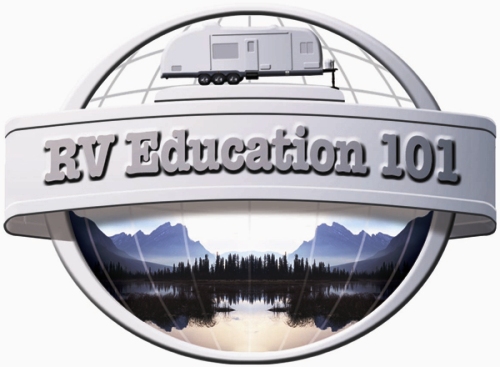 From the Industry Leader in RV Education:
RV Education 101
U of RV Journal #15- May 4, 2009
---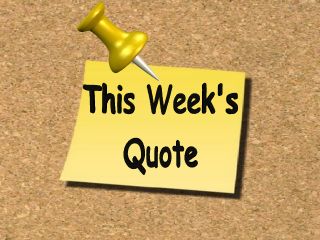 ""It is only when we forget all our learning that we begin to know."
~ Henry David Thoreau
---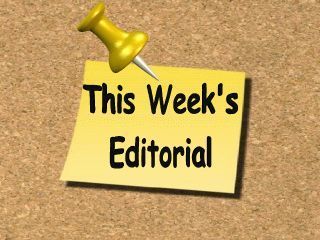 BY MARK

Hi Everybody,
For several years we towed our old 1981 Jeep CJ 7 behind our motorhome so we would have some economical transportation when we arrived at our destination. After towing it on a trip, back in 2007, I realized that it was in need of some work and would have to be parked until I could get around to it. In the mean time we purchased a new 4-door Jeep Wrangler and have been towing it behind the motorhome. There is absolutely nothing wrong with the new Jeep, but over time I began to miss our old CJ 7. So in between my other projects I worked on the old Jeep in hopes of restoring it to its old glory.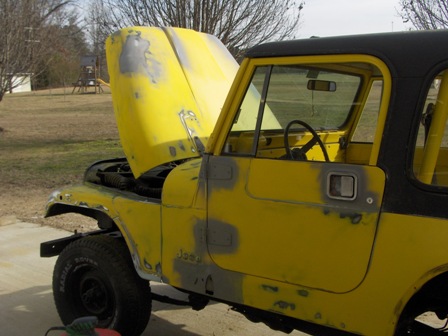 After several months of on-again/off-again work we pulled the new-old Jeep out of the garage last weekend and took it on a long Sunday afternoon drive to check everything out. The test drive was successful and now we have the option of towing and driving the old Jeep or the new one. It's hard to explain but even on a sweltering hot day, with no air conditioning and a rougher ride, I still choose the old Jeep over the new one. I would think twice about it though, if the drive we were taking was going to be over 100 miles or more.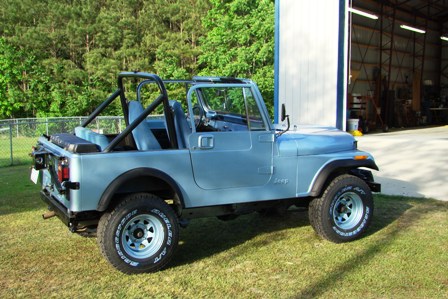 Lots of people write me with questions about towing a vehicle behind their motorhomes. One of the most common questions goes something like this, "How do I know what vehicles can be towed with all four wheels on the ground?" I thought it would be a good idea to discuss some tips on how to determine if a vehicle can be towed with all four wheels on the ground in this week's feature article and video clip.
If you want to learn even more about motorhome towing our "Towing Behind your Motorhome " DVD will be on sale this week. For you trailer owners, our Trailer Towing & Backing DVD will be on sale also.
Happy Camping
Mark
---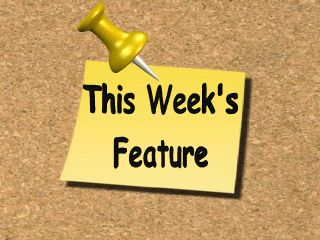 Tips for Towing with 4-Wheels on the Ground
You basically have three options when it comes to towing a vehicle behind your motorhome. You can tow the vehicle with all four-wheels up using a car trailer, with two-wheels up using a tow dolly, or with all four-wheels down, which is what we will be discussing in this article..... Read the article
---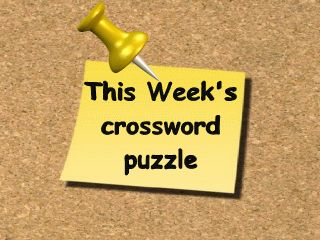 RV Education Crossword Puzzle
This play and learn crossword puzzle is "Dinghy Towing "
Have fun, play and learn.
---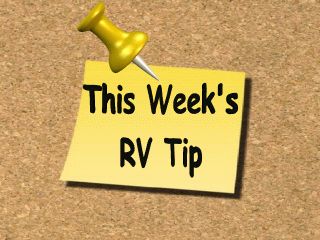 BY Mark Polk
LP Gas Tip: When you change a gas bottle there is a possibility you will get air in the gas lines. A good habit to get into is to light the range burners first. What this does is help evacuate any air out of the system to make it easier to light the other appliances.
Pop-Up Note: Some pop-ups have an LP gas range that can be used inside and outside. You simply turn the main gas supply off at the range inside, disconnect the quick disconnect, and hook it up to the external gas supply provided to use it outside. Other pop-ups give you two separate ranges, one for inside and one for outside.
---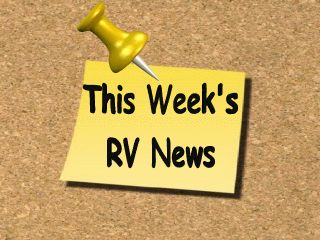 Heritage Exchange celebrates national parks
upcoming PBS documentary,
"The National Parks: America's Best Idea,"...
Roving RVers pitch in with Habitat home
A caravan of recreational vehicle enthusiasts pulled into Staunton this weekend, and they've committed the next three weeks to helping build a somewhat more substantial home with the local chapter of Habitat for Humanity....
---
...with Mark
Q. I have a class "A" Motor Home. I was wondering what tire pressure I should carry in my tires. On the drivers door it says 70 PSI and on the tire sidewall it says cold to carry 80 PSI..
Mark Says:
The 80 PSI on the tire sidewall is the maximum amount of pressure they can be inflated to, and would only be required if the maximum weight the tires can support is placed on the tires.
Go with what is on the door. That is the tire manufacturers recommendation for those tires (if they are the original tires that came on the RV) If they aren't the original tires look up the inflation chart for the type and size tire they are and you can get the correct tire pressure.
It's also important that you weigh the individual wheel positions to make sure the tires aren't overloaded..
---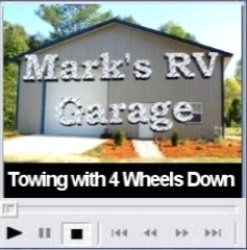 Mark's RV Garage
Some of our RV Video Tips are designed to provide basic RV information for new RVers and some of the future RV Video Tips will cover more advanced topics. If you have any ideas for future topics you can email me at Mark@rveducation101.com
This RV video tip is: "Towing with 4 wheels down "
---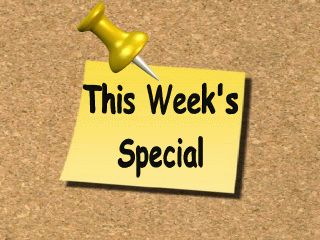 Let RV Education 101 help you save money in 2009
Towing Behind Your Motorhome DVD the purpose and goal of this DVD, to help you learn how to properly tow a dinghy, and to assist you in making the right decisions to meet your particular towing needs. Now you can learn everything you need to know about towing behind your motorhome the easy way, by video. Let RV expert Mark Polk, help you to thoroughly understand all of your motorhome towing options. Watch as many times as you need to. Save this week only- sale price: $21.95

Trailer Towing, Weights, Hitch Work and Backing DVD Take the time to properly educate yourself about trailer towing, weights, hitch work and backing. Let us teach you some tips and techniques to make towing much easier. How to properly match your tow vehicle to a trailer, learning the terminology, proper and safe hitch work is a must. Demonstration is shown on a travel trailer with a fifth wheel hitching portion demonstrated on a fifth wheel. Mark Polk has been an expert witness in a few legal cases, where people were paralyzed and killed. The common factor in these cases involved improperly matched tow vehicles and trailers. Don't depend on automobile dealerships and RV dealerships to always give you 100% accurate information. Do your homework before purchasing a tow vehicle and trailer. Save this week only- sale price: $21.95


---
Camping/RV Battery Chargers BatteryMINDers® are the new generation of SMART, pulse type "computer-on-a-chip" chargers, that safely charge and maintain all size / type / brands of batteries including starter, deep cycle and sealed types including AGM "dry" made by OPTIMA, ODYSSEY, EXIDE, INTERSTATE, et al. They do all of this without ever overcharging, no matter how long they are left on charge – days-weeks-or even months. Dubbed the chargers with "brains," they are the first to fully-automatically reverse the primary cause of early battery failure known as "sulfation". Sulfated batteries once considered beyond recovery can now be brought back to long-term useful condition. Certain models of BatteryMINDers® can more than double the useful life of new batteries.
---
General and Unsubscribe Info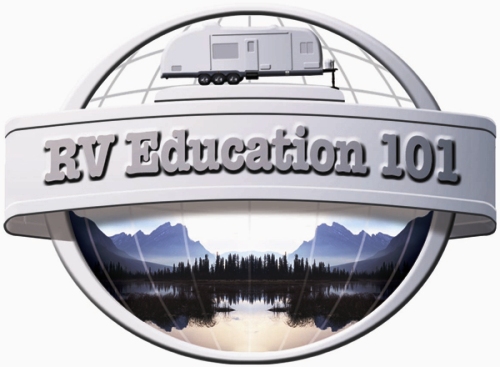 About us:
Our goal with RV University This Week is to provide you with helpful information to make all of your RV experiences more enjoyable. I left my position as an RV Sales and F&I manager in 2000 to start my own company, RV Education 101. We produce educational videos, DVDs and e-books on how to use and maintain your RV. The reason I left my job was due to my concern about the lack of educational and safety awareness material available to the RV consumer, in other words, you. We are a small company. My wife Dawn left her position in RV sales to help start the company and is our Sales and Marketing Director. We currently have a 35-foot Class A motor home. We have two boys, Tyler 12 and Josh 18, both avid RVers and two dogs, Gracie and Buck. Gracie is the good one. If you would like to learn more about us and RV Education 101 feel free to visit www.rveducation101.com
RV University This Week © Copyright 2009 Mark J. Polk, except where indicated otherwise. All rights reserved worldwide. Reprint only with permission from copyright holder(s). All trademarks are property of their respective owners. All contents provided as is. Advertisers are solely responsible for ad content.
To contact us with feedback or questions, email to: info@rveducation101.com
To subscribe, please go to: http://rveducation101.com/email/
To unsubscribe, please go to: http://rveducation101.com/email/unsubscribe.asp
RV Education 101 Newsletter is an opt-in ezine available by subscription only. We neither use nor endorse the use of spam. Your email address will ONLY be used to distribute this newsletter and will NEVER be sold or given to any other entity!!
Happy Camping,
Mark & Dawn
RV Education 101
3969 Stedman Cedar Creek Road
Fayetteville, NC 28312
910-484-7615
Copyright 2009 by RV Education 101