RV University This Week 4/27/2009
Tuesday, April 21 2009 @ 01:53 pm UTC
Contributed by: RVED101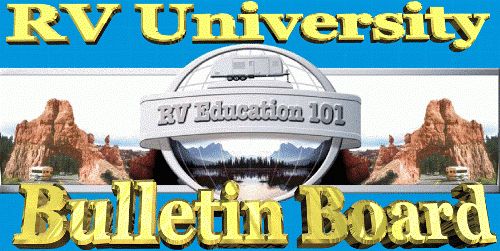 RV University this Week
Your weekly source for interesting
RV articles, tips, tricks, video clips and advice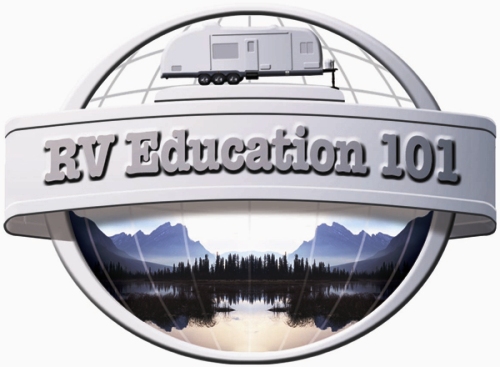 From the Industry Leader in RV Education:
RV Education 101
U of RV Journal #14- April 27, 2009
---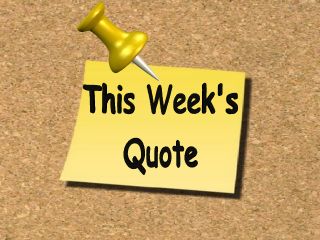 "The important thing is not to stop questioning"
~ Albert Einstein
---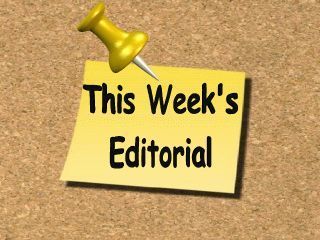 BY MARK

Hi Everybody,
As summer approaches one of our favorite camping destinations is at or close to the ocean. We enjoy the beach, the water, fun in the sun and the relaxation. During our trip to the coast a couple of weeks ago we noticed how many of the beach property prices have plummeted as a result of the current shape our economy is in. There were beach front condos priced well below the market value they held just one year ago, many of which were quite affordable.
For one fleeting moment we entertained the thought of checking into purchasing one of these attractively priced units at the beach. That thought was squashed the second we came back to reality, knowing that we would need to sell the motorhome to purchase one of these properties.
After losing our minds momentarily we realized our RV is our beachfront condo, our vacation home in the mountains, our guesthouse and the list goes on an on. I would never forgo our vacation house on wheels for a stationary model. So with that thought out of our minds we started planning our next trip of the season in our RV.
I thought a good topic for this week's feature article is one of those things on the RV that is out of sight and out of mind for the most part. That topic is your RV roof. When is the last time you were on your RV roof to clean it, inspect the seals, or check for possible signs of water damage? See what I mean, out of sight out of mind.
Whether you do the cleaning and inspecting, or have someone else do it for you the important thing is that it gets done. Be sure and check out this week's feature article and we will be putting our RV Care & Maintenance e-book on sale this week. This e-book can be a great help in explaining what to check on your RV and how to check it, especially for the do-it-yourselfers out there.
Happy Camping
Mark
---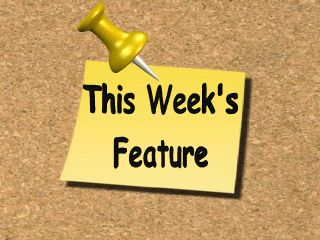 RV Roof Care & Maintenance
One of the most neglected areas on your RV is the roof, out of site out of mind. The problem is if you don't keep the roof clean and inspect the roof seams on a regular basis you could end up with, expensive to repair, water damage. Most RVs built today use some type of rubber or vinyl roofing material. If you want to get a long life out of your RV roof here are some things you can do...... Read the article
---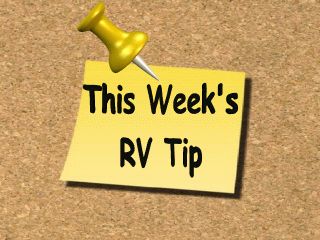 BY Mark Polk
Tip #1 Roof vent screens can be cleaned from the top of the RV. Some roof vent screens can be easily removed for cleaning. You can vacuum the screen with a small hand held vacuum cleaner, or lightly brush the screen using a soft bristle brush. Lubricate the roof vent gears annually with light, water resistant grease.
Tip #2 Over time grease and residue builds up in the gray tank and it causes a foul odor, not to mention how it is affecting the tank and valve assembly. Periodically treat the gray tank with environmentally safe holding tank chemicals to avoid odors from the tank. When the tank is empty you can also add some dishwashing liquid down the drains to help break down grease and residue build up.
---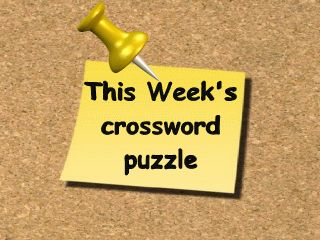 RV Education Crossword Puzzle
This play and learn crossword puzzle is "RV Roof Care & Maintenance 101 "
Have fun, play and learn.
---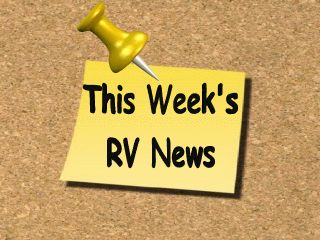 Commentary:
You've undoubtedly heard that John Madden has left the
football broadcast booth.
What you may not have heard is that he's
not leaving his bus.
John Madden's sweet ride...
---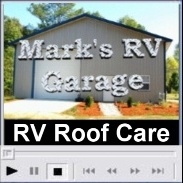 Mark's RV Garage
Some of our RV Video Tips are designed to provide basic RV information for new RVers and some of the future RV Video Tips will cover more advanced topics. If you have any ideas for future topics you can email me at Mark@rveducation101.com
This RV video tip is: "RV Roof Care "
---
...with Mark
Q. 1 I recently bought a 1976 Man-O-War travel Trailer, from a friend. I have it ready to go on its maiden voyage, however, I can't find a weight certification label anywhere on it. I know its supposed to be on the left front, but it does not exist. I have never owned a trailer except for utility and a popup camper. I know Man-O-War had gone out of business. How do I find out the trailers weight so I can see what size truck I need for it. I currently have a 2003 4 cyl Ranger. Also where do I go to get the camper inspected to see if everything coincides with state requirements? I can't find answers anywhere on or off the net, for this trailer. thanks.

Mark Says:
Man-O-War manufactured trailers in 1982, 1983 and 1984. If you have a 1976 it is probably a Thoroughbred. Thoroughbred manufactured them from 1975 to 1981 and then Man-O-War took over the operations.

Determine what length or model it is and go to this NADA link and click on the length or model and it will give you the weight of the trailer.

I looked in my towing guide and a Ford Ranger with a 4 cyl. is not rated which means it can probably only tow 2,000 lbs. and maybe not even that much, so I am sure it won't work for the trailer you have now.

After you look up the weight of the trailer add any weight that you plan to put in the trailers and the weight of any passengers and cargo that will be in the vehicle and then purchase a vehicle that exceeds that total weight.

You might find a local dealer or a mobile RV tech in your area who can check the trailer over to make sure everything is in compliance with state laws.

***

Q. 2 I think I've made a huge mistake. I was sooooooo intent on checking everything in & out when buying my MH that I overlooked "the true towing capacity". The former owner said he had towed a 16' trailer for his motorcycles with no problem and since the whole weight thing is mind baffling to me I figured that I'd get to that part before I purchased a toad. While reading pages 214-217 of your book you mention that many older rigs can only tow 3500 lbs. (Mine is a 2000 gulfstream sun voyager class A 35' and yes, the hitch does say 3500) We purchased a steel cage (several hundred lbs, I'm sure) to mount (of course, on the hitch) for our (motorcycle 530 lbs) ...we could reinforce cage bottom to the frame of the MH, but it seems it would compromise the MH frame and be a bad idea. (Any ideas, the back axle weight is okay but worried about the frame) Also, what vehicle could I possibly flat tow with this rig....I fear I made a very expensive mistake. Our first trip is in a few weeks and it looks like we'll be stuck at the campsite once we're parked. Thanks (again).

Mark Says:
I think you still have some options available. You could buy a motorcycle trailer rather than using a cage to haul the motorcycle. (You should be able to sell the cage) You would lose the option of taking both the motorcycle and a dinghy, but you wouldn't need to be concerned about exceeding the tongue weight with the weight of the motorcycle directly on the hitch. You could tow the motorcycle trailer on trips that you know you want to ride it on, weather permitting. And there are many small vehicles that weigh in less than 3,500 lbs. Go to this link and scroll down to Dinghy Guides. Select a year for the vehicles you want to look at and then look at the curb weight of different potential dinghy's you could tow with your motorhome. If you find a vehicle you are considering purchasing just verify the weight before you buy it and consider any weight you will be adding to it when you tow.
---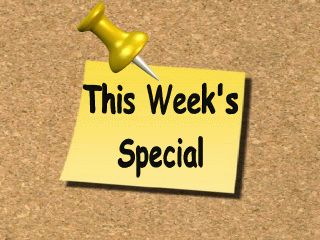 Let RV Education 101 help you save money in 2009
RV Care and Maintenance instant download e-book Mark is a retired US Army Maintenance Chief Warrant Officer Three. He knows what is required to keep large fleets of combat vehicles prepared for the rigors of war. The same thing required to get many years of reliable service and use from your RV. Preventive Maintenance is the cornerstone for maintaining your RV in peak running and operating condition. The purpose of this e-book is to give you some easy to follow preventive maintenance checks that you can perform on your RV. Preventive Maintenance is maintenance you perform on your RV before a problem exists. These checks are designed to prevent or identify potential problems that could lead to mechanical breakdown, malfunction or failure of a component or system on your RV. Preventive Maintenance consists of cleaning, inspecting, lubricating, adjusting and servicing your RV. These checks can help towards enjoying trouble free operation of your RV. They do not supersede any scheduled maintenance recommended by the chassis and RV manufacturer and it is imperative that those schedules and recommended intervals for the checks in this e-book are followed. Some of the scheduled maintenance for your RV must be performed by an RV dealer, chassis manufacturer or authorized service center. Save this week only- sale price: $10.95

---
Camping/RV Battery Chargers BatteryMINDers® are the new generation of SMART, pulse type "computer-on-a-chip" chargers, that safely charge and maintain all size / type / brands of batteries including starter, deep cycle and sealed types including AGM "dry" made by OPTIMA, ODYSSEY, EXIDE, INTERSTATE, et al. They do all of this without ever overcharging, no matter how long they are left on charge – days-weeks-or even months. Dubbed the chargers with "brains," they are the first to fully-automatically reverse the primary cause of early battery failure known as "sulfation". Sulfated batteries once considered beyond recovery can now be brought back to long-term useful condition. Certain models of BatteryMINDers® can more than double the useful life of new batteries.
---
General and Unsubscribe Info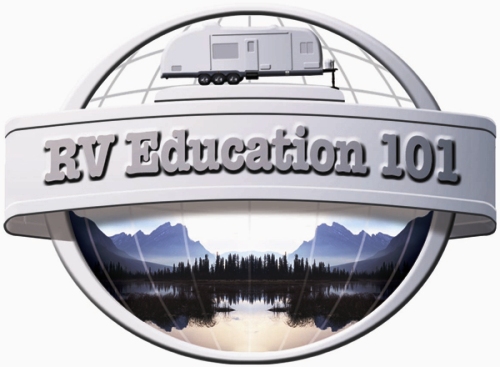 About us:
Our goal with RV University This Week is to provide you with helpful information to make all of your RV experiences more enjoyable. I left my position as an RV Sales and F&I manager in 2000 to start my own company, RV Education 101. We produce educational videos, DVDs and e-books on how to use and maintain your RV. The reason I left my job was due to my concern about the lack of educational and safety awareness material available to the RV consumer, in other words, you. We are a small company. My wife Dawn left her position in RV sales to help start the company and is our Sales and Marketing Director. We currently have a 35-foot Class A motor home. We have two boys, Tyler 12 and Josh 18, both avid RVers and two dogs, Gracie and Buck. Gracie is the good one. If you would like to learn more about us and RV Education 101 feel free to visit www.rveducation101.com
RV University This Week © Copyright 2009 Mark J. Polk, except where indicated otherwise. All rights reserved worldwide. Reprint only with permission from copyright holder(s). All trademarks are property of their respective owners. All contents provided as is. Advertisers are solely responsible for ad content.
To contact us with feedback or questions, email to: info@rveducation101.com
To subscribe, please go to: http://rveducation101.com/email/
To unsubscribe, please go to: http://rveducation101.com/email/unsubscribe.asp
RV Education 101 Newsletter is an opt-in ezine available by subscription only. We neither use nor endorse the use of spam. Your email address will ONLY be used to distribute this newsletter and will NEVER be sold or given to any other entity!!
Happy Camping,
Mark & Dawn
RV Education 101
3969 Stedman Cedar Creek Road
Fayetteville, NC 28312
910-484-7615
Copyright 2009 by RV Education 101