RV University This Week 4/20/2009
Monday, April 20 2009 @ 01:07 pm UTC
Contributed by: RVED101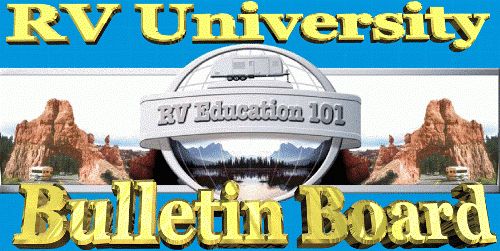 RV University this Week
Your weekly source for interesting
RV articles, tips, tricks, video clips and advice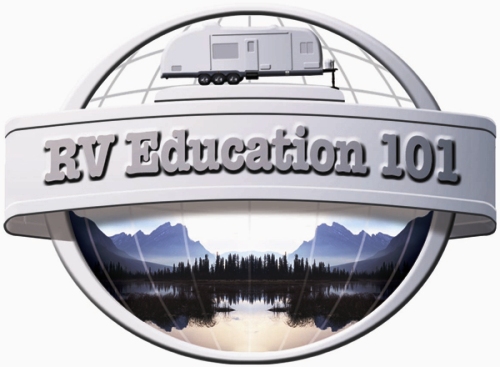 From the Industry Leader in RV Education:
RV Education 101
U of RV Journal #13- April 20, 2009
---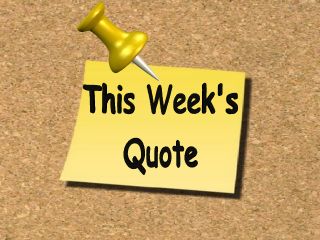 "All of the top achievers I know are life-long learners...
Looking for new skills, insights, and ideas.
If they're not learning, they're not growing...
not moving toward excellence."
~Denis Waitly
---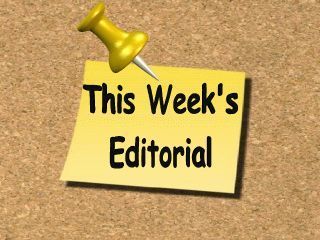 BY MARK

Hi Everybody,
When we were at the campground last week our site was pretty much out in the open, with no trees to offer any shade from the sun. With temperatures reaching the mid-70's and little to no clouds in the sky you really start to appreciate all of the benefits your RV awnings have to offer.
In the morning we enjoyed the shade created by the side of the RV as the sun began to rise from behind us, and from high noon until sunset we enjoyed the shade the patio awning created. I know the dogs thoroughly enjoyed the shade from the window awnings as they took their posts on the back of the sofa, guarding us from any and all intruders who came within 25 feet of the RV. They're very tough guard dogs, at least while inside the RV looking out!
After contemplating all the benefits our window awnings provided us (and the dogs) I thought a good topic for this week's feature article would be "How to Install a Window Awning in 6 Easy Steps" This is one of those things that most RV owners can install themselves and save some money. It requires basic hand tools and a drill, and can be done on a Saturday afternoon. We are also including a video clip of the window awning installation, making it even easier to do after viewing the video. So what are you waiting for? Read the article, watch the video and install some window awnings on your RV.
Our RV Awning Use, Care & Accessories DVD will be on sale this week too.
Happy Camping & stay cool in the shade,
Mark
---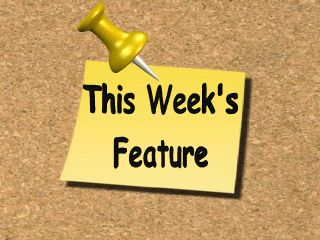 Install a Window Awning in 6 Easy Steps
In the past I have received several e-mails from fellow RVers questioning how difficult it is to install a window awning on their RV. My reply was that this is one of those do-it-yourself things most RV owners can install and save some money at the same time..... Read the article
---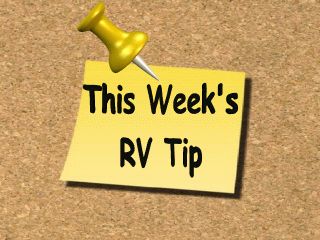 BY Mark Polk
Tip #1 Twice a year take a can of graphite spray,
insert the small tubing into the locks,
and spray every lock on the RV.
This should prevent any problems with the locks on your RV.
Tip #2 Never leave your RV awning out for any period of time when you are away from the campsite. A quick wind storm or thunder storm can result in expensive repair costs to the awning and the RV. If your awning is out and it begins to rain lower one end to allow the water to run off. Water can quickly pool up in the center of the awning fabric and the weight can damage the awning. If the wind begins to pick up at the campground put your awning in its stored position. Better safe than sorry.
---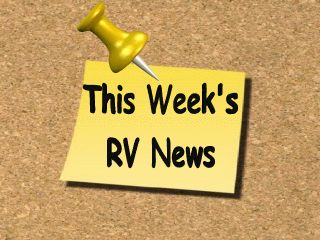 Fleetwood might have a buyer
If court filings are to be trusted,
it looks like Fleetwood might be close to
selling itself to an interested buyer...
---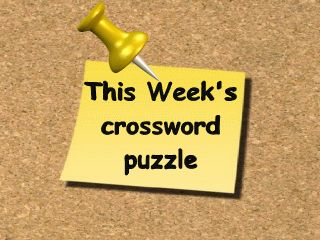 RV Education Crossword Puzzle
This play and learn crossword puzzle is "Extend the Life of your RV Awnings"
Have fun, play and learn.
---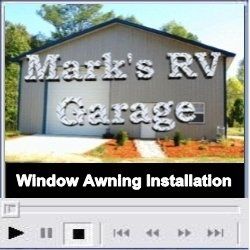 Mark's RV Garage
Some of our RV Video Tips are designed to provide basic RV information for new RVers and some of the future RV Video Tips will cover more advanced topics. If you have any ideas for future topics you can email me at Mark@rveducation101.com
This RV video tip is: "RV Awning Installation"
---
...with Mark
Q. 1 I am looking at purchasing an RV and living in it (for the next 5-10 years). It would be parked at a friend's house, without much more movement or travel from that point forward.

I am leaning towards a Travel Trailer over a Fifth wheel, but, for me, the determining factor would be based on which one has the greater durability and resilience against wind, heavy rain, snow, and freezing winter tempertures. Reliability would be an equal consideration as well.

Between a travel trailer and a fifth wheel, can you shed some light for me with your thoughts on which type RV would be best suited for the above climate conditions. Any other helpful tips would be greatly appreciated.

Thanks so much for your time.

Mark Says:
In this case it's not so much which type of trailer is better, it's more a question of the quality of the trailer you select. I have always compared RV's to automobiles to make my point. You can go to the GM dealer and buy a Chevy, a Buick or a Cadillac. It all depends on what you are looking for and your specific needs.

In your situation an entry level trailer (Chevy) won't work, whether it's a travel trailer or a 5th wheel. Trailers have options just like cars do. Some of these include things like an arctic package (upgrade in insulation), dual pane windows and heated holding tanks. These are some of the things you need to look for. Also some have larger BTU furnaces which is another consideration. These are normally found in mid-line or higher end units.

As far as snow goes not many RV's are built or designed to have lots of snow on the roof for long periods of time, but a trailer with aluminum frame construction and fiberglass sides will probably hold up better than one with wood frame construction and aluminum sides. Most have some type of rubber roofing which will do quite well with the elements.

If you plan to stay in it for several years it would be wise to upgrade a bit.

***

Q. 2 When our fridge died while at an RV show and we were told it would cost $1000 to replace it... our hearts fell. We travel on a budget(working as we go) and we're going on a big far north 4 month tour starting in June. A chance conversation with an RV'er led us to "burping" the fridge...lay it on its side before uprighting it.

We were some happy campers to see it working again so I wrote a comment into our RV Times magazine who checked it out with a dealer. Apparently it's only a temporary fix.

What do you know about this process and have you heard how long it lasts? Frustrated fridge burper.

Mark Says:
Frustrated fridge burper,
Back in the 70's we used to burp RV refrigerators frequently. Older RV refrigerators (pre-early 80's) required precise leveling for them to work properly. If the unit wasn't level the flow of ammonia in the coils would get vapor locked and the refrigerator wouldn't cool. You would remove the refrigerator and (burp it) turn it upside down for 24 hours. Sometimes it worked and sometimes it didn't.

Newer RV refrigerators don't require as precise leveling as older models did. If it's within half a bubble on the level it will operate okay. If you experience a problem with a newer model you can usually turn the refrigerator off a couple hours, make sure the RV is level and turn it back on.

If a refrigerator is operated out of level (more than half a bubble) for extended periods of time the coolant can pool (stop moving) and overheat, resulting in the cooling unit failing.

There are some tell-tale signs of a failing cooling unit that will eventually need to be replaced. If you smell ammonia in or around the refrigerator the cooling unit is bad and will need to be replaced. If the refrigerator makes loud noises during the initial cool down process the cooling unit may be going bad.

If you burped the unit it's possible that it removed an obstruction that was restricting the flow and now it is okay. If it has other symptoms like I mentioned, or was operated out of level, it will probably need to be replaced.

Wish I could tell you more, but it's difficult to say what the outcome will be.
---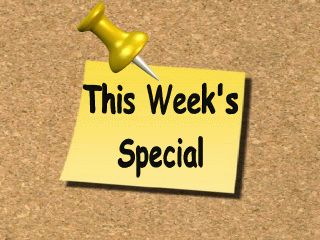 Let RV Education 101 help you save money in 2009
RV Awning Use, Care and Accessories DVD RV Expert Mark Polk walks you through the step-by-step process to using, caring for & accessorizing your RV awnings. Polk explains the different types of RV awnings and awning fabrics, and how to properly clean & inspect the awning fabric & hardware. Next he demonstrates how to use the awnings on your RV & how to install a window awning in six easy steps. As an added bonus the video demonstrates some products available on the market to fully accessorize and enjoy your RV awnings. Save this week only- sale price: $21.95

---
General and Unsubscribe Info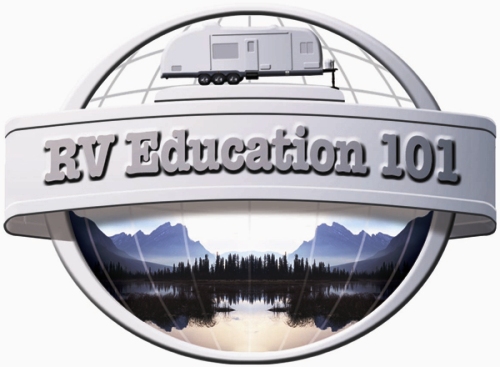 About us:
Our goal with RV University This Week is to provide you with helpful information to make all of your RV experiences more enjoyable. I left my position as an RV Sales and F&I manager in 2000 to start my own company, RV Education 101. We produce educational videos, DVDs and e-books on how to use and maintain your RV. The reason I left my job was due to my concern about the lack of educational and safety awareness material available to the RV consumer, in other words, you. We are a small company. My wife Dawn left her position in RV sales to help start the company and is our Sales and Marketing Director. We currently have a 35-foot Class A motor home. We have two boys, Tyler 12 and Josh 18, both avid RVers and two dogs, Gracie and Buck. Gracie is the good one. If you would like to learn more about us and RV Education 101 feel free to visit www.rveducation101.com
RV University This Week © Copyright 2009 Mark J. Polk, except where indicated otherwise. All rights reserved worldwide. Reprint only with permission from copyright holder(s). All trademarks are property of their respective owners. All contents provided as is. Advertisers are solely responsible for ad content.
To contact us with feedback or questions, email to: info@rveducation101.com
To subscribe, please go to: http://rveducation101.com/email/
To unsubscribe, please go to: http://rveducation101.com/email/unsubscribe.asp
RV Education 101 Newsletter is an opt-in ezine available by subscription only. We neither use nor endorse the use of spam. Your email address will ONLY be used to distribute this newsletter and will NEVER be sold or given to any other entity!!
Happy Camping,
Mark & Dawn
RV Education 101
3969 Stedman Cedar Creek Road
Fayetteville, NC 28312
910-484-7615
Copyright 2009 by RV Education 101