RV University this Week 3/16/2009
Monday, March 16 2009 @ 02:30 pm UTC
Contributed by: RVED101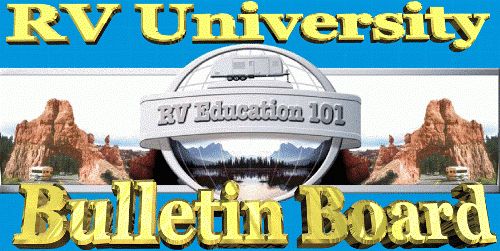 RV University this Week
Your weekly source for interesting
RV articles, tips, tricks, video clips and advice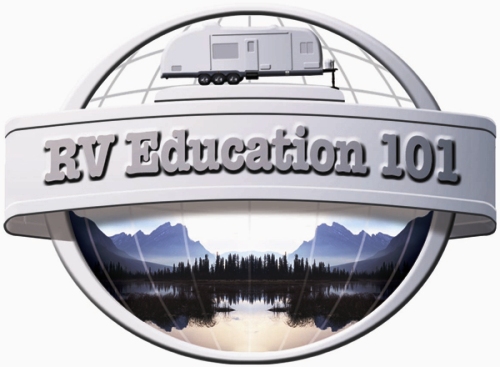 From the Industry Leader in RV Education:
RV Education 101
U of RV Journal #8- March, 16 2009
---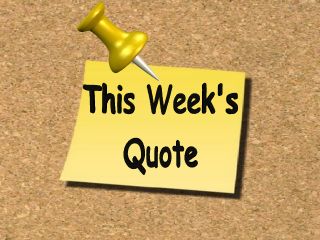 "You learn something every day if you pay attention." ~ Ray LeBlond
---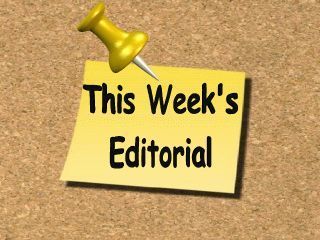 BY MARK

Hi Everybody,
There is an issue that concerns most RVers that has bothered me for some time now. The issue is towing safety. RVers either tow a trailer behind a vehicle, or in many cases tow a vehicle behind a motorhome. Recently I reviewed five years worth of accident data involving vehicles towing trailers and the numbers I saw made me even more concerned. Granted, lots of these accidents involved smaller utility and cargo type trailers, but there are a lot of boat and RV towing accidents too.
Let me ask you a question. Do you think individual state towing laws are outdated? If you tow a trailer or a vehicle behind a motorhome do you know what your state towing laws are? Each state is different when it come to towing laws, to include how much a trailer must weigh before it needs brakes. Even if you comply with the state towing laws where you reside you can be in violation of another state's towing laws where you might be traveling.
When these topics come up and I comment on them some people have accused me of using scare tactics to make people think they need brakes on a trailer or vehicle they are towing, when the laws say they don't. One of my arguments has been that if your state laws require a trailer that weighs 3,000 pounds to have brakes why wouldn't a 3,000 pound vehicle being towed require brakes too. I'm not using scare tactics, I'm using good old common sense. Many of today's individual state towing laws haven't been looked at, changed or revised since the early 70's and some even longer than that.
That's the topic for this week's feature article and this week's video tip at Mark's RV Garage. Be sure and check them both out in this edition of RV University this Week and let me know what your thoughts are.
We are discounting both of our towing DVD titles this week in an effort to help inform and educate RVers on what is required to make all of your towing experiences safe and enjoyable. See the "specials" section towards the bottom of this page.
I hope you enjoy this week's edition,
Mark
---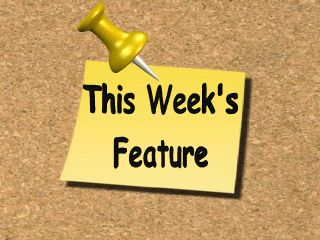 Are Towing Laws Outdated?
I have always been an advocate for towing safety, whether it's towing a trailer or towing a vehicle behind a motorhome. One of the most controversial topics I have run into is whether vehicles being towed behind motorhomes need to have a supplemental braking system. My argument is if the state that you reside in has laws requiring a trailer over a certain weight to have brakes; this would also apply to a vehicle being towed behind a motorhome. Another argument is that many state towing laws are antiquated and need to be updated. When some of these laws were written people weren't towing vehicles behind motorhomes.... Read the article
---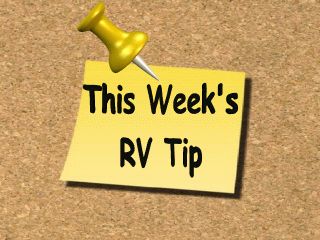 BY Mark Polk
Rubber roofs on RVs should be cleaned three to four times a year and depending on where you park or store your RV it may need to be cleaned more often. Regardless of the type of rubber roof you have, NEVER use any cleaners or conditioners that contain petroleum solvents, harsh abrasives, or citrus ingredients. These types of cleaners can cause permanent damage to any rubber or vinyl surface. Most manufacturers of rubber roofs recommend you use a medium bristle brush and a non-abrasive cleaner. For light cleaning you can use warm water and a mild detergent like Dawn dish washing liquid. Hard to clean areas like stubborn stains caused by leaves, sap, mold or mildew may require a second treatment. Use caution to prevent the cleaners from getting on the sides of the RV. ALWAYS rinse the sides, front and back of your RV before rinsing the roof to prevent streaking or damage to the finish on your RV. NOTE: Anytime you are working on the roof of your RV - excercise caution! A slip or fall could result in serious injury or even death.
---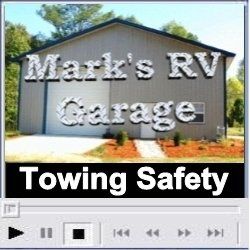 Mark's RV Garage
Some of our RV Video Tips are designed to provide basic RV information for new RVers and some of the future RV Video Tips will cover more advanced topics. If you have any ideas for future topics you can email me at Mark@rveducation101.com
This RV video tip is: "Towing Safety"
---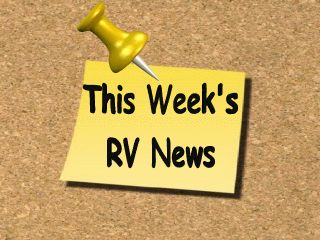 Americans' leisure travel intentions trend upward-
According to the February travel horizons survey,
the U.S. Traveler Sentiment Index rose to 90.2 in February 2009
from 78.2 in October 2008 due to an increase in the
perceived "affordability of travel."
Baby Boomers May Help Revive Struggling Industry
In Iowa as the weather gets nicer, we all get a little bit of cabin fever-
---
...with Mark
Q. Maybe you can answer a question that I have always been curious about. Why is it that when you wire batteries in series only the voltage is doubled? Why, despite each battery having 205 amp hours, is the amp hours also not doubled?
Mark Says:
First you need very a basic understanding of how amps and volts differ. Amps are nothing more than the measure of the volume of electrical flow. Amps are not affected by voltage at all. Voltage is basically the force or the pressure that moves the electrical flow. Where 6-volts moves the electrical flow slowly, 12 or 24-volts moves the flow quicker.
With that said series wiring is when you connect two or more of the same type batteries together by wiring from the positive terminal of the first battery to the negative terminal of the second battery. When batteries are wired from positive to negative the voltage of the individual battery's are added together. The reason for this is you only create a single path for the electrical flow (electrons) to follow. Series wiring does not affect (or increase) the actual storage capacity of the batteries only the voltage. In other words we are only adding electrical pressure (voltage) through series wiring not storage capacity.
Parallel wiring on the other hand is when you connect two or more of the same type batteries together by wring positive to positive and negative to negative. The individual battery voltage stays the same, but wiring in this manner doubles the storage capacity (amp hours) of the individual battery's. By adding more batteries in parallel we create more paths for the electrical flow (electrons) to follow. This increases the total amperage or storage capacity but doesn't affect the voltage.
But keep in mind even when you increase the storage capacity of the batteries you shouldn't discharge them below 40% (60% of the charge left) before charging if you want to maximize the life of the batteries.
---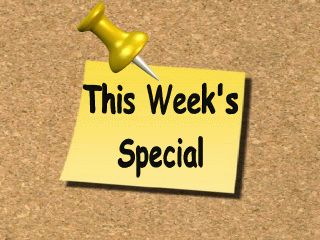 Let RV Education 101 help you save money in 2009
Trailer Towing, Weights, Hitch Work and Backing Nothing will ruin a camping trip quicker than having a bad experience towing a trailer. Nine out of ten times, the reason you have a bad experience is because there is a problem with the tow vehicle or the trailer. It could be a weight problem. Mark Polk has been an expert witness in a few legal cases, where people were paralyzed and killed. The common factor in these cases involved improperly matched tow vehicles and trailers. Don't depend on automobile dealerships and RV dealerships to always give you 100% accurate information. Do your homework before purchasing a tow vehicle and trailer. Save 12% this week only- sale price: $21.95

Towing Behind Your Motorhome The thought of towing a vehicle can seem confusing, almost overwhelming. What vehicles can you tow with all four wheels down, will you need to use a tow dolly, how much weight can you tow behind your motorhome? I have seen many accidents just waiting to happen with motor homes towing vehicles. This is because of various reasons like the tow vehicle exceeding weight limits, tow bars not properly set up, no braking system on the towed vehicle, towing vehicles without the proper modifications and much more. Save 12% this week only- sale price: $21.95
---

---
General and Unsubscribe Info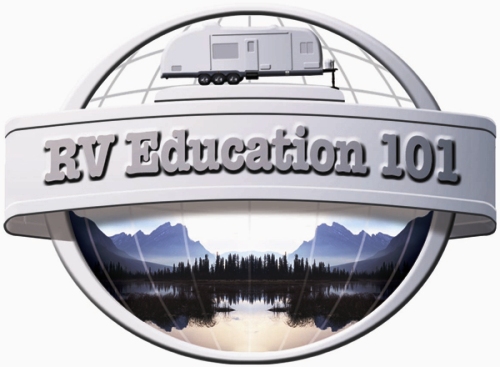 About us:
Our goal with RV University This Week is to provide you with helpful information to make all of your RV experiences more enjoyable. I left my position as an RV Sales and F&I manager in 2000 to start my own company, RV Education 101. We produce educational videos, DVDs and e-books on how to use and maintain your RV. The reason I left my job was due to my concern about the lack of educational and safety awareness material available to the RV consumer, in other words, you. We are a small company. My wife Dawn left her position in RV sales to help start the company and is our Sales and Marketing Director. We currently have a 35-foot Class A motor home. We have two boys, Tyler 12 and Josh 18, both avid RVers and two dogs, Gracie and Buck. Gracie is the good one. If you would like to learn more about us and RV Education 101 feel free to visit www.rveducation101.com
RV University This Week © Copyright 2009 Mark J. Polk, except where indicated otherwise. All rights reserved worldwide. Reprint only with permission from copyright holder(s). All trademarks are property of their respective owners. All contents provided as is. Advertisers are solely responsible for ad content.
To contact us with feedback or questions, email to: info@rveducation101.com
To subscribe, please go to: http://rveducation101.com/email/
To unsubscribe, please go to: http://rveducation101.com/email/unsubscribe.asp
RV Education 101 Newsletter is an opt-in ezine available by subscription only. We neither use nor endorse the use of spam. Your email address will ONLY be used to distribute this newsletter and will NEVER be sold or given to any other entity!!
Happy Camping,
Mark & Dawn
RV Education 101
3969 Stedman Cedar Creek Road
Fayetteville, NC 28312
910-484-7615
Copyright 2009 by RV Education 101