RV University this Week 1/12/09
Monday, January 12 2009 @ 03:20 pm UTC
Contributed by: RVED101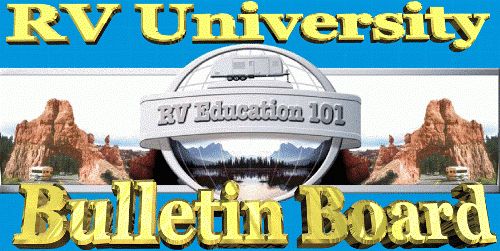 RV University this Week
Your weekly source for interesting
RV articles, tips, tricks, video clips and advice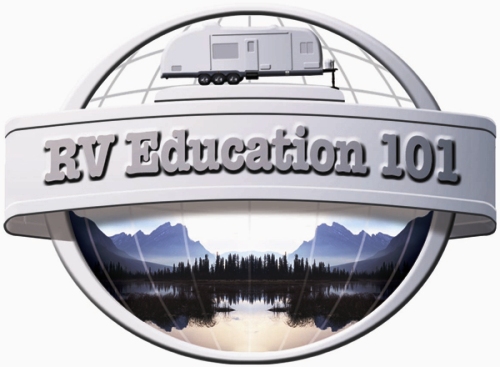 From the Industry Leader in RV Education:
RV Education 101
U of RV Journal #1 - January 12, 2009
---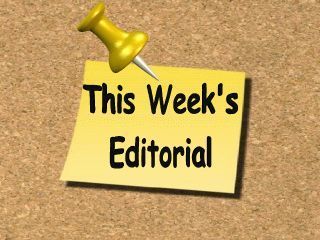 BY MARK


Hi Everybody,
Welcome to our new "RV University this Week" e-newsletter. RV University is RV Education 101's sister site where we store a great deal of our free content offered to you, the RVer. For quite some time I have been bombarded with requests from readers for more frequent intervals of our current monthly RV Education 101 e-newsletter. After giving some thought to increasing the frequency of our monthly newsletter we decided instead to develop a short and to the point weekly e-newsletter with a RV University theme. Our current newsletter will come the first week of the month with the RV U news coming the remaining weeks of the month.
I know how much I hate receiving weekly e-mail notifications that are nothing more than sales ads, so we won't burden your in-box with junk mail or sales ads. When you open "RV University this Week" you will get a short newsletter offering a free interesting RV article, tip, trick, video clip or advice that RVers want. Who says you can't get anything for free??
In an effort to be totally honest with you we will be offering a weekly discounted product or items currently on sale, but these discounts are genuinely offered as our part to help out during these tough economic times. Many of the discounted product offerings will only be announced through RV University this Week.
This new e-newsletter is one small piece of our RV Education plan for 2009. We are putting together some great RV University course material to assist you with your ongoing RV education. I think you will like what you see and enjoy the RV learning experience at the U of RV.
Happy Camping in 2009 and enjoy this Weeks U of RV newsletter,
Mark
If you enjoy this newsletter E-mail it to a friend
---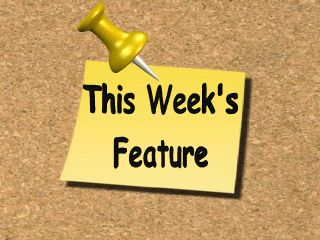 Testing your RV Battery by Mark
Cold temperatures can present challenges in maintaining your RV. Two areas you need to be concerned with are protecting the RV water system and the RV batteries. Hopefully you winterized your RV to prevent damage to the RV plumbing system. As for the batteries a big part of protecting them is through testing the condition and state of charge of the batteries.
There are basically three ways to check the condition of your RV batteries.
It may also be helpful to read my short article on Battery Life Expectancy
Deep Cycle Battery Tip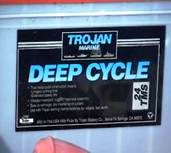 RVs come equipped with deep cycle batteries for the coach's 12-volt DC electrical system. RV house or coach batteries need to be true deep cycle batteries that are designed to provide a steady amount of current over a long period of time. Starting batteries and marine batteries should not be used in this application. True deep cycle batteries have much thicker plates and are designed to be deeply discharged and recharged over and over again.
Many RVs use a single deep cycle battery. Deep cycle batteries are rated in amp hours. How many amps the battery can deliver for how many hours before the battery is discharged. If you enjoy dry camping, without utility hook-ups, you depend on your deep cycle battery(s) to take care of your 12-volt needs. You can purchase a deep cycle battery with a higher amp hour capacity that will last longer. The higher the amp hour capacity is the larger and heavier the battery is. If you have room for a larger battery and enjoy dry camping you may want to upgrade your deep cycle battery to one with a higher amp hour rating. If your RV is equipped with a marine RV battery you may want to upgrade to a true deep cycle battery.
---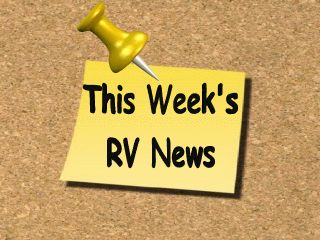 From Greg Gerbereditor of RV Industry News
Economical-to-operate RVs gain momentum
---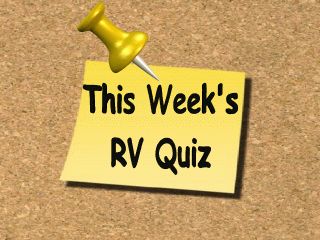 RV EDUCATED? Take the Test and see...
This week tests your knowledge regarding the storage procedures of RV Battery(s)

Click here then scroll down to quiz # 8
---
...with Mark
Q. Dear Mark-- I can't seem to find just the specific answer I'm looking for...Is it possible to find a power supply for a laptop that can be used off the 12V RV supply? I would like to use my laptop more while we're traveling, but I don't think the battery will last too long. I would love to power it off the 12V. Thanks for all your wonderful articles and information!!
Mark Says:Thanks for writing. We use a small inverter, plugged into the 12 volt power supply on the RV, to power our laptop while we're traveling.
An inverter changes 12 volt DC power to 120 volt AC power.
Just look at the power adapter (the square looking box) on your laptop power cord and it should list how many watts the laptop uses. Ours is 65 watts. If it lists amps instead of watts just take 120 X the amps to determine the wattage it draws. For example let's say it's listed at 1 Amp. 1 Amp X 120 Volts = 120 watts.
Here are a couple simple formulas:
Watts divided by Volts = Amps
Amps times Volts = Watts
Now you just need to purchase a small inverter rated slightly higher than the watts the computer uses. Inverters that work off of 12 volt power supplies normally range from 75 to 300 watts.
---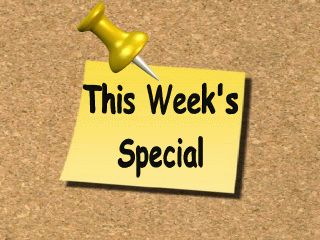 RV 6PACK DVD plus 1 An $180.65 Value, for $94.95
EZ RV Upgrades DVD mislabled This mistake saves you $19.00

---
Print This Page
---
General and Unsubscribe Info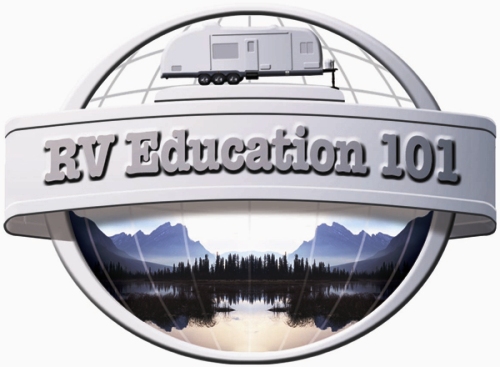 About us:
Our goal with RV University This Week is to provide you with helpful information to make all of your RV experiences more enjoyable. I left my position as an RV Sales and F&I manager in 2000 to start my own company, RV Education 101. We produce educational videos, DVDs and e-books on how to use and maintain your RV. The reason I left my job was due to my concern about the lack of educational and safety awareness material available to the RV consumer, in other words, you. We are a small company. My wife Dawn left her position in RV sales to help start the company and is our Sales and Marketing Director. We currently have a 35-foot Class A motor home. We have two boys, Tyler 12 and Josh 18, both avid RVers and two dogs, Gracie and Buck. Gracie is the good one. If you would like to learn more about us and RV Education 101 feel free to visit our website> www.rveducation101.com
RV University This Week © Copyright 2009
Mark J. Polk, except where indicated otherwise. All rights reserved worldwide. Reprint only with permission from copyright holder(s). All trademarks are property of their respective owners. All contents provided as is. Advertisers are solely responsible for ad content.
To contact us with feedback or questions, email to: info@rveducation101.com
To subscribe, please email http://rveducation101.com/email/
To unsubscribe, please email http://rveducation101.com/email/unsubscribe.asp
RV Education 101 Newsletter is an opt-in ezine available by subscription only. We neither use nor endorse the use of spam. Your email address will ONLY be used to distribute this newsletter and will NEVER be sold or given to any other entity!!
Happy Camping,
Mark & Dawn
RV Education 101
3969 Stedman Cedar Creek Road
Fayetteville, NC 28312
910-484-7615
Copyright 2009 by RV Education 101