"RV Buzz" Tips by Mark Polk
Wednesday, October 26 2011 @ 02:03 pm UTC
Contributed by:

RVED101

What is the RV Buzzzzz?
"RV Buzz" Tips by Mark Polk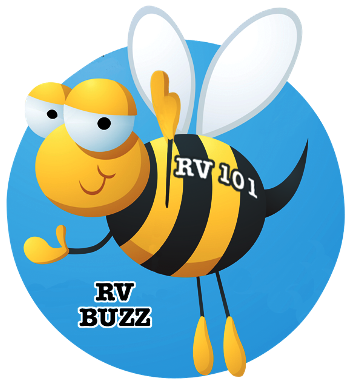 Towing
Whenever you are determining the tow capacity of a vehicle make sure you know what the rear axle ratio is. It is quite possible to have the same type and size of vehicle with the same engine and the tow ratings vary by several thousand pounds. The axle ratio is a comparison of how many times the drive shaft rotates, versus the rear wheels. A 4.10:1 axle ratio means the drive shaft or pinion gear rotates 4.1 times for each rotation of the rear axle or ring gear. The higher the numeric value the better the vehicle will tow. Some people have a misperception that a vehicle with 4-WD will have a higher tow rating than an identical vehicle that is two-wheel drive. In reality the 2-WD vehicle will have the higher tow rating. The reason for this is the transfer case in the four-wheel drive vehicle adds additional weight to the vehicle, usually close to 500 pounds, which lowers the tow rating by that same amount. Keep in mind that any weight you add to the tow vehicle takes that same amount of weight away from the vehicles tow rating and Gross Combined Weight Rating.
Deep Cycle Battery
RVs come equipped with deep cycle batteries for the coach's 12-volt DC electrical system. House or coach batteries need to be true deep cycle batteries that are designed to provide a steady amount of current over a long period of time. Starting batteries and marine batteries should not be used in this application. True deep cycle batteries have much thicker plates and are designed to be deeply discharged and recharged over and over again. Many RVs use a single deep cycle battery. Deep cycle batteries are rated in amp hours. How many amps the battery can deliver for how many hours before the battery is discharged. If you enjoy dry camping, without utility hook-ups, you depend on your deep cycle battery(s) to take care of your 12-volt needs. You can purchase a deep cycle battery with a higher amp hour capacity that will last longer. The higher the amp hour capacity is the larger and heavier the battery is. If you have room for a larger battery and enjoy dry camping you may want to upgrade your deep cycle battery to one with a higher amp hour rating. If your RV is equipped with a marine RV battery you may want to upgrade to a true deep cycle battery.
Water Pressure Regulator
Water pressure at campgrounds can be extremely high and can cause damage to your RV plumbing system. Always use a water pressure regulator when you hook-up to the campground water supply. Always connect the water pressure regulator directly to the campground water source. This way you regulate the water pressure where the water pressure originates. It's also a good idea to turn the water supply off if you're going to be away from the campground for extended periods of time.
---
Money Saving DVD Sets Available

5th Wheel Training DVD Sets
Travel Trailer Training DVD Sets
Class A Training DVD Sets
Class C Training DVD Sets
---
17 RV Single DVD Titles in our Library
An Introduction to RV's
Pop Up 101
Travel Trailer 101
Class A Motor Home 101
Class C Rental / Owner
RV Awning Use, Care and Accessories
RV Safety Features, Tips and Tricks
Winterizing & Storing your RV
EZ RV Add Ons and Must Have RV Products
Tow Your 5th Wheel Like a Pro
Trailer Towing, Weights, Hitch Work & Backing
Drive Your Motorhome Like a Pro
Motorhome Towing
RV Campground Basics
Marks Recommended 10 minute RV Essential Items
Deep Cycle Battery Care & Maintenance for RV's and Boats
RV Care and Maintenance
---
15 RV Instant Download E-Book Titles in our Library
The Original Checklists for RVers
Winterizing and Storing your RV
THE RV BOOK now available as an ebook
The Three Primary Systems of an RV
Insider's Guide to Buying an RV
RV Buyers Survival Guide
Trailer Towing, Weights, Hitch Work & Backing
A Collection of RV Tips
Pop-Up Basics 101
Dinghy Towing
Deep Cycle Battery Care and Maintenance
RV Awning Use and Care
RV Safety Features, Tips and Tricks
RV Care and Maintenance
RV Campground Basics
---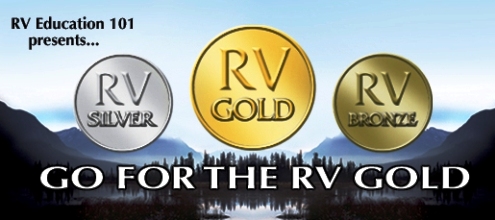 Go for the RV Gold Program
The Go For the RV Gold program is loaded with one-on-one RV training videos, feature articles, RV tips, crossword puzzles, member discounts for RV services and RV products, quizzes, and much more. This is the only online RV training program that will teach you everything you need to know about your RV at such a reasonable cost, and totally at your leisure with no deadlines. There are customized worksheets provided for navigation, so nothing is missed or overlooked. There is a space provided for you to make notes for each topic and then a feature to print the worksheet when completed.
At the end of the program there is a 25 question final exam. If you pass the final exam (you need a 72% or higher score) you will receive your "Go for the RV Gold" training certificate that you that you can proudly display in your home or RV. P.S. If you don't pass the final exam, you will be given an opportunity to take it again until you do pass, so you can receive your Go for the RV Gold certificate.
National Interstate Insurance company offers a 5% safe driver discount when you successfully complete the "Go for the RV Gold" program. Just present your "Go for the RV Gold" certificate of completion to an authorized National Interstate Insurance agent.
The membership fee is only $49.95 per month for 3 months. Billing is on a 30 recurring basis until the final payment is made. This equates to only $12.49 for each in-depth weekly RV training course. When you select the recurring billing payment option you receive the a new RV training module each month. You can't beat this low pricing for one-on-one RV education training in the comfort of your own home or RV. There is no driving to get to the training location, no packed classrooms and no time restraints.
Note: There is second payment option available where you can pay the full $149.85 program price in one payment. If you select this payment option you will receive all 3 RV modules (12 weekly courses) at one time, after payment and registration.
This program compliments our current line of RV Education 101 training dvds!
3 payments of $49.95 or a 1 time payment of $149.85
Buy Now
---