A Virtual RV Orientation WalkThrough that includes RV Campground Setup
Wednesday, December 22 2021 @ 04:51 pm UTC
Contributed by: RVED101

Right now travel via an RV is a very popular option during this Covid-19 pandemic.
Do you know what the foundation of RV Education 101 is? It is to provide new RV owners with a professional RV walk through and campground set-up video that you can refer back to as often as needed. When we worked at an RV dealership, we discovered it was very difficult for first time RV owners to retain all of this information when buying their travel trailer or motorhome. Mark came up with the idea to produce a professional video, demonstrating step-by-step how to use all of the systems and components of the RV using charts and close ups of exactly what he wants you to see. These segments are broken down into chapters to find exactly what you need when you need it. We also realized setting the RV up at the campground can be confusing and a bit intimidating at first, so we included campground set-up in the videos as well. Our goal is to be there for you until you don't need us any more.

Sit back, relax and learn what you need to know about safely and properly using your:
Type A, Type B or Type C Motorhome:
RV 101 - Motorhome RV Orientation® Online Video Training Program CLICK HERE

or
Travel Trailer or 5th Wheel Trailer
RV 101 - Travel Trailer & 5th Wheel RV Orientation® Online Video Training Program CLICK HERE
Relax in the comfort of your own home or RV and we will walk you step-by-step through all of the systems of your RV. Buying an RV is exciting and when you pick it up the only thing on your mind is getting it home and planning that first trip. Yes, the dealer gave you a walk-through of the unit, but there was so much information and excitement that it was overwhelming.
Now it's parked in your driveway and you can't remember what was covered during the walk-through. Don't worry, we put all of the information into an easy to understand program that you can read and view as many times as you like, or need, until you are comfortable using your new or new to you motorhome, travel trailer or 5th wheel trailer.
What does RV Orientation Video mean?
RV orientation video is a class I give similar to an RV dealer's class given to the consumer after an RV is sold. The term RV orientation video can be used interchangeably with the term RV walk-through video.
Your instructor, Mark Polk, is a 20-plus year veteran in the RV industry. He has worked in every facet of the industry and he doesn't just stand and talk, he is all about hand-on training so you really learn how things are done.
It is our goal at RV Education 101 to assist you in learning how to properly and safely use and maintain your Recreation Vehicle. In our original and unique RV online training presentation we offer the most complete and easy to understand RV online training program on motorhomes, travel trailers and 5th wheel trailers available anywhere. The video training is broken down into individual chapters and it covers what I refer to as the three primary systems of an RV, the LP gas system, the water system and the electrical system. Sit back and relax as I walk you step-by-step through the training as it applies to your RV. In addition to the three primary systems, other chapters in the course include Campground set-up, RV Accessories, RV Safety Features and more.
The following chapters are covered in the RV Orientation:

Chapter 1: Campground set-up
Chapter 2: LP Gas System
Chapter 3: Water System & Waste Water System
Chapter 4: Electrical System
Chapter 5: RV Accessories
Chapter 6: RV Safety Features
Downloads:
RV 101 at the Campground PDF Magazine
Our RV 101® online video training programs can be viewed from computers, tablets, and smartphones. This training program includes full-feature video segments, related articles written by Mark Polk, short video segments, helpful tips & tricks, fun play & learn RV University crossword puzzles, and quizzes to help you retain the information.

Now you don't have to pay extravagant fees, or join any clubs that inundate your email inbox with never ending offers to learn how everything on your RV works
ENROLL NOW: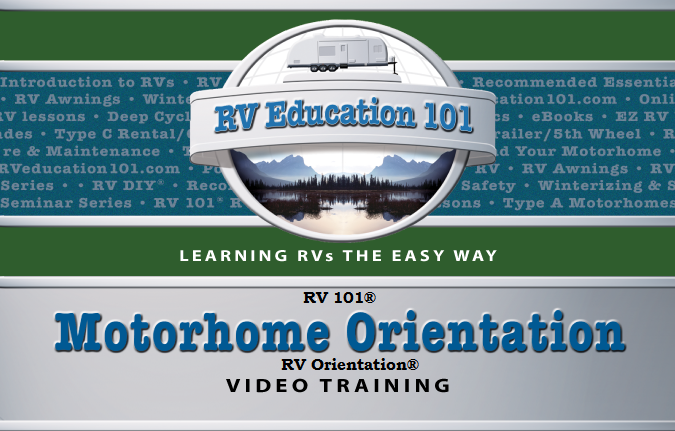 Type A, Type B or Type C Motorhome:
RV 101 - Motorhome RV Orientation® Online Video Training Program

ortravel Trailer - 5th wheel walkthrough RV orientation campground setup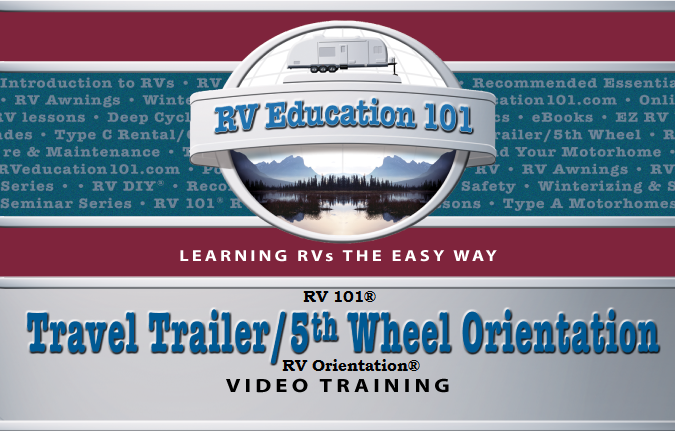 Travel Trailer or 5th Wheel Trailer
RV 101 - Travel Trailer & 5th Wheel RV Orientation® Online Video Training Program