Welcome to RV UNIVERSITY Tuesday, July 23 2019 @ 11:28 am UTC
NEW!
THE RV BOOK by Mark J. Polk
Your personal guide to understanding and enjoying your RV. "RV Expert" Mark Polk turns complex into easy, making all of your experiences safe, fun & stress free. RV's give us the freedom to go wherever we want, whenever we want. But, nothing will ruin a trip or a vacation quicker than not understanding how to properly use and maintain your RV.
Mark Polk, the author of The RV Book said "Buying an RV is a major investment and a new RVer can be overwhelmed when just starting out. Whether you own an RV now, or you are getting ready to purchase one in the future, I know that by reading The RV Book you will feel more comfortable about using an RV."
"I tried to touch on all aspects of RV ownership; from selecting and buying the right RV to setting it up at your favorite campground. What type of RV is right for me? How do I tow or drive an RV? How do I safely use an RV? How do I take care of my new RV? I have gathered and researched all of the information, into one place, to simplify the entire process of RV ownership."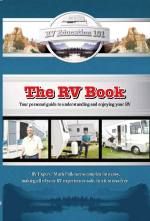 For Pop-Ups, Travel Trailers, Motorhomes and everything in between After 20 years of fulltime RVing, I still discovered new information while reading The RV Book. Mark's book is so well written and informative... he patiently explains each basic necessity that every RVer should be aware of to assure safe operation of their RV. -Peggi McDonald, author of RV Living in the 21st Century
Read a PDF excerpt from "The RV Book"
Click here if you need to download Adobe Acrobat Reader..
$19.95 BUY NOW