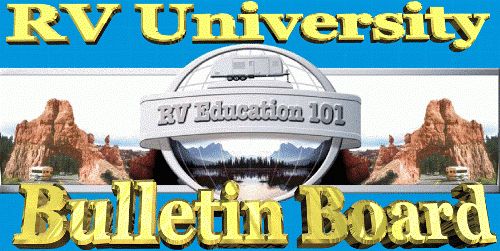 RV University this Month Presents
RV Consumer E-Magazine
Your monthly source for interesting
RV articles, tips, tricks, video clips and advice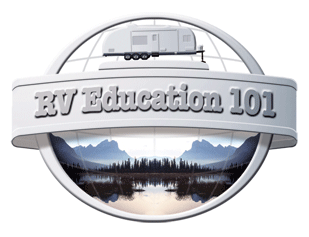 From the Industry Leader in RV Education:
RV Education 101® - also known as: RV 101®
U of RV Journal #134 - Sept 01, 2012 -
[*1]


**REMINDER! Like the RV Education 101 Facebook page.
We post helpful RV information often and would also
appreciate feedback, tips, RV related photos and comments from you![*2]

Below, you have 4 format options to choose from for reading:
1. For Mobile Users, 2. Magazine Format, (majority of readers prefer the magazine format), 3. Single Page Format or 4. As a PDF file.

#1.For Ipad Users
Open publication HERE


For Android Mobile Users
Get app:

[*3]
then

#2. Magazine format


#3. SINGLE page format


#4. PDF File format:
CLICK HERE to download PDF file. (This is a 3.06 MB PDF file)[*4]
---
To send your feedback:
mark@rveducation101.com
dawn@rveducation101.com
To subscribe, please go to: http://rveducation101.com/email/[*5]
RV Consumer E-Magazine is an opt-in ezine available by subscription only.
We neither use nor endorse the use of spam.
Your email address will ONLY be used to distribute this magazine
and will NEVER be sold or given to any other entity!!

Happy RV Learning,
Mark & Dawn
You can read about "How it all Began- The RV Education 101 story"- CLICK HERE[*7]
Visit RV Education 101 http://www.rveducation101.com[*8]

[*9]
RV University This Week © Copyright 1999- 2012 Mark J. Polk, except where indicated otherwise.
All rights reserved worldwide.
Reprint only with permission from copyright holder(s).
All trademarks are property of their respective owners.
All contents provided as is.
Advertisers are solely responsible for ad content.
http://www.rveducation101.com[*10]
RV Education 101
150 Bay Ridge Rd
Harrells, NC 28444-8896
910-484-7615
---
RV Education 101®, [*12] the premier provider of educational videos, books and RV information for the RVing public,
was founded over a decade ago by Mark Polk, who started in the RV industry as a teenaged apprentice technician.
"I really enjoyed working around RVs and performing basic service on customers' units", Polk explained.
"You could say I was bit by the RV bug early on."
RV Education 101 quickly established themselves as THE go to resource for RVers.
With hundreds of thousands of training and informational DVDs and books sold,
along with his many TV appearances as the RV Savvy Guy,
Mark Polk is recognized as THE authority for everything RV.

---
Explorer RV Insurance:
Your RV insurance can and should fit your RV. To get a free RV insurance quote with absolutely no obligation from Explorer RV Insurance Agency, Inc. call 1-888-774-6778.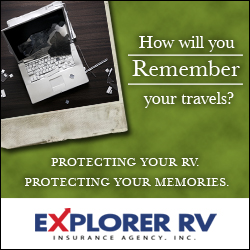 [*13]

Dawn T. Polk RV Savvy Productions Inc. DBA RV Education 101 150 Bay Ridge Rd Harrells, NC 28444 ( 910-484-7615 Ê 910-484-8276 www.rveducation101.com www.rvconsumer.com www.rvuniversity.com dawn@rveducation101.com Sign up for your free "RV Education 101" Online e-Magazine Like us on Facebook
---