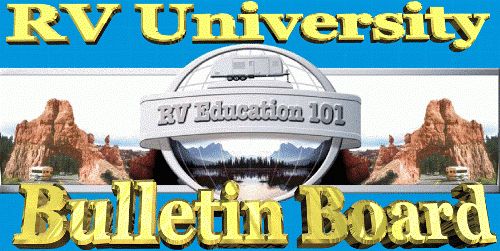 RV University this Week
Your weekly source for interesting
RV articles, tips, tricks, video clips and advice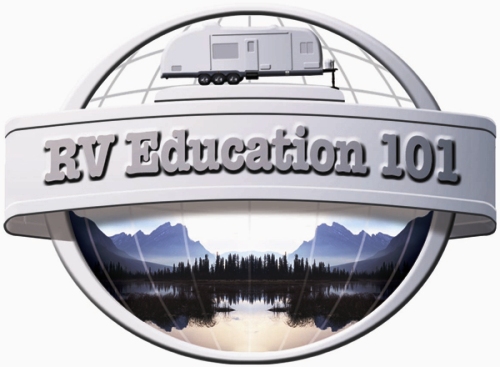 From the Industry Leader in RV Education:
RV Education 101
U of RV Journal #49 - January 18, 2010
[*1]
---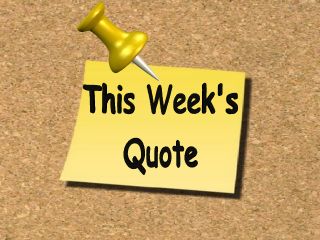 " The wisest mind has something yet to learn."
~ George Santayana (1863 - 1952)
---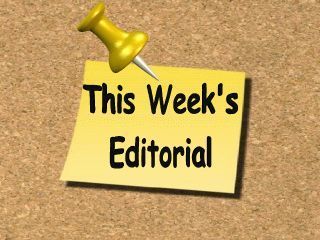 BY MARK

Hi Everybody,
We had some unusually cold weather for this area in the last week and a half. Temperatures in the teens at night and not getting above freezing during the daytime. I spent most of last week repairing some plumbing problems at a rental house of ours. It was cold and wet and miserable, not only trying to locate the leak but to fix it too. It turned out it was leaking under the deck, requiring a large portion of the deck to be removed and the ground below dug up. I repaired the leak and finished replacing the torn up deck on Saturday. Now that it's all done the temperatures have been in the mid-sixties during the day.
Even though the water leak was not a result of a frozen water line I couldn't help but think how glad I was that I winterized the RV plumbing system before the cold weather hit. There have been winters here where it never got cold enough for water lines to freeze, but I always winterize the RV just in case. I think it really paid off this year! What's that old quote from Ben Franklin? An ounce of prevention is better than a pound of cure!
Over the last several months we have conducted numerous RV related polls in our weekly newsletter. I thought it would be interesting to recap the results of those polls to see how the participants responded. Be sure and check out this week's feature article to see the RV poll results.
Until next week, Happy Camping
Mark
---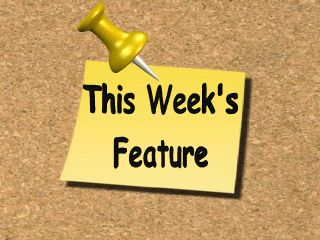 Some Interesting RV Poll Results The outcome of any poll depends on several factors like; what type of poll it is, how the questions are worded, who is asking the questions and of course who does and does not participate in the poll...... Read the article[*2]
---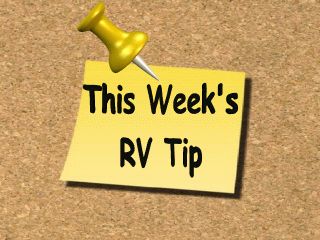 BY Mark Polk
Mark's RV Quick Tip #1:
Use of Credit Most insurance companies use credit scores in their insurance pricing. Insurance companies have data that supports the use of credit, and actually believe one's credit score is the best predictor of their future losses. Credit usage is not allowed in all states, so it varies from state-to-state and carrier-by-carrier. Your credit score can heavily impact your insurance rates, so improving your credit score may improve the premium you pay. There is much debate about using a person's credit rating to help determine insurance pricing.
Mark's RV Quick Tip #2: LP gas is portable, safe when handled properly and it's very efficient, so it only makes sense that it is used in RVs. LP gas is compressed in a liquid state and stored in containers. Because of the amount of pressure involved the containers are manufactured under very stringent codes. There are two basic types of containers, Department of Transportation (DOT), and American Society of Mechanical Engineers (ASME). The DOT containers, more commonly called cylinders are the upright type that you see on Pop Up's, travel trailers, or your BBQ grill. The ASME cylinders are referred to as tanks and are mounted horizontally like the type you would see on a motor home.
Regardless of the type, all LP gas containers are only filled to 80% of their capacity to allow for expansion when the temperature around the container rises. LP gas cylinders are equipped with Overfill Protection Devices or OPD valves to prevent them from being overfilled.
---
Check out this week's poll: Have you ever spent a night in your RV while in a Wal-mart parking lot? To participate in the poll, look on the left hand column (here at RV University) towards the top[*3]

[*4]
---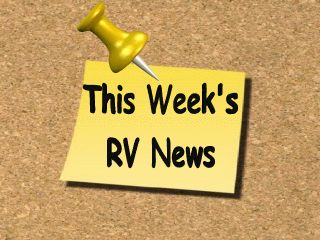 7 Things to Know about Trends in the RV World
The South Texas RV Show began Thursday, giving current and potential owners a look at what's new in the RV world.....[*5]
Get Hitched Affordably
When many people think of an RV they picture the behemoths parked outside a football stadium..... [*6]
Winnebago Industries Leaders Encouraged Yet Cautious
One of North Iowa's largest employer's is starting to feel the grip of the national recession loosen, but company leaders at Winnebago Industries are remaining cautious........[*7]
---
RV Education 101
is on now on facebook Become a Fan.....[*8]
---
RV Product Savvy with Mark Polk[*9] Free short videos
RVing with Mark Polk on Youtube. Over 27[*10] free RV Video tips plus product sample clips
---
Print this page to make your own RV LOGBOOK: You can print off as many as you need to make a book; or, simply keep the records online in a laptop..... [*11]
---
...with Mark
Q. We have a 1999 Starcraft Venture popup which we purchased a year and a half ago. Most of our trips are to the NC coast and as such we have weathered a few storms. On our last trip before retiring the camper for the winter we were at an RV Park in Stella, NC and experienced a fairly wet night and in the morning noticed a lot of water on the inside of the tent material. With this unit being 10 years old, does this mean that the tenting needs to be replaced or might a water repellant treatment do the trick? Thanks
Mark Says: Most pop up fabric is treated with a water repellent when the fabric is made. Over the years, as it is exposed to the elements, the degree of protection decreases. Normally you can retreat the fabric with a water repellent. The important thing is to get a treatment designed for the type of fabric on the pop up. If you have the original owners manuals it will say what the fabric is made of and may offer products that are suitable to use. If you don't have the manuals I would suggest contacting Starcraft to get it straight from the horses mouth.
---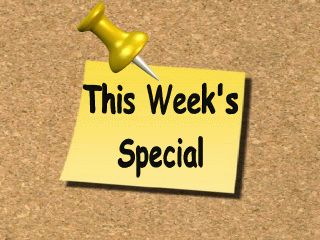 Let RV Education 101 help you save money in 2010
RV DVD 6PACK RV Education 101 just made it easier for you to learn about YOUR RV! We took 6 of our individual DVD titles and put them together into a full set for you which is equal to over 5 hours of one on one instruction. You SAVE a significant amount of money with the set discount.
Mark said "After collecting a great deal of feedback from RVers who attend seminars all over the country I determined that live seminar presentations can not always offer numerous and sometimes cumbersome visual aids to effectively get the point across. That was the thought behind our RV video seminar series. Seminars in video format allow me to present valuable information, using detailed graphics. It is the perfect solution to help educate the RV consumer."
sale price: $99.95
Buy Now
[*12]
---
Camping/RV Battery Chargers[*13] BatteryMINDers® are the new generation of SMART, pulse type "computer-on-a-chip" chargers, that safely charge and maintain all size / type / brands of batteries including starter, deep cycle and sealed types including AGM "dry" made by OPTIMA, ODYSSEY, EXIDE, INTERSTATE, et al. They do all of this without ever overcharging, no matter how long they are left on charge – days-weeks-or even months. Dubbed the chargers with "brains," they are the first to fully-automatically reverse the primary cause of early battery failure known as "sulfation". Sulfated batteries once considered beyond recovery can now be brought back to long-term useful condition. Certain models of BatteryMINDers® can more than double the useful life of new batteries.
---

[*14]
16 RV Single DVD Titles in our Library
An Introduction to RV's
[*15]
Drive Your Motorhome Like a Pro
[*16]
RV Awning Use, Care and Accessories
[*17]
RV Safety Features, Tips and Tricks
[*18]
Pop Up 101
[*19]
Travel Trailer 101
[*20]
Class A Motor Home 101
[*21]
Class C Rental / Owner
[*22]
Winterizing & Storing your RV
[*23]
EZ RV Add Ons and Must Have RV Products
[*24]
Trailer Towing, Weights, Hitch Work & Backing
[*25]
Motorhome Towing
[*26]
RV Campground Basics
[*27]
Marks Recommended 10 minute RV Essential Items
[*28]
Deep Cycle Battery Care & Maintenance for RV's and Boats
[*29]
RV Care and Maintenance
[*30]
Money Saving DVD Sets Available

Travel Trailer / 5th Wheel Training DVD Sets[*31]
Class A Training DVD Sets [*32]
Class C Training DVD Sets[*33]
---
14 RV Instant Download E-Book Titles in our Library
The Original Checklists for RVers
[*34]
Winterizing and Storing your RV
[*35]
THE RV BOOK now available as an ebook
[*36]
The Three Primary Systems of an RV
[*37]
Insider's Guide to Buying an RV
[*38]
RV Buyers Survival Guide
[*39]
Trailer Towing, Weights, Hitch Work & Backing
[*40]
A Collection of RV Tips
[*41]
Pop-Up Basics 101
[*42]
Dinghy Towing
[*43]
Deep Cycle Battery Care and Maintenance
[*44]
RV Awning Use and Care
[*45]
RV Safety Features, Tips and Tricks
[*46]
RV Care and Maintenance
[*47]
RV Campground Basics
[*48]
---
General and Unsubscribe Info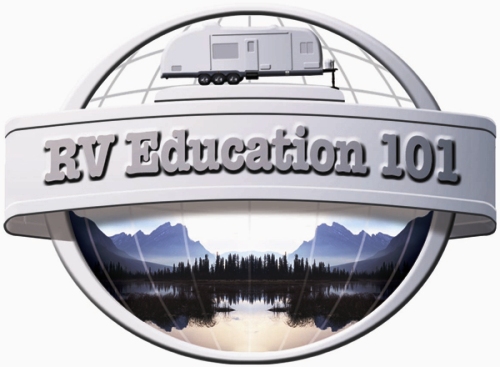 About us:
Our goal with RV University This Week is to provide you with helpful information to make all of your RV experiences more enjoyable. I left my position as an RV Sales and F&I manager in 2000 to start my own company, RV Education 101. We produce educational videos, DVDs and e-books on how to use and maintain your RV. The reason I left my job was due to my concern about the lack of educational and safety awareness material available to the RV consumer, in other words, you. We are a small company. My wife Dawn left her position in RV sales to help start the company and is our Sales and Marketing Director. We currently have a 35-foot Class A motor home. We have two boys, Tyler 13 and Josh 19, both avid RVers and two dogs, Gracie and Buck. Gracie is the good one. If you would like to learn more about us and RV Education 101 feel free to visit http://www.rveducation101.com[*49]
RV University This Week © Copyright 2010 Mark J. Polk, except where indicated otherwise. All rights reserved worldwide. Reprint only with permission from copyright holder(s). All trademarks are property of their respective owners. All contents provided as is. Advertisers are solely responsible for ad content.
To contact us with feedback or questions, email to: info@rveducation101.com[*50]
To subscribe, please go to: http://rveducation101.com/email/[*51]
To unsubscribe, please go to: http://rveducation101.com/email/unsubscribe.asp[*52]
RV Education 101 Newsletter is an opt-in ezine available by subscription only. We neither use nor endorse the use of spam. Your email address will ONLY be used to distribute this newsletter and will NEVER be sold or given to any other entity!!
Happy Camping,
Mark & Dawn
http://www.rveducation101.com[*53]
RV Education 101
150 Bay Ridge Rd
Harrells, NC 28444-8896
910-484-7615
Copyright 2010 by RV Education 101