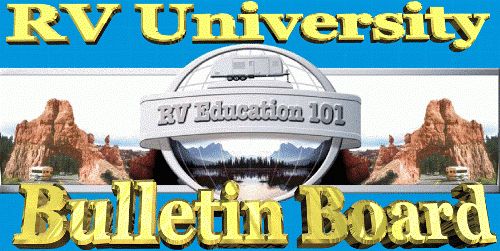 RV University this Week
Your weekly source for interesting
RV articles, tips, tricks, video clips and advice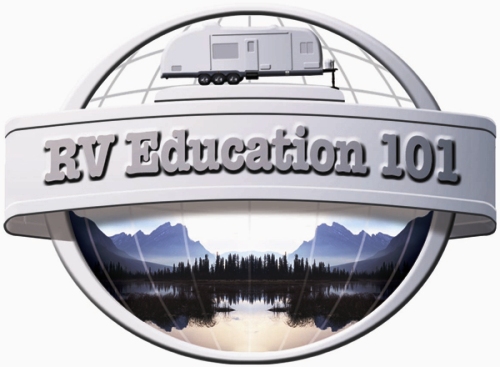 From the Industry Leader in RV Education:
RV Education 101
U of RV Journal #19- June 1, 2009
---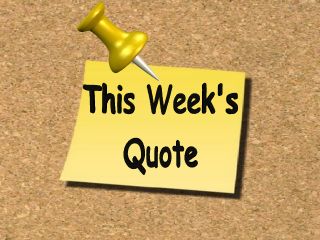 "I cannot teach anybody anything, I can only make them think." ~Socrates
---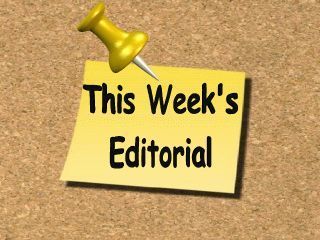 BY MARK

Hi Everybody,
Last week I read a post on the blog that I didn't necessarily agree with. I thought it would be interesting to post a separate view on a similar topic. But, when any topic has the slightest connotation of politics things get messy. Political views lead to controversy and controversy leads to arguing and picking sides.
With that said, I received a question the other day about sanitizing the water system on an RV. It seems like every year about this time I get questions like this. Often times people store their RV with some water left in the system. This water becomes stale and musty and the RV water system needs to be sanitized.
I sanitize the water system in our RV every spring when I de-winterize it and take it out of storage. It is really quite simple to do. I thought that offering some suggestions on how to prevent stale, musty water, and what to do if you encounter stale water would be a good topic for this week's feature article and video.
This week our Class A motorhome, and our Travel Trailer / 5th Wheel DVD's are on sale. Whether you are new to RV's or just need a refresher these DVD's will answer all of your questions.
Enjoy the newsletter
Happy Camping
Mark
---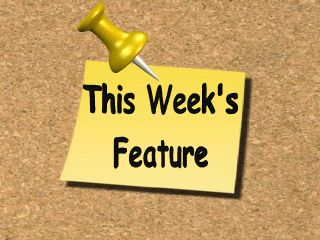 Stale RV Water Solutions
Take care of your RV water system and in return it will provide you with many years of reliable service. The potable water system in your house is pretty much maintenance free. The potable water system in your RV, on the other hand, requires some maintenance to keep it trouble free. Something I've run into quite often is the complaint that there is a stale odor coming from the RV water system. When you return from a trip and you're not going to use the RV for a while you need to drain the entire water system to prevent it from getting stale and musty....... Read the article[*1]
---
...with Mark
Q. We recently attended the Rally in Albuquerque, N. M. after an educational session on tire pressures I inspected the rear tire of our class A rig. Much to my surprise I discovered that I could remove a lug nut with the chrome dress cover with my fingers. The problem is how to tighten it? Experienced RVers said to get the chrome cover off of the lug nut. But, how do we get the chrome cover off the lug?
Nothing seems to be working, Pep Boys ground the chrome cover off. I purchased a lug wrench that fit the lug size. The chrome cover requires a larger size. The chrome cover is indented into the lug and is most difficult to remove manually. I guess I should be prepared, and have a lug wrench of the proper size and hope you never need it.
Mark Says:
There are different types of lug nut covers, but chances are you will need a set of pliers designed specifically for removing them.
Here is a link to an example..[*2]
And keep in mind it can be difficult to remove and change a Class A tire by yourself. You should have a tire company do it for you in the event of a flat. You may want to check into a roadside service plan that offers a tire service.
Hope this helps.
---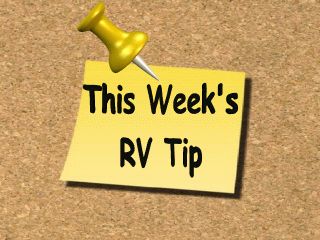 BY Mark Polk
Gray Tank Preventive Maintenance: Over time grease and residue builds up in the gray tank and it causes a foul odor, not to mention how it is affecting the tank and valve assembly. Periodically treat the gray tank with environmentally safe holding tank chemicals to avoid odors from the tank. When the tank is empty you can also add some dishwashing liquid down the drains to help break down grease and residue build up..
---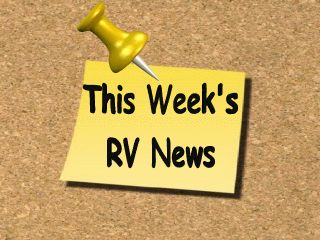 FLEETWOOD IS RECALLING 3,777 MOTOR HOMES..... [*3]
Pop-Up Times changes owners PopUp Times has been sold..... [*4]
Check out this week's poll: "Are you a fulltime RVer?"
To participate in the poll look on the left hand column of RV University towards the top [*5]
---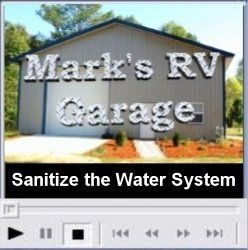 Mark's RV Garage
Some of our RV Video Tips are designed to provide basic RV information for new RVers and some of the future RV Video Tips will cover more advanced topics. If you have any ideas for future topics you can email me at Mark@rveducation101.com[*6]
This RV video tip is: "Sanitizing the RV Water System"
---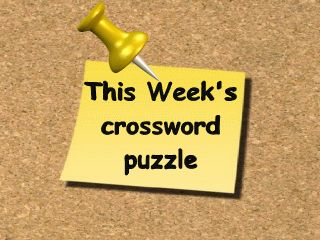 RV Education Crossword Puzzle


This play and learn crossword puzzle is "Fresh RV Water
Have fun, play and learn.



---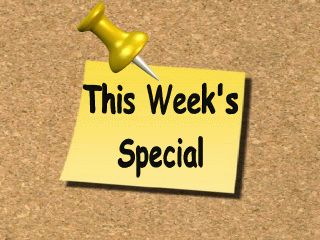 Let RV Education 101 help you save money in 2009
Class A Motor Home 101DVD [*7] Operating a Class A Motorhome may appear to be a daunting task to a new owner. The Class A Motorhome 101 video/DVD makes it simple and fun by quickly providing you with a thorough understanding of how to operate your RV. Topics covered in this video include: weights, leveling, complete set up procedures, LP gas system, water system, electrical system, sewage system, generator, appliances, accessories, safety cautions and warnings and much more. Watching this production will put you light years ahead of where you would have been without it! Demonstration is shown on a Class A motorhome. Watch as RV expert Mark Polk gives you this personal orientation as many times as you need to!
sale price: $19.95
Travel Trailer/5th Wheel 101DVD [*8] Travel trailers and 5th wheels add a whole new dimension to the camping experience. They can also create additional headaches for you if you're not familiar with the "how to's" of your equipment. The Travel Trailer / 5th Wheel DVD will quickly provide you with a thorough understanding of how your travel trailer or 5th wheel works. Topics covered in this DVD include: complete set up procedures, hitch work, leveling, campground setup, LP gas system, water system, electrical system, sewage system, appliances, accessories and safety cautions and warnings. Demonstration is shown on both a travel trailer and 5th wheel where appropriate. Watch RV expert Mark Polk as he gives you a personal travel trailer or 5th wheel orientation. You too will soon be a pro!
sale price: $21.95

[*9]
---
Camping/RV Battery Chargers[*10] BatteryMINDers® are the new generation of SMART, pulse type "computer-on-a-chip" chargers, that safely charge and maintain all size / type / brands of batteries including starter, deep cycle and sealed types including AGM "dry" made by OPTIMA, ODYSSEY, EXIDE, INTERSTATE, et al. They do all of this without ever overcharging, no matter how long they are left on charge – days-weeks-or even months. Dubbed the chargers with "brains," they are the first to fully-automatically reverse the primary cause of early battery failure known as "sulfation". Sulfated batteries once considered beyond recovery can now be brought back to long-term useful condition. Certain models of BatteryMINDers® can more than double the useful life of new batteries.
---
General and Unsubscribe Info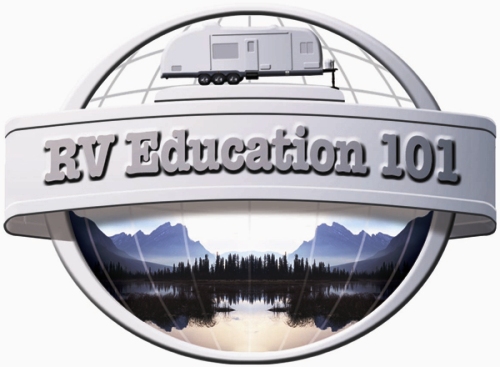 About us:
Our goal with RV University This Week is to provide you with helpful information to make all of your RV experiences more enjoyable. I left my position as an RV Sales and F&I manager in 2000 to start my own company, RV Education 101. We produce educational videos, DVDs and e-books on how to use and maintain your RV. The reason I left my job was due to my concern about the lack of educational and safety awareness material available to the RV consumer, in other words, you. We are a small company. My wife Dawn left her position in RV sales to help start the company and is our Sales and Marketing Director. We currently have a 35-foot Class A motor home. We have two boys, Tyler 12 and Josh 18, both avid RVers and two dogs, Gracie and Buck. Gracie is the good one. If you would like to learn more about us and RV Education 101 feel free to visit http://www.rveducation101.com[*11]
RV University This Week © Copyright 2009 Mark J. Polk, except where indicated otherwise. All rights reserved worldwide. Reprint only with permission from copyright holder(s). All trademarks are property of their respective owners. All contents provided as is. Advertisers are solely responsible for ad content.
To contact us with feedback or questions, email to: info@rveducation101.com[*12]
To subscribe, please go to: http://rveducation101.com/email/[*13]
To unsubscribe, please go to: http://rveducation101.com/email/unsubscribe.asp[*14]
RV Education 101 Newsletter is an opt-in ezine available by subscription only. We neither use nor endorse the use of spam. Your email address will ONLY be used to distribute this newsletter and will NEVER be sold or given to any other entity!!
Happy Camping,
Mark & Dawn
http://www.rveducation101.com[*15]
RV Education 101
3969 Stedman Cedar Creek Road
Fayetteville, NC 28312
910-484-7615
Copyright 2009 by RV Education 101