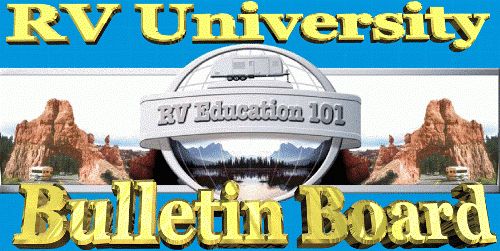 RV University this Week
Your weekly source for interesting
RV articles, tips, tricks, video clips and advice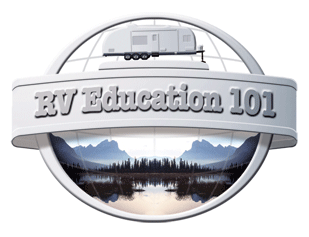 From the Industry Leader in RV Education:
RV Education 101® - also known as: RV 101™
U of RV Journal #116 - October 24, 2011

RV Education 101®, the premier provider of educational videos, books and RV information for the RVing public, was founded over a decade ago by Mark Polk, who started in the RV industry as a teenaged apprentice technician. "I really enjoyed working around RVs and performing basic service on customers' units", Polk explained. "You could say I was bit by the RV bug early on." RV Education 101 quickly established themselves as THE go to resource for RVers. With hundreds of thousands of training and informational DVDs and books sold, along with his many TV appearances as the RV Savvy Guy, Mark Polk is recognized as THE authority for everything RV.
---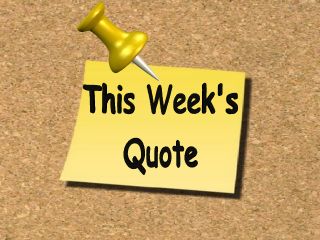 "Learn to get in touch with the silence within yourself, and know that everything in life has purpose. There are no mistakes, no coincidences, all events are blessings given to us to learn from."
Elisabeth Kubler-Ross
---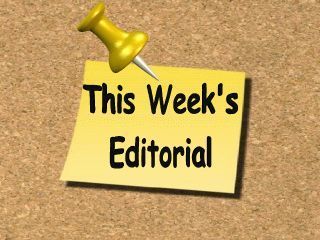 by Mark Polk
Hi Everybody,
For lots of folks around the country cold weather is on its way. This means preparing your RV for the cold winter months ahead, even if you still plan on using it. When temperatures dip below freezing and stay there for a period of time you risk damaging the plumbing system in your RV. There have been a couple winters where I winterized and de-winterized the RV two or three times because we took trips throughout the winter months. We have also used the RV while it was still winterized. Go here for some cold weather RVing tips. .
It is really quite easy to winterize your RV and once it is done you don't need to worry about it. Protecting the RV water system, and other components like batteries and generators can save lots of money and time next spring when you get ready for another camping season. If you would like to winterize the RV yourself we offer a winterizing & storing your RV e-book and DVD to help instruct you on how to do it.
The bottom line is, if you live where temperatures dip below freezing it doesn't matter if you winterize the RV yourself or if you have someone do it for you, the important thing is that it gets done.
Until next week, plan your trip, travel safe and enjoy your RV experiences. Remember, getting there is half the fun!
Mark Polk
**REMINDER! Like the RV Education 101 Facebook page. We post helpful RV information often and would also appreciate feedback, tips, RV related photos and comments from you!
---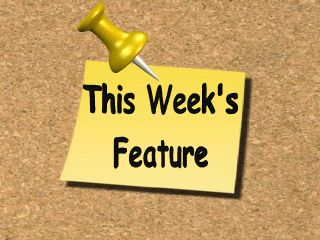 Polk's Top 7 Tips to a Long RV Generator Life
Around this time of year it is common for generators to sit idle for periods of time. Regardless of whether the generator is on your RV or you own a portable generator: Read the article on Polk's Top 7 Tips to a Long RV Generator Life
---
...with Mark

*NOTE: At Mark's discretion, material might be edited to suit a wider audience. Due to the large volume of material and correspondence we receive individual replies might not be possible, nor can we acknowledge receipt of submitted material. Selected questions will be answered in future issues of our RV Education 101 newsletter and on our site. Thank-you for your understanding.
Q. I purchased a truck with an advertised tow rating of 9,800 pounds. I want to purchase a travel trailer or 5th wheel that this truck can safely tow, but don't know which type or size of trailer to look at. I am concerned about towing in hills and terrain where it is not just flat.
Any suggestions or advice would be appreciated.
Mark Says: Here is some information to take into consideration before purchasing a travel trailer or 5th wheel trailer.
For starters, I have always felt that tow ratings are somewhat inflated. I once owned a truck rated to tow 8,800 pounds. I towed a trailer that weighed 7,100 pounds and in my personal opinion the trailer was too heavy for the truck, especially in the hills.
So, needless to say I don't always go by the advertised tow rating.
The way I like to explain it is to purchase a trailer with a Gross Vehicle Weight Rating (GVWR) at or below the tow rating of the vehicle. There is a big difference between the dry weight and the GVWR. This ensures that if the trailer were ever fully loaded to the maximum allowable weight the vehicle is rated to handle the weight (at least according to the vehicle manufacturer).
I even like to go one step further and use 75% of the tow vehicle rating for a better margin of safety. In your truck's case that would put the GVWR of a trailer you are considering purchasing at 7,350 pounds, meaning the dry weight would probably be about 5,000 pounds.
Fifth wheel trailers add more weight concerns. They are heavier and place a significant amount of weight directly over the rear axle of the truck (about 25% of the trailer weight). In addition to other weight ratings you need to consider the axle rating of the truck.
It would be difficult to find a 5th wheel with a GVWR of 7,500 pounds unless it is a lightweight unit.
For both travel trailers and 5th wheel trailers an important weight consideration is the tow vehicle Gross Combined Weight Rating or GCWR (often times overlooked) The tow vehicle GCWR is the combined weight of both the fully loaded truck and the fully loaded trailer when combined.
You cannot exceed this rating or any other weight rating for that matter. You would need to find out what the GCWR is for your truck and estimate the loaded weights for both the truck and trailer to see if it stays below the vehicle's GCWR.
These are just a few considerations but it should help in selecting a trailer that is properly matched for your tow vehicle.
---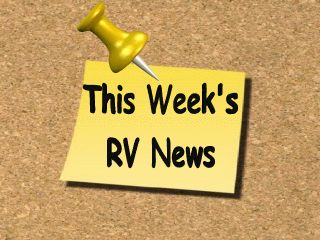 President Obama announces new DOT/EPA fuel efficiency and GHG emissions improvement program for medium- and heavy-duty vehicles
DOT and EPA Establish New Fuel Efficiency and GHG Emission Program for Medium- and Heavy-Duty Vehicles, MYs 2014-2018 FINAL RULE........
What is CAFE?
Corporate Average Fuel Economy (CAFE) is the sales weighted average fuel economy, expressed in miles per gallon (mpg), of a manufacturer's fleet of passenger cars or light trucks with a gross vehicle weight rating (GVWR) of 8,500 lbs. or less, manufactured for sale in the United States, for any given model year. Fuel economy is defined as the average mileage traveled by an automobile per gallon of gasoline (or equivalent amount of other fuel) consumed as measured in accordance with the testing and evaluation protocol set forth by the Environmental Protection Agency (EPA).
DOT and EPA Announce Intent to Propose CAFE and GHG Emission Standards, 2017 and Beyond
Following the direction set by President Obama on May 21, 2010, NHTSA and EPA have issued a new Supplemental Notice of Intent outlining the key elements of the upcoming proposal for Fuel Economy and Greenhouse Gas emissions regulations for model year 2017 and beyond light duty vehicles.........
The Secret to Living Well on $11,000 a Year
Why did you decide to live in an RV? I had an apartment in Burbank and was the typical Los Angeles apartment dweller. I started to feel a strong desire to simplify my life.. ........
RV resorts to open soon in Navarre and on Okaloosa Island
Florida: Two RV parks are scheduled to open around Dec. 1 on U.S. Highway 98 in Navarre and on Okaloosa Island.. ........
The Great Harvestival: Two-day music festival comes to Concow Campground
CONCOW, CA — A "spooktacular" weekend of music is in store at The Great Harvestival taking place at the Concow Campground Oct. 28 ..........
Kids take cover at Cumberland Co. campground during tornado warning
WADE, N.C. -- Two dozen kids from other countries on a 64-day tour of America spent their last stop huddled in a bathhouse at a campground in Wade during a tornado warning Wednesday. ..........
---
"RV Buzz" Tips by Mark Polk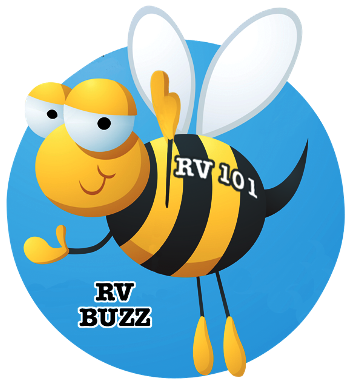 RV Refrigerators while in Storage: When the RV is in storage leave the refrigerator doors open to prevent mildew and place baking soda or charcoal in the compartments to prevent odors. Periodically clean and inspect refrigerator door seals. Place a dollar bill behind the seal and close the door. It should stay there and not drop. When you try to pull it out there should be some resistance felt. Do this in several different places and have any damaged seals replaced.
Cleaning the Inside of the RV: RV's are constructed with lightweight materials. These materials are more sensitive to harsh chemicals and abrasives than the materials used to construct your home. When cleaning your RV you should always use gentler cleaning products and cleaning techniques.
The battery charger in the RV converter is only designed to keep the coach battery(s) topped off. It is not designed or capable of recharging a battery that is completely discharged.
---
Check out this week's poll: "When you store your RV do you:?" To participate in the poll, look on the left hand column (here at RV University) towards the top
---

Want to buy an RV University t-shirt, hat or mug? Come visit our RV University store.
---
---
Sponsors and Helpful RV Links endorsed by RV Education 101:

Own a motorhome?
Membership in FMCA brings with it a wealth of benefits and services
— all specially designed to meet the needs of motorhome owners.
The value of these benefits and services far exceeds the cost of the annual dues.
Benefit highlights
---
Camping/RV Battery Chargers- BatteryMINDers® are the new generation of SMART, pulse type "computer-on-a-chip" chargers, that safely charge and maintain all size / type / brands of batteries including starter, deep cycle and sealed types including AGM "dry" made by OPTIMA, ODYSSEY, EXIDE, INTERSTATE, et al. They do all of this without ever overcharging, no matter how long they are left on charge – days-weeks-or even months. Dubbed the chargers with "brains," they are the first to fully-automatically reverse the primary cause of early battery failure known as "sulfation". Sulfated batteries once considered beyond recovery can now be brought back to long-term useful condition. Certain models of BatteryMINDers® can more than double the useful life of new batteries.
---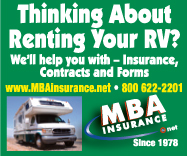 MBA Rental Insurance for Dealers and Consumers: MBA Rental Insurance for Dealers and Consumers: Specializing in RV Rental Motorhome Insurance Since 1978. MBA Insurance has grown into the premier Rental Insurance Agency in the country writing insurance coverage for Motor Homes, Travel Trailers, Pop-up Campers, Motorcycles, ATVs, Scooters, Utility and Cargo Trailers, Conversion Vans, Boats and other Watercrafts.An "A" Rated Insurance Company Insuring over 2,000 Rental Dealers Nationwide.
---
Explorer RV Insurance Since 1997, Explorer RV Insurance Agency has been providing custom-designed RV insurance programs for RV owners. The agency represents leading RV insurance carriers that offer products in 48 states. Explorer RV Insurance is underwritten by companies with A.M. Best ratings of "Excellent" or higher. An auto policy can't begin to cover the complexities of an RV. You need specialty coverage like vacation liability, total loss replacement, personal effects and much more......
---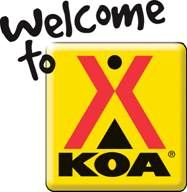 KOA camping is different Our Great People make sure of that. We're near most every attraction and national park in America. Wherever you want to go. At every one of our over 475 locations our focus is you. KOA is by far the largest group of affiliated campgrounds on the continent. From Wi-Fi and cable to fire rings and food service, KOA has you covered. Your experiences. Your enjoyment. Your memories. Your camping.
---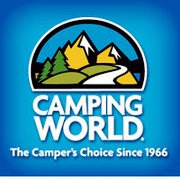 Camping World Camping World began with one small store and a mail order business in an old farmhouse heated by a wood-burning stove. A tobacco barn served as their first warehouse. Since then, Camping World has grown into America's leading RV accessories and service experts, bringing you everything you need for your RV, with Nationwide SuperCenters, an award-winning website, and full-color catalogs.
---
The Original Equal-i-zer® Sway Control Hitch with 4-Point Sway Control™, helps the driver be in control and the passengers be at ease. It has been specially designed to tackle the three biggest problems found with conventional trailer hitches: trailer sway, weight distribution, and complicated hook-ups We continually strive to move forward and be innovative in all our activities
FOR MEDIA & ADVERTISING Media Kit Contact Dawn Polk for Pricing

---

RV Education 101® is your premier online source for learning about your RV. We are the largest online digital training provider available, offering numerous online training courses, downloads and programs. Get the RV information you want, when you want it. Happy RV learning!

---

Whether you are brand new to the RV experience or a veteran of the traveled road, learn step-by-step, all the facets of RVing - from the obvious to the "I never realized that"... Go HERE to find out....

---

Are you an RV dealer? RV Education 101 created a program just for your customers! The RV Orientation Online Training Program.

This online RV training program includes an RV orientation video similar to the walk-through class you receive at the RV dealership. The RV Orientation video is 54 minutes long and is packed with information on topics like campground setup, the LP gas system, water system, wastewater system, electrical system, RV appliances, RV accessories and much more. We even added a bonus chapter on RV safety features, and some bloopers to make it more entertaining. The video is generic and covers all types of RV's including motorized and towable RV's. If your RV dealer does not offer this online RV training program you can purchase it here

---

We also offer RV Dealer bulk discounts on our training materials. Our Walk through DVDs have helped tens of thousands of RV consumers learn how to properly operate and maintain their RVs. Hundreds of RV dealers across the country are benefiting from what our program has to offer the customer oriented RV dealership. Contact Dawn today for your RV dealership pricing: dawn@rveducation101.com









---

RV Education 101 & RV University is mobile!
Check us out on the go
http://www.rveducation101.mobi
&
http://www.rvuniversity.mobi
from your phone!. .....


Share your thoughts & experiences with other RVers and Campers




Money Saving DVD Sets Available

5th Wheel Training DVD Sets
Travel Trailer Training DVD Sets
Class A Training DVD Sets
Class C Training DVD Sets

---

17 RV Single DVD Titles in our Library

An Introduction to RV's


Pop Up 101
Travel Trailer 101
Class A Motor Home 101
Class C Rental / Owner


RV Awning Use, Care and Accessories




RV Safety Features, Tips and Tricks


Winterizing & Storing your RV
EZ RV Add Ons and Must Have RV Products


Tow Your 5th Wheel Like a Pro


Trailer Towing, Weights, Hitch Work & Backing


Drive Your Motorhome Like a Pro


Motorhome Towing
RV Campground Basics
Marks Recommended 10 minute RV Essential Items
Deep Cycle Battery Care & Maintenance for RV's and Boats
RV Care and Maintenance

---

15 RV Instant Download E-Book Titles in our Library

The Original Checklists for RVers




Winterizing and Storing your RV




THE RV BOOK now available as an ebook




The Three Primary Systems of an RV




Insider's Guide to Buying an RV




RV Buyers Survival Guide




Trailer Towing, Weights, Hitch Work & Backing




A Collection of RV Tips




Pop-Up Basics 101




Dinghy Towing




Deep Cycle Battery Care and Maintenance




RV Awning Use and Care




RV Safety Features, Tips and Tricks




RV Care and Maintenance




RV Campground Basics

---

Go for the RV Gold Program
The Go For the RV Gold program is loaded with one-on-one RV training videos, feature articles, RV tips, crossword puzzles, member discounts for RV services and RV products, quizzes, and much more. This is the only online RV training program that will teach you everything you need to know about your RV at such a reasonable cost, and totally at your leisure with no deadlines. There are customized worksheets provided for navigation, so nothing is missed or overlooked. There is a space provided for you to make notes for each topic and then a feature to print the worksheet when completed.

At the end of the program there is a 25 question final exam. If you pass the final exam (you need a 72% or higher score) you will receive your "Go for the RV Gold" training certificate that you that you can proudly display in your home or RV. P.S. If you don't pass the final exam, you will be given an opportunity to take it again until you do pass, so you can receive your Go for the RV Gold certificate.

National Interstate Insurance company offers a 5% safe driver discount when you successfully complete the "Go for the RV Gold" program. Just present your "Go for the RV Gold" certificate of completion to an authorized National Interstate Insurance agent.

The membership fee is only $49.95 per month for 3 months. Billing is on a 30 recurring basis until the final payment is made. This equates to only $12.49 for each in-depth weekly RV training course. When you select the recurring billing payment option you receive the a new RV training module each month. You can't beat this low pricing for one-on-one RV education training in the comfort of your own home or RV. There is no driving to get to the training location, no packed classrooms and no time restraints.

Note: There is second payment option available where you can pay the full $149.85 program price in one payment. If you select this payment option you will receive all 3 RV modules (12 weekly courses) at one time, after payment and registration.

This program compliments our current line of RV Education 101 training dvds!


3 payments of $49.95 or a 1 time payment of $149.85 Buy Now

---